Welcome to our gastronomic journey through Dayton, Ohio, where the vibrant cityscape and the culinary delights of the "Gem City" converge to present you with an exquisite symphony of flavors. In this article, we shall explore the hidden gems and renowned pizzerias that grace Dayton's streets, offering a delectable assortment of pies that are sure to satisfy the refined tastes of our discerning audience. So, let us embark on a tasteful expedition as we savor the city's rich pizza culture, transcending mere sustenance to an artful indulgence, elevating our culinary experiences to new heights.
Pizza Factory – Dayton's Original
Pizza Factory is a highly recommended pizza restaurant that is known for its great selection of pizzas, fantastic quality, and plenty of toppings. The restaurant has a reputation for having many different kinds of toppings, which is one of the best things about it.
In addition to their delicious pizzas, the staff is courteous and super friendly, making the dining experience even more enjoyable. If you're looking for a recommendation, we suggest trying the Mediterranean pizza or the buffalo bacon ranch, both of which are fantastic options.
Overall, Pizza Factory is a must-visit for anyone looking for a delicious and satisfying pizza experience.
Menu: Pizza Factory Menu
Address: 1101 Wayne Ave Dayton, OH 45410
Top Review: "Okay this is by far my favorite Dayton pizza and I've tried quite a few! I get the buffalo bacon ranch every time and it is the BOMB! It has the perfect amount of all the toppings. The buffalo sauce and ranch that they use blend so perfectly together and they use just the right amount of both. I'm also in love with their crust. I believe it's hand tossed but it's not too thick and not too thin, and is seasoned deliciously. Plus they have BOGO free on Monday's for carry out and how can you beat that?! (You can't). If you live in Dayton or you're visiting the area, try Pizza Factory and you won't be disappointed!" – Stephanie W.
Old Scratch Pizza
With consistently high ratings over hundreds of reviews, Old Scratch pizza is a well established and beloved local franchise, and a deserving contender for the title of best pizza in Dayton. Their menu boasts both traditional pies as well as more creative offerings like the Angry Beekeeper and the Sophie Mae, and even vegetarian, vegan, and gluten-free offerings.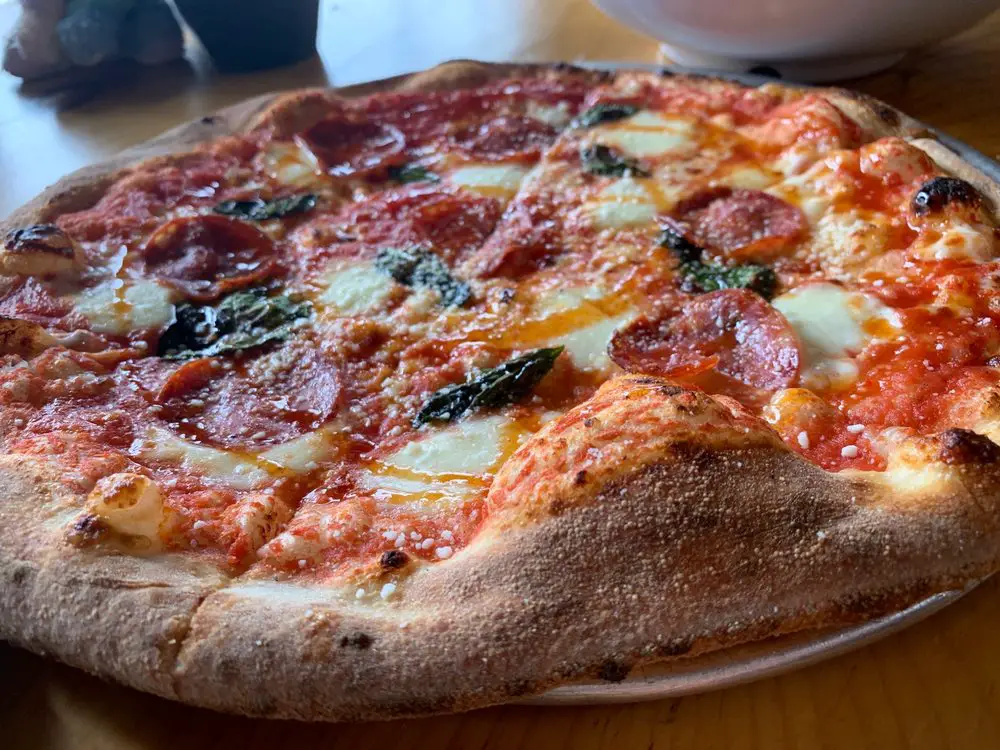 Looking to relax with an adult beverage while you enjoy your slice? No worries, Old Scratch features a full bar with plenty of creative cocktails, plus an ever-changing list of wines and draft beers. You're out of reasons to put it off, go try Old Scratch!
Menu: Old Scratch Menu
Address: 812 S Patterson Blvd Dayton, OH 45402
Top Review: Crust is amazing, brick oven is delicious, well cooked not burnt. Service is quick and efficient, and ambiance of the area is always a solid place to chill, have a drink, or just eat pizza and be alone. 100% recommend. – Daniel A.
Old Dayton Pizza
With a slogan like "Locally sourced shenanigans paired with pizza," you immediately know that Old Dayton Pizza isn't your typical pizza place. Specializing in traditional Roman style crusts and farm-to-table fresh ingredients, this place is a cut above. Not in the mood for a pie? They also offer sub sandwiches, salads, and their famous meatballs!
Is the weather too good to stay inside? Perfect! Enjoy their large, covered outdoor dining area. Is the evening getting chilly? You'll love their fire pit! Did I mention they offer free s'mores? Yes, they have that, too. All said and done, Old Dayton Pizza is a perfect place to hang out with friends and family.
Menu: Old Dayton Pizza
Address: 3490 Old Troy Pike Dayton, OH 45404
Top Review: I am from out of town and feel like the reviews for Dayton food haven't been super trustworthy on Google.  That said, I followed other people's reviews from out of town here and this was an absolute win!
Walk up the steps and through the red door, it's not someone's house even though it looks like it.
Get the spicy hog pizza thing or try the garlic bread (holy wow it's amazing), the staff gave me a meatball while I was waiting and it was delicious too.
This place had big Cheers vibes, and it wasn't intimidating which is novel for me. Will absolutely be back for the delicious food. –Sammie L.
Dewey's Pizza
The only chain on our list, Dewey's Pizza is a regional favorite. Boasting off-the-beaten-path ingredients on their pizza like goat cheese, pulled pork, and fig jam, Dewey's definitely leans to the avant-garde end of the pizza spectrum. Don't worry, they still offer more traditional fare if pepperoni is more your speed.
Here with friends, but not in the mood for pizza? Try one of their calzones or salads! All in all, Dewey's offers a dining experience leaning more towards the more adventurous, but everyone can find something.
Menu: Dewey's Pizza
Address: 131 Jasper St Dayton, OH 45409
Top Review: Great pizza. Love to watch them toss and stretch the dough. Great service. Love they can do 1/2 of pizza of different type. Plus the they have fabulous salads… the harvest is my favorite. Only down side is finding parking is tricky. –Rhonda W.
The Foundry
Craving pizza, but wanting a more upscale dining experience? The Foundry may be the place for you. Their menu spans gourmet delights ranging from steak to salmon, from crab cakes to smoked duck salad. "But Jack," I hear you asking, "this is a list of the best pizza in Dayton! Where's the pizza?" Don't worry, they have a wide variety of delicious pizzas baked to perfection in their beautiful wood-fired oven!
Hungry, yet? I haven't even gotten to the fun part. The Foundry is located on the rooftops of Dayton, affording a singular dining experience overlooking the rooftops and skyline of the city. Paired with the temperate climate of southern Ohio, you'll be sure to create many memories in this remarkable place.
Menu: The Foundry
Address: 124 Madison St Dayton, OH 45402
Top Review: We went here for the view, but we're so impressed with the food, drinks, and service as well! Our server was very personable and the service was quick but not rushed. I got the Foundry Burger and it was delicious! –Kim S.
Whether you're a pepperoni purist, a veggie virtuoso, or a cheese connoisseur, Dayton's pizza scene has something to satisfy every palate. So, the next time you find yourself in this charming city, don't forget to follow our pizza passport and embark on your own mouthwatering quest. Here's to many more cheesy escapades and delightful encounters with the timeless joy that is pizza! Remember, life's too short for bland pies—keep exploring and enjoying the goodness, one slice at a time!
You might also like drooling over these pizza articles:
best pizza in dayton, best pizza dayton, pizza near me, best pizza near me, pizza dayton oh, best pizza dayton oh, pizza dayton ohio