Colorado Springs is home to some of the best pizza spots in the state. From traditional Italian-style pies to creative artisanal options, there is something for every pizza lover in this vibrant city.
Let's run down some of our top picks for the best pizza joints in Colorado Springs. Whether you're a local resident looking for a new spot to try or a visitor seeking the ultimate slice, you won't want to miss these recommendations! Divertiti!
Duca's Neapolitan Pizza
Duca's Neapolitan Pizza is one of Colorado Springs' best Neapolitan-style pizzas. It has traditional Italian pies with gluten-free-friendly options at reasonable prices.
Pizzas have a made-from-scratch dough with fresh ingredients like mozzarella, tomatoes, basil, and more.
Reviews say that the pizzas are a little floppy but that it's still flavorful. They also recommend the Margherita, Rosemary ham, and spicy chicken pizzas.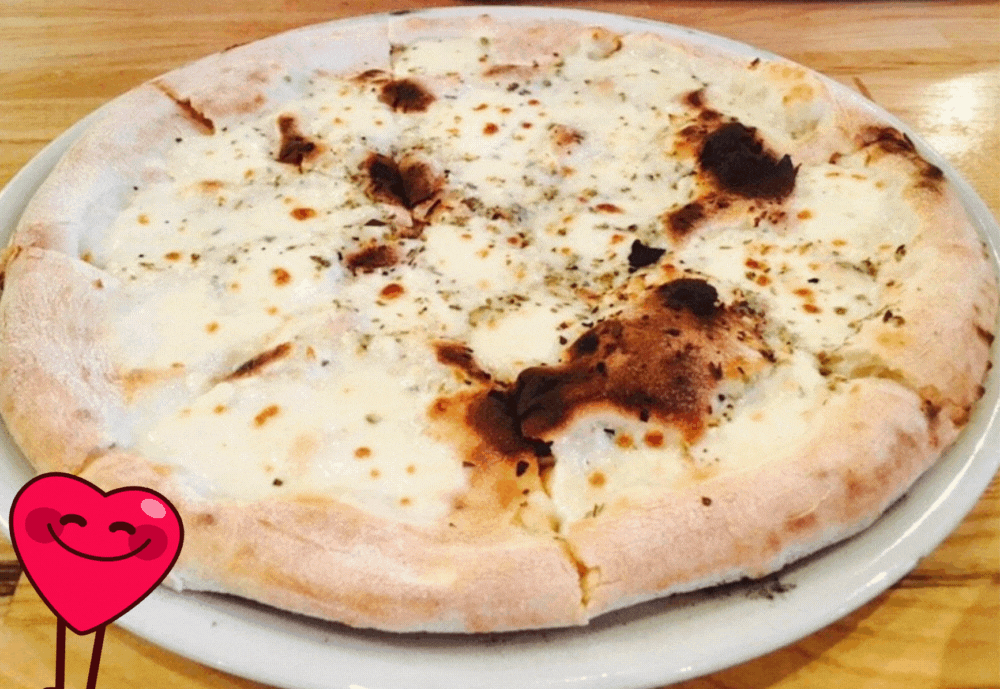 Menu: Duca's Menu
Top Review: "For an adorable summer date night, I suggest coming here. This location specifically! Sitting outside with the lights up, surrounded by green and it's relatively quiet just makes this one of our absolute favorite summer date night spots. Again, how I haven't reviewed this spot is beyond me. The service has always been so wonderful and last night was no exception. Our favorite pizzas are the margherita, Gorgonzola and caramelized onion, and the rosemary ham and mushroom. But from the looks of it you can't go wrong. The Caesar is also delightful!" – Monika B.
236 E Cheyenne Mountain Blvd Colorado Springs, CO 80906, (719) 247-8830
Bambino's Urban Pizzeria
Bambino's Urban Pizzeria has a cool concept of letting you in on the pizza-making process. Having an open-plan kitchen is not a new thing.
But at Bambino's, you can also take a peek at their dough room, where their homemade mozzarella and dough are, while you can also see their herb garden on their back wall.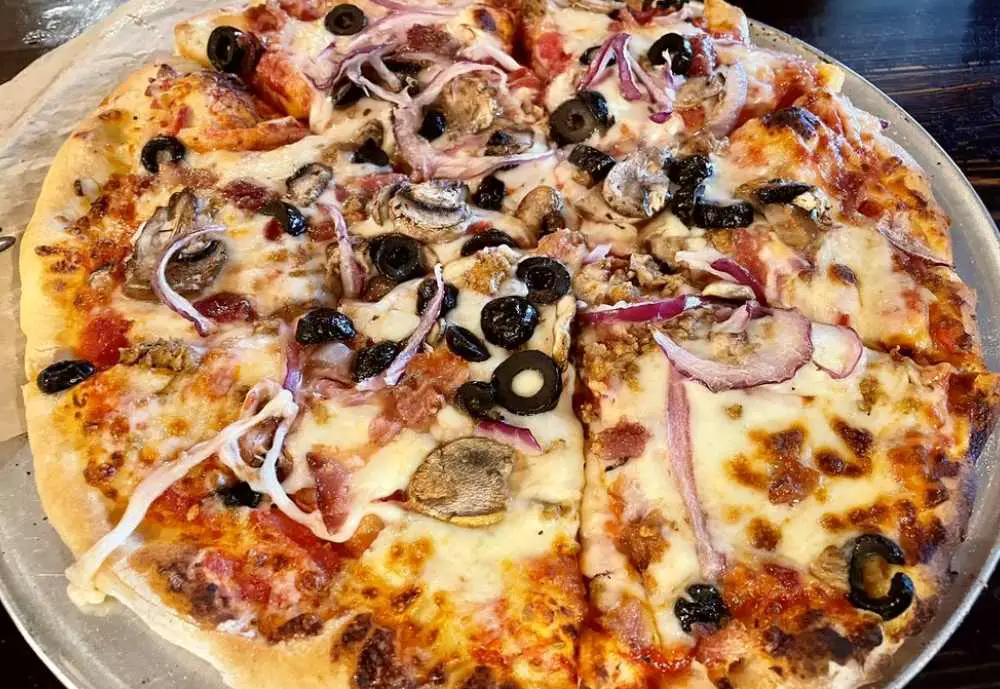 Most importantly, you'll be able to see them create your pizza right in front of you.
They offer Neapolitan-style pizzas, and someone described them as a "create your own style pizza parlor."
You can order their specials (the green hippy, Greek pizza salad, the hot chick), but you can also customize your own.
Make it how you want with lots of fresh ingredients and toppings you can make it with. They've even got vegan cheese.
Menu: Bambino's Menu
Top Review: "I love their pizza!!! It's fresh and sooo good! It's one of the rare pizza places I can get a pizza without sauce and make it how I want it- olive oil, sliced tomatoes, oregano, basil, and mozzarella! If you are craving pizza I highly recommend Bambino's! It will definitely satisfy your pizza craving." – Aleisia D.
36 E Bijou St Colorado Springs, CO 80903, (719) 630-8121
Leon Gessi New York Pizza
Leon Gessi New York Pizza is a family-owned pizzeria with New York-style pizzas. It's got that familiar fold-and-droop that you get with New York pizzas.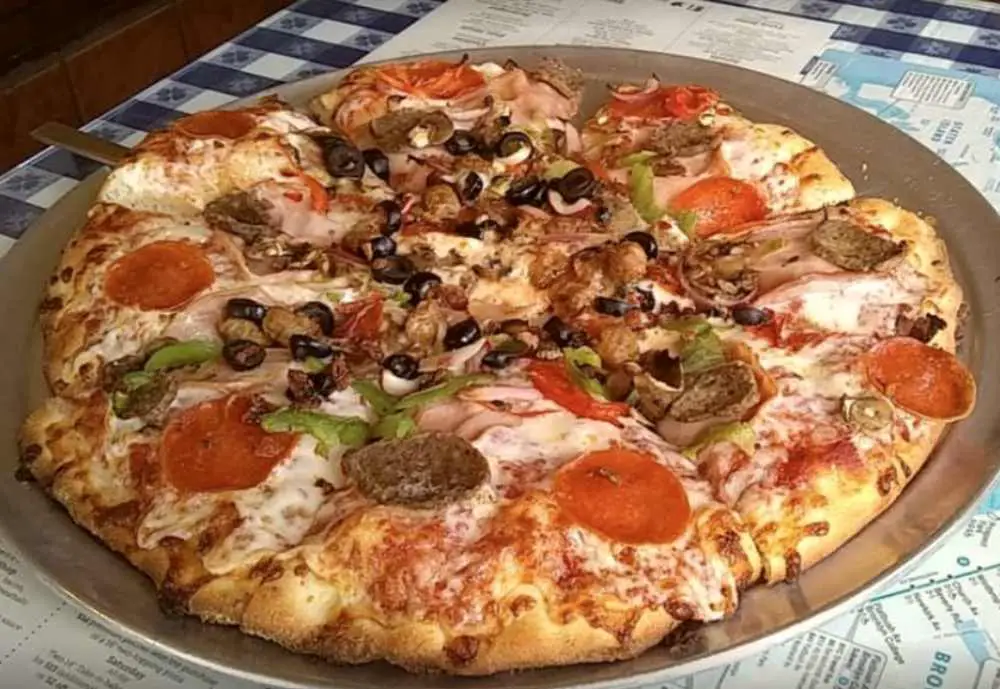 The place is simple and casual, where you can order at the counter and sit at one of their booths.
People recommend the kitchen sink pizza, meatball pizza, cheese pizza, and the butcher shop pizza.
Menu: Leon Gessi Menu
Top Review: "Guys, I can't even believe I'm typing this right now but I just had a PERFECTLY NORMAL regular slice of pizza from a pizzeria in Colorado Springs, Colorado that tasted exactly like any pizza I've ever had from Long Island, New York (where I had pizza on a weekly, if not daily (at times) basis, for 20 years). I can't believe I've lived here for two years eating trash pizza and I finally found a normal pizzeria just like home!!! This is one of the most significant days of my life since moving to Colorado. I can finally enjoy a regular slice again!" – Adrienne G.
1806 Palmer Park Blvd Colorado Springs, CO 80909, (719) 635-1542
Pizzeria Rustica
Pizzeria Rustica offers artisanal and organic brews and wines, and thin-crust pizzas. It's a little more upscale than your typical pizza spot, with a lovely ambiance.
Their outdoor patio is the best for the cute and romantic vibes, good for a date night. Their great selection of wines and special artisanal imported ingredients make them stand out.
They even have a wood oven that came straight from Tuscany. Recommendations include their signature Pizza Rustica and the Quattro Stagioni.
Menu: Pizzeria Rustica Menu
Top Review: "I have never tried a pizza with a Neapolitan crust but it was yummy & wood fired. All pizza a thin and 10 inches with 6 slides. On the menu it doesn't show they have pepperoni pizza but they sure do. Family of 4, we had large Cesar salad, 1 pepperoni pizza & 1 pepperoni/ mushroom. Jenna was our waitress to and very good ! Very good experience with awesome food & staff. We highly recommend!" – Gina C.
2527 W Colorado Ave Colorado Springs, CO 80904, (719) 632-8121
Slice 420
Slice 420 is definitely a unique place because of its story and history. The reason for their name and the pizzeria's mission is fascinating and worth a second look.
They emphasize that they do not sell infused foods, but their pizzas are excellent, so you can try those instead. Slice 420 also has reasonable prices for good size New York-style pizzas and quick service.
Their specialty pizzas are excellent choices: the Sophia, the mountain, and the Quattro Formaggio.
Top Review: "Popped in for a couple of slices after hearing about the place, was expecting your standard cheese, pepperoni and maybe one with veggie as your options.  they probably had 10 different types you could get for slices.  I grabbed two different ones and they chucked them in the oven.  They both were great.  one basic pepperoni and one mountain man.  Quick helpful service." – Robert R.
3725 Oro Blanco Dr Colorado Springs, CO 80917, (719) 375-0393
You might also like drooling over these pizza articles:
pizza colorado city, pizza in colorado city, colorado city pizza, best pizza in colorado city, best pizza spots in colorado city, pizza near me