Rise and shine, Fresno! Are you tired of that boring bowl of cereal for breakfast? Do you crave something with a little more oomph to kickstart your day?
Well, have no fear because we've got the scoop on the best breakfast in Fresno. From fluffy pancakes to savory omelettes, these spots will have your taste buds singing 'Good Morning, Sunshine!'
The Train Depot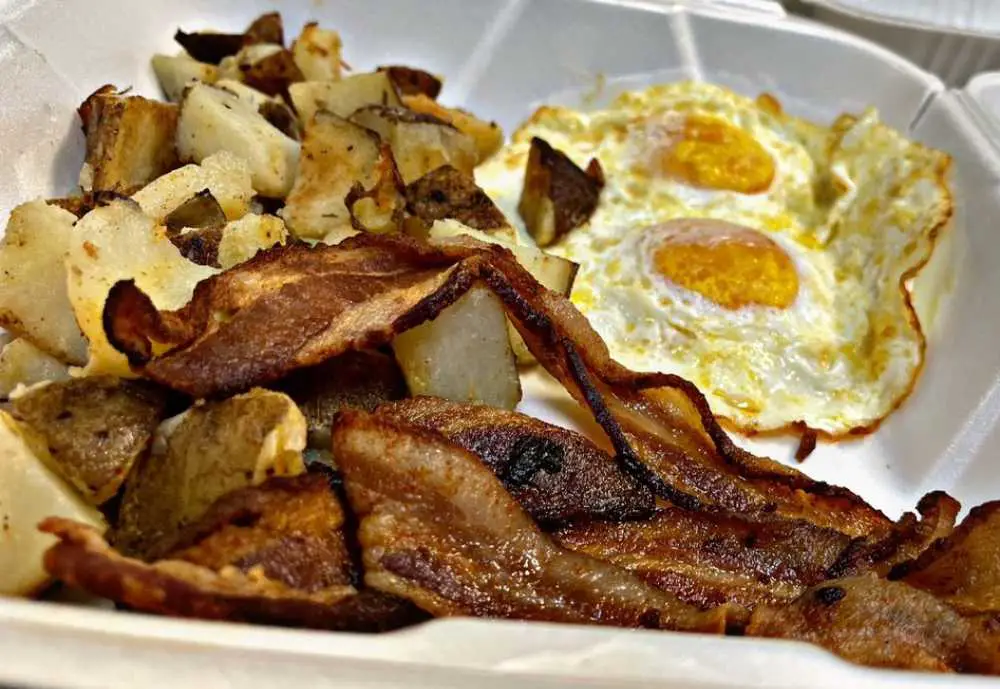 The Train Depot is a VERY cute train themed breakfast spot in Fresno that has all your favorite breakfast specialties. They also have some original offerings that are well worth your attention.
We recommend trying the Train Wreck. This is a massive scramble of eggs, diced bacon, bell peppers, cottage potatoes, jack cheese and toast or biscuits & gravy. Yes, please~
On the sweeter side, we recommend going for the almond waffles, or the chocolate chip pancakes. I don't think we need to elaborate here, ut suffice it to say it's one of the best places for breakfast in Fresno.
Menu: The Train Depot Menu
Top Review: "LOVE THIS PLACE!!! You can always tell how good a place it by the line that forms outside the door. The atmosphere is super casual and the staff is extremely friendly. I ordered an omelet with mushroom and spinach with country potatoes and a biscuit… it did not disappoint… AT ALL! This is definitely going to be one of my go-to spots for breakfast!" – Katina M.
3045 E Ashlan Ave Fresno, CA 93726, (559) 442-1401
Batter Up Pancakes
Batter Up Pancakes is a fun baseball themed pancake house that opened their doors in 2009. The idea for the restaurant was hatched while the owners watched their son play baseball at the University of Arizona. They shared their idea of a baseball themed breakfast spot with the property owner and the vision evolved into Batter Up Pancakes!
Batter Up Pancakes has been voted Best Breakfast in the Peoples Choice Awards for 8 years in a row!
We recommend trying any of their specialty pancakes, you just cannot go wrong. But if we had to be specific, Tessa Cate's Cinnamon Roll, S'mores pancakes, or the Oreo pancakes are all fluffy, fluffy heaven.
Menu: Batter Up Pancakes Menu
Top Review: "Here goes a place that is worth the wait because there is always a wait – and for a good reason. The food here is prepared with fresh ingredients and is served by a restaurant where everyone clearly takes pride in providing great food and welcoming  service. The coffee is very tasty and they offer 3 types of creamer. The eggs here are the fluffiest ones in town, and the pancakes are huge but light and airy. The syrup has a yummy vanilla-ish flavor, and the butter – I mean just everything about this place is that good. Today we tried the chilaquiles and we were not disappointed. The fruit cup comes with fresh cut fruit." – Veruca S.
8029 N Cedar Ave Fresno, CA 93720, (559) 440-1221
Red Apple Cafe
Website: Red Apple Cafe
Menu: Red Apple Cafe Menu
Top Review: "Amazing and friendly service for a party of 4! There was about a 15-20 minute waiting time, which was expected.   Service is 5*! We opted for outside patio seating and yes, there was heat! This was our first visit. We were given ample time to explore the menu and "popular" options. I ended up ordering "The Works" without tomatoes and ham with rye bread with a shareable side of French toast with apple pie topping. The Works was great, but I wish there were more veggies present in the dish. The rye bread was perfectly toasted and buttered. Potatoes were good, but there were a little too much burnt tiny parts for me and not enough edible potatoes. The French toast was absolutely amazing! I'd definitely recommend and order that again! Highly recommended!" – May L.
488 W Herndon Ave Fresno, CA 93650, (559) 261-1505
Benaddiction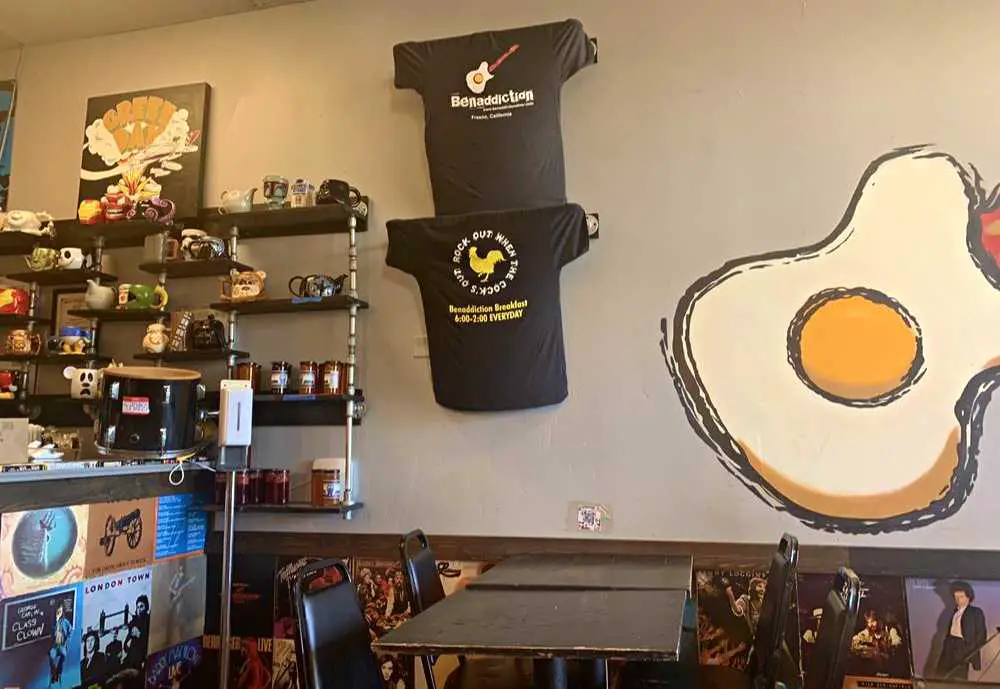 Benaddiction is a culinary creation birthed in 2012 by James Caples. Formerly a corporate restaurant manager, James said goodbye to microwaves and industrial freezers and embraced a passion for fresh ingredients and authentic cooking techniques.
Everything is made to order with locally sourced ingredients whenever possible. Say goodbye to pre-made, mass-produced meals and hello to the delicious, freshly prepared dishes at Benaddiction.
Menu: Benaddiction Menu
Top Review: "Found this awesome establishment as we were passing through and could not be more pleased. First of all, the staff was super friendly and helpful. They told us 15 minutes but we only had to wait 5. The vibes of the diner were so cool! The mugs, wall art, and VHS tape counter were so rad and the music was spot on. The food looked, smelled, and tasted amazing. Every ingredient was so fresh and the hash browns were perfection. I ordered the Clapton Benedict and it did not disappoint A+++" – Erin H.
3015 W Bullard Ave Fresno, CA 93711, (559) 374-6082
Daddy Waffles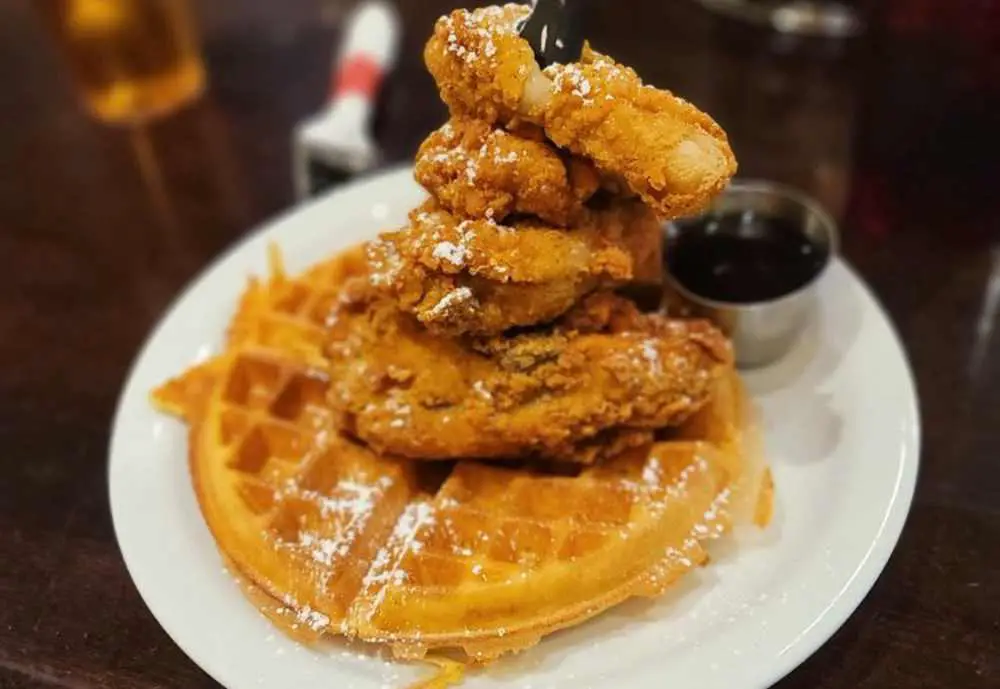 Top Review: "My wife and I enjoy going out to breakfast.  However, we have learned not to order pancakes or waffles because they are often tasteless and/poorly cooked.   Not here.  Great pancakes and waffles cooked right with great taste.  Pretty good coffee. Generous portions.  Very tasty sausage and very well cooked scrambled eggs.  Simple, but very well done.  They also serve lunch which I have not tried. While some may think Daddy Waffles too small – I found it warm and comfortable.  The service was welcoming, helpful and was provided by a smiling Keylee We will be back!" – Art B.
7089 N Marks Ave Ste 101 Fresno, CA 93711, (559) 478-4485
You might also enjoy these mouthwatering breakfast articles:
breakfast near me, fresno breakfast, breakfast fresno, best breakfast in fresno