Omaha has a lot to offer when it comes to breakfast spots – from classic American fare to international cuisine.
Whether you're looking for a hearty meal to start your day or a light and healthy option, you're sure to find something to your taste.
Here are just a few of the best breakfast spots in Omaha.
Sunnyside
Beginning our list is Sunnyside, a casual and fun restaurant with two locations in Omaha, Nebraska.
The Center Street Breakfast is sure to fuel your day with bacon, eggs, biscuits, and rich gravy. Alternatively, the stropwafel makes for a crispy and sweet wake up call.
Menu: Sunnyside Menu (Center St); Sunnyside Menu (Elkhorn)
Top Review: "Sunnyside on center was topnotch. Cheaper than Lisa's better quality food than Early Bird. I love those brunch spots so much… but when it comes to quick and efficient, this is the place for you!I got the mud broom veggie southwest burrito and my boyfriend got the chorizo southwest burrito. We got the pescan roll as a sweet treat, and it was unreal! Incredible, clean, and trendy place! Amazing hash browns and truly amazing coffee as well! Really welcoming, happy, energetic energy in this place." – Emma R.
Center St. Location: 3528 Center St, Omaha, NE 68105; (531) 444-5135
Elkhorn Location: 2611 N 204th St Suite # 102, Elkhorn, NE 68022; (531) 721-2891
Lola's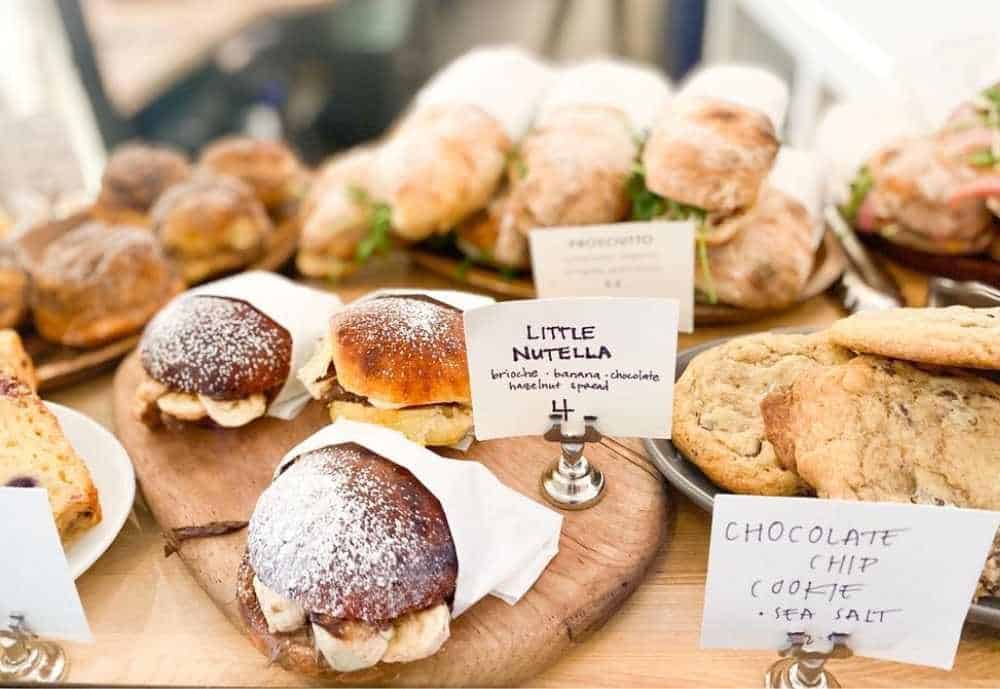 Lola's is a neighborhood-favorite cafe and provides simple yet excellent meals to its customers.
Try any of their breakfast plates for a hearty and delicious head start. The morning bun is made with brioche and coated with cinnamon, sugar, and a dash of orange zest.
Menu: Lola's Menu
Top Review: "We have only been for breakfast but such a lovely spot to grab coffee, pastries, or sit down and grab a meal! This shop is attached to Dundee Stream Films too. Food is delicious, you can walk up and order & go or sit down and have a waitress/waiter! Indoor & outdoor seating available, & a parking lot outback or street parking in the front!" – Haley J.
Saddle Creek Breakfast Club
Whether by car or by horse, make sure to ride to Saddle Creek Breakfast Club and explore their delicious and unique menu. One popular pairing is their vegan biscuits and gravy with a side of hash browns. Prepare for a rich and sweet experience when you order the banana bread French toast.
Menu: Saddle Creek Breakfast Club Menu
Top Review: "Best brunch spot in Omaha, bar none. The menu rotates somewhat often but you'll always have the chance to try something unique. They've had barbecue meats on eggs Benedicts, jackfruit burritos, chickpea toasts, kimchee omelettes, banana bread French toast, and so much more. It doesn't matter if it's vegan, vegetarian, or carnivore — everything is delicious.
Make sure to ask for the range of Volcanic hot sauces that they carry!" – Sohan P.
Good Lookin'
Looking for a dandy cafe to start your day at? Take a good look at Good Lookin', a cafe in Omaha that serves up some good lookin' breakfast. Dive into the rich textures and rich tastes of the salmon benedict or embrace the crispy delight that is the churro French toast.
Menu: Good Lookin' Menu
Top Review: "Went for lunch on a Wednesday around noon with a friend. This was the second time going here. The first was not very good but I was willing to give it another shot. You order at the counter, they give you a number, and then bring the food out to you. I got the Nashville Hot Fried Chicken Sandwich which was a special. I normally tell them to leave off the pickles in a sandwich like this. I forgot and, thank goodness, because I like it better apparently! My friend got the Eggs Benedict. We both got a house lemonade. Everything was solid. Good ambiance in a cute older building."- Scott M.
Good Evans Breakfast & Lunch
An up and coming brand to look out for is Good Evans Breakfast & Lunch. Chef-inspired menu items such as the GE Omelette are packed with meats, vegetables, and cheeses. Another good example of their expertise is Nebraska Bene, a toasted English muffin with braised short rib and topped with a variety of vegetables and sauces.
Menu: Good Evans Menu
Top Review: "I was back recently and it was another good experience. It was a Thursday morning so seating was quick, but a LARGE party with a couple of families at different tables and different checks had our server tied up for a bit, which she apologized for. No big deal. I'm normally a scramble guy, but I got the GE Omelet. This thing is loaded with ingredients and is covered in cheese and sausage grave. Really good, except the eggs went a little too long and were just a bit toasty on the one side. Thanks to the cheese and gravy, this was no big deal. If I get it again, I'll definitely see if they can do it as a scramble. Also got some cheesy hash browns and pancakes which all came with it. (No, I didn't quite finished the pancakes, yes I was in a food coma later)" – Andy D.
Early Bird Brunch
Early Bird Brunch is a great place to enjoy breakfast – and lunch – with greater company. Build your own omelet and experiment with any combination of flavors. The hash holes have garnered popularity as small yet irresistible sides.
Menu: Early Bird Menu
Top Review: "Excellent!!!  Fun menu and delish food. We all ordered different items with a lot of diversity and all liked our meals. I highly recommend the AM pot pie if you like pot pies and breakfast gravy.   My husband says the churro waffles were magical.
Very busy- but that is because they have delish food and a fun ambiance.
Wait staff working really hard and cheerful.  I would highly recommend….. but I'm fearful they will get more busy and I won't get in." – Kristy C.
Sofra Kitchen
Many years of restaurant experience in Eastern Europe led two cousins to create Sofra Kitchen in 2018 and share their family's traditions with Omaha, Nebraska. Indulge in a healthy and hearty veggie omelette, which is served with baked potatoes. Their lox avocado toast is a perfect fit for anyone looking for a rich and savory breakfast.
Menu: Sofra Kitchen Menu
Top Review: "This Veggie Omelet was the best I've ever had/seen! Ingredients were fresh and crisp. Didn't feel drowned in oil. I'm not normally an omelette person, much less a veggie omelette, but this was perfect. I've had their crepes from inner rail and can only imagine the rest of the menu is delicious! Also, the waitresses were fantastic! The one note I had was I subbed mushrooms for onions and it would've been nice if the onions were warm like the rest of the omelette. I'll be back!" – Beth W.
Le Peep
Le Peep is a women-owned chain that emphasizes quality and has four locations in the city of Omaha. Their homestead breakfast comes with biscuits covered in sausage gravy as well as eggs and peasant potatoes. Alternatively, the roasted pepper and goat cheese omelet boasts sophisticated and wholesome flavors.
Menu: Le Peep Menu (Pepperwood);  Le Peep Menu (Legacy); Le Peep Menu (Northpark); Le Peep Menu (Aksarben)
Top Review: "Great atmosphere, decor, employees, food… what's not to live about this place!?! My friend took me since I'm new to the area. I immediately fell in love with the coffee options of the week. My pumpkin caramel latte was delicious! I can't remember the name of my order but WOW delicious as well! Scrambled eggs with mushrooms, scallions, bacon, and shredded cheese. I opted for the toasted English muffin and potatoes. I cannot wait to come back and try s a different drink and meal (or I'll try to make myself). Don't forget to request a punch card!" – Lesley M.
Pepperwood Location: 559 N 155th Plaza, Omaha, NE 68154; (402) 408-1728
Legacy Location: 17660 Wright St, Omaha, NE 68130; (402) 934-9914
Northpark Location: 2012 N 117th Ave, Omaha, NE 68164; (402) 991-8222
Aksarben Location: 6920 Pacific St, Omaha, NE 68106; (402) 933-2776
The Sojourn Cafe
Look no further than The Sojourn Cafe for chef-inspired comfort foods. The Canadian bacon biscuits special comes with gravy and makes for a tasty morning treat. Great Uncle John's sticky bun offers a sweet and chewy taste of classic desserts.
Menu: The Sojourn Cafe Menu
Top Review: "I loved everything about this eclectic little cafe and would travel out of my way to come back. Everyone was so friendly the owner came out and stopped by tables of regulars to check in. My omelette was delicious and I especially enjoyed the fresh avocado slices on top. My husband's eggs and bacon were cooked just how he likes them. The art around the restaurant is from locals and for sale. A+ experience!" – Christine S.
Lisa's Radial Cafe
We conclude our list with Lisa's Radial Cafe, a pleasant corner in Omaha that is grounded on serving quality food to make people happy. The pork carnitas skillet is sure to satiate a morning hunger pang with its hash browns, eggs, and slow roasted pork. Be sure to try the blueberry stuffed French toast for a delightfully sweet journey.
Menu: Lisa's Radial Cafe Menu
Top Review: "The best breakfast place in Omaha by FAR. So cozy and welcoming.  I love the atmosphere and it's fun to go in and see everyone enjoying their food 🙂 I usually get the pancakes – they're HUGE. But this time I got an omelette w hash browns. They were so good, I just love everything on this menu. They always have fun stuffed toast and different specialties. The hot chocolate is another a favorite of mine! The staff is always SO nice just 10/10 overall
BONUS: they take card now!" – Abigail W.
817 N 40th St, Omaha, NE 68131; (402) 551-2176
breakfast places near me, good breakfast near me, sunnyside elkhorn photos, chicken fried steak, breakfast food, engine house cafe