Every city has its hidden treasures, but in Spokane, Washington, those treasures come hot off the grill and nestled between two buns. Behold, the humble hamburger, a symphony of flavors that can be as simple or as complex as its composer desires. In the scenic landscape of Spokane, these edible gems aren't just a quick bite—they are an art form. So, tighten your bib, and prepare to sink your teeth into some of the finest burgers that stand as the culinary equivalent of Spokane's majestic Mount Spokane, tall, impressive, and simply unforgettable!
Victory Burger
Victory Burger in Spokane, Washington is known for its delicious burgers made with fresh and natural ingredients from the Pacific Northwest. According to Yelp, Victory Burger offers "honest burgers in all their glory" and is what fast food burgers should be.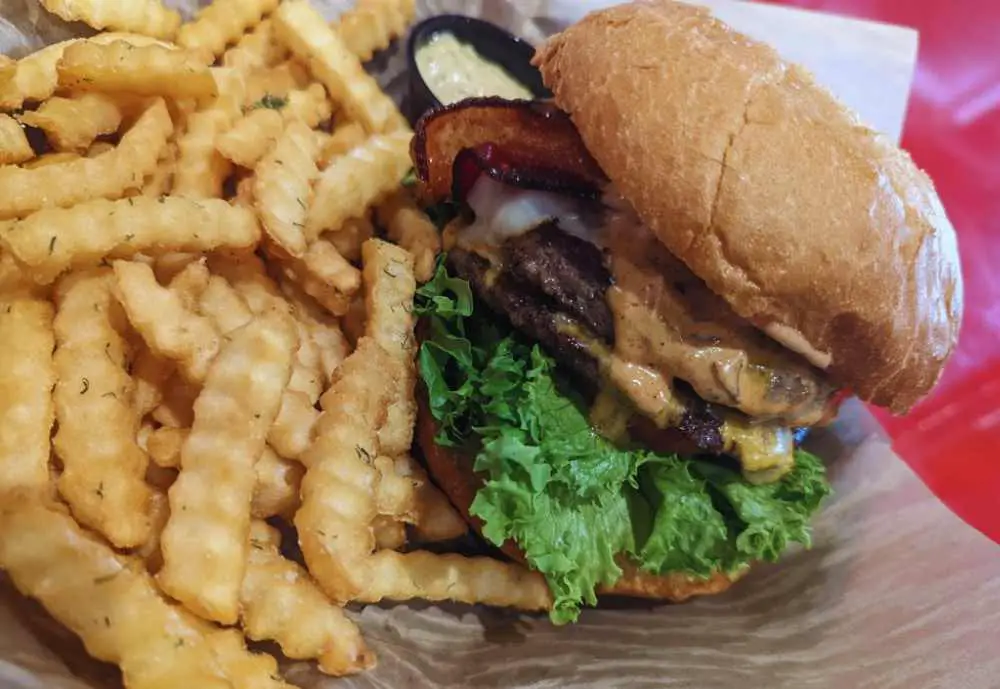 The menu includes classic options like the Victory Burger with American cheese, bread and butter pickles, shredded lettuce, tomato, onion, and Victory sauce, as well as more unique options like the Bulldog Burger with mushrooms, bacon, and Swiss cheese.
The restaurant is located in Spokane's historic Wonder Building and is described as the perfect place to grab a burger and a beer while catching a game or gathering with friends.
Menu: Victory Burger Menu
Top Review: "I just gotta saw… WOW! I got the southwest smash burger here, and it was delicious. The burgers come with a dill pickle seasoning on the fries, and they were very tasty. My Gf is vegetarian and they have plant Patties here! The bartenders were quick and seem to know their stuff. Would highly recommend checking this place out!" – Connor S.
Frugals Spokane
If you're on a burger hunt in Spokane, your journey simply wouldn't be complete without a stop at Frugals. A long-standing staple in the Pacific Northwest, this drive-through burger joint serves some of the most succulent and flavorful burgers in town.
The burgers at Frugals Spokane are a harmonious blend of quality and simplicity. What sets them apart is their perfectly cooked patties, which are always juicy and full of flavor. Paired with a soft, toasty bun, crisp lettuce, ripe tomatoes, a slice of sharp cheddar, and their signature Frugals sauce, each bite delivers an explosion of taste that's hard to beat.
Their double-patty burger is a local favorite, a testament to their commitment to hearty portions and indulgence. Truly, Frugals Spokane is a must-try for some of the best burgers in Spokane.
Menu: Frugals Menu
Top Review: "Affordable eats, and very tasty. The menu is so simple.. 5 or 6 total items but the burgers and fries we had were delicious.  We spent less than going to a fast food establishment and got a fresh beef smash-style burger with real cheese and veggies.  I'm in trouble because they're close to my house and open til 9pm." – Amy J.
Pint House Burgers and Brews
Pint House Burgers & Brews is a popular local pub in Spokane, Washington, with two locations in the area. The pub offers a casual and lively atmosphere, with games, music, and a menu that includes burgers and brews.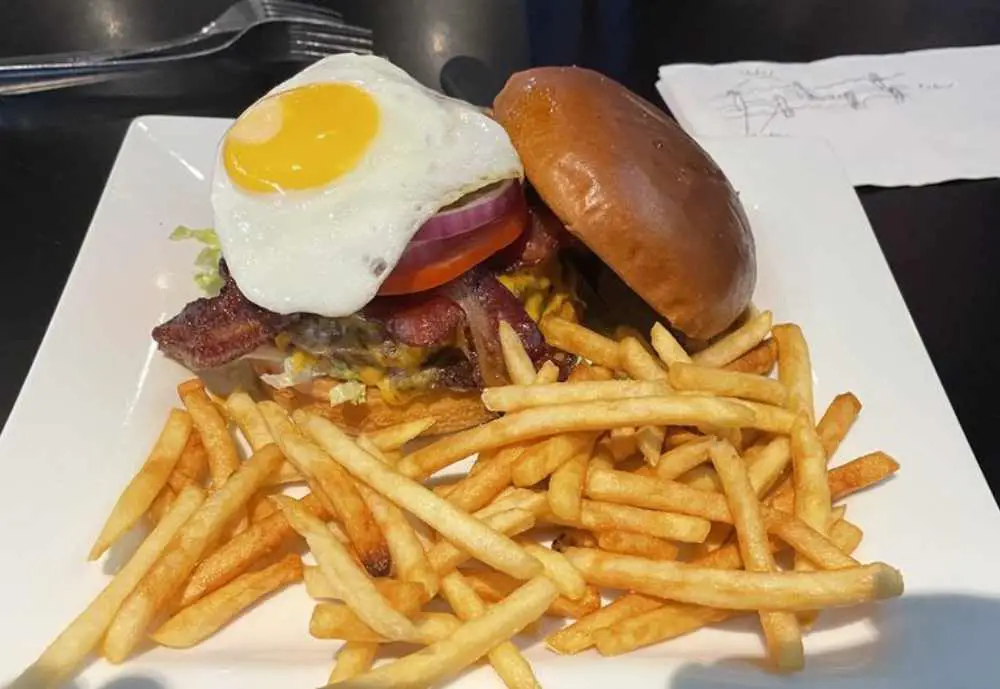 The menu features a variety of burgers, salads, sandwiches, and wraps, and the pub has numerous TVs for watching sports games. The prices at Pint House Burgers & Brews have been noted to be on the higher side, but customers rave about the quality of the food and the friendly service. They also have an impossible burger for vegans.
Give them a go for some of the best burgers in Spokane!
Menu: Pint House Burger Menu
Top Review: "Very friendly staff. Takeout orders are ready when promised. Burgers and fries are always really good. Variety of seating, includes large booths and room for bigger groups and multiple TV screens making it a great place for every reason to go out!" – Heidi L.
24Taps Burgers & Brews
24Taps Burgers & Brews is a popular restaurant and bar located in downtown Spokane, Washington. They offer a wide variety of local and large brewery craft beers, as well as gourmet burgers made from fresh, hand-pressed ingredients.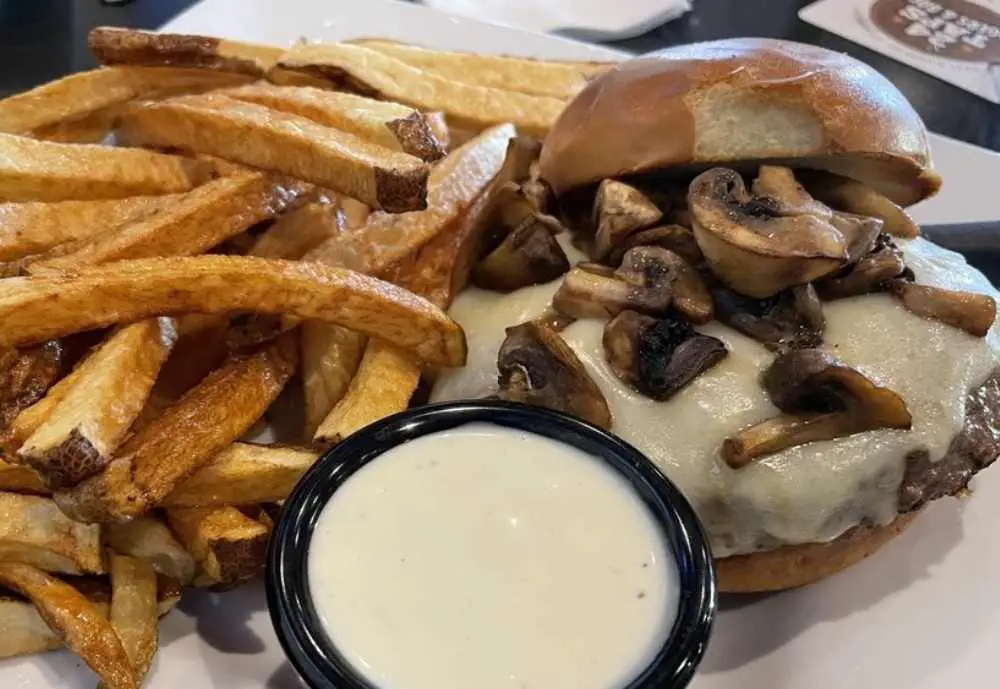 With 24 big screen TVs, they are a great spot to watch major sporting events with friends and family. In addition to their burgers, they also serve homemade appetizers, fresh salads, and desserts.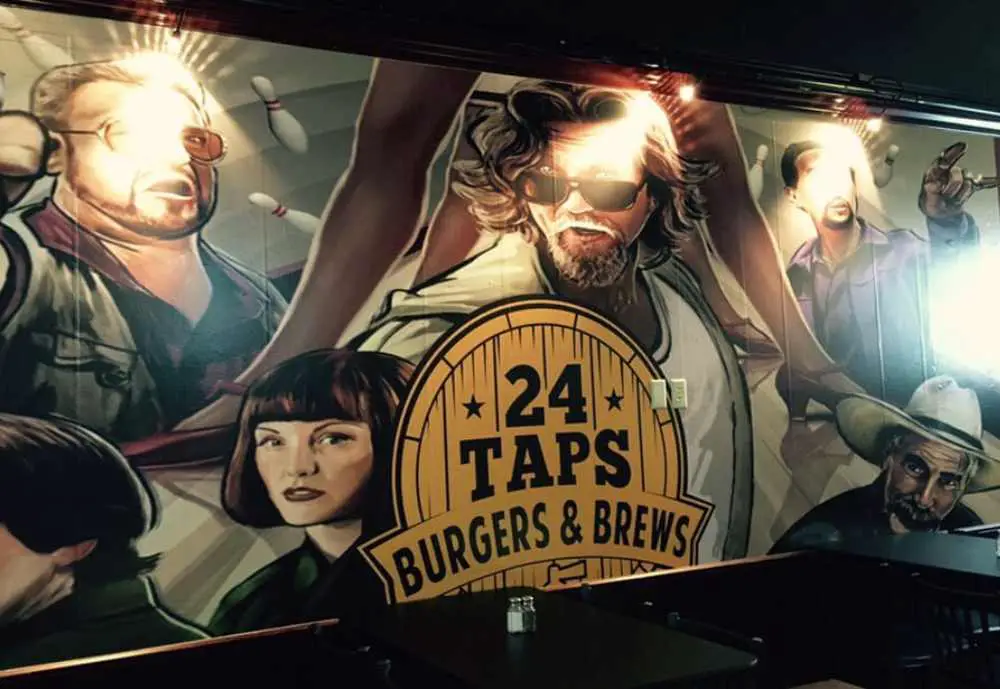 Their burgers are described as "hand-crafted masterpieces" and are a true work of art. Each bite is like a symphony of flavors that come together to create a culinary masterpiece.
Menu: 24Taps Menu
Top Review: "We stopped here for a late night bite on the way back from the airport. The food was great and our server was awesome. Restaurant was busy, but the food still came out quick and our server was attentive. Great place to stop for a burger or some wings!" – Alexandra M.
Hangry
Hangry in Spokane, Washington is known for its massive and delicious burgers.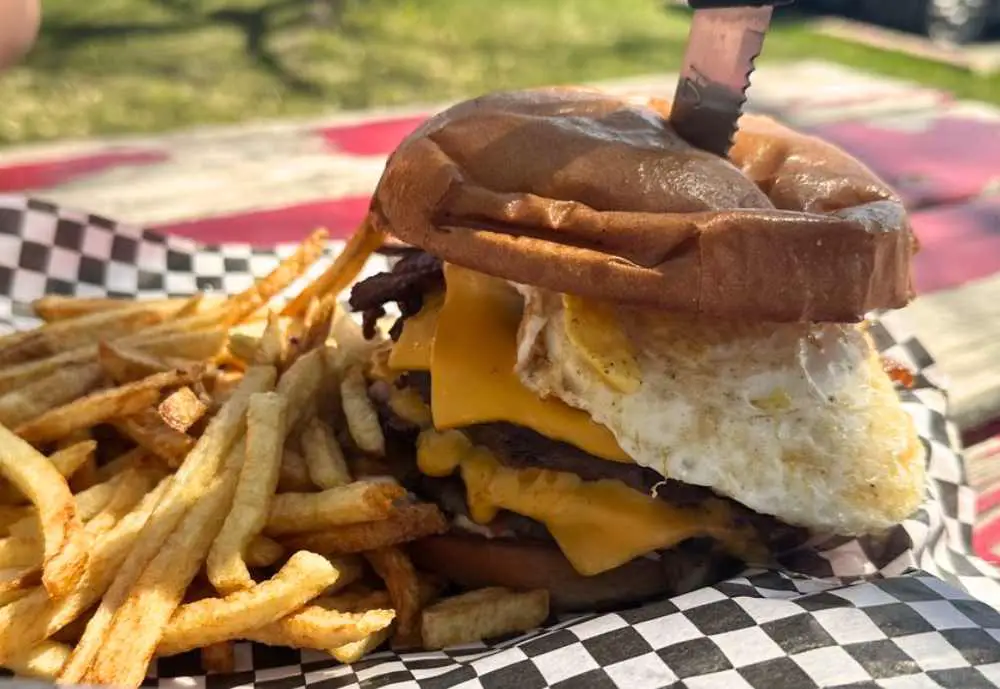 The restaurant offers a wide range of burgers, including the signature Hangry Burger, which has 2 beef patties, bacon, ham, 4 slices of American cheese, hashbrowns, over medium egg, ketchup, and mayo. YUM.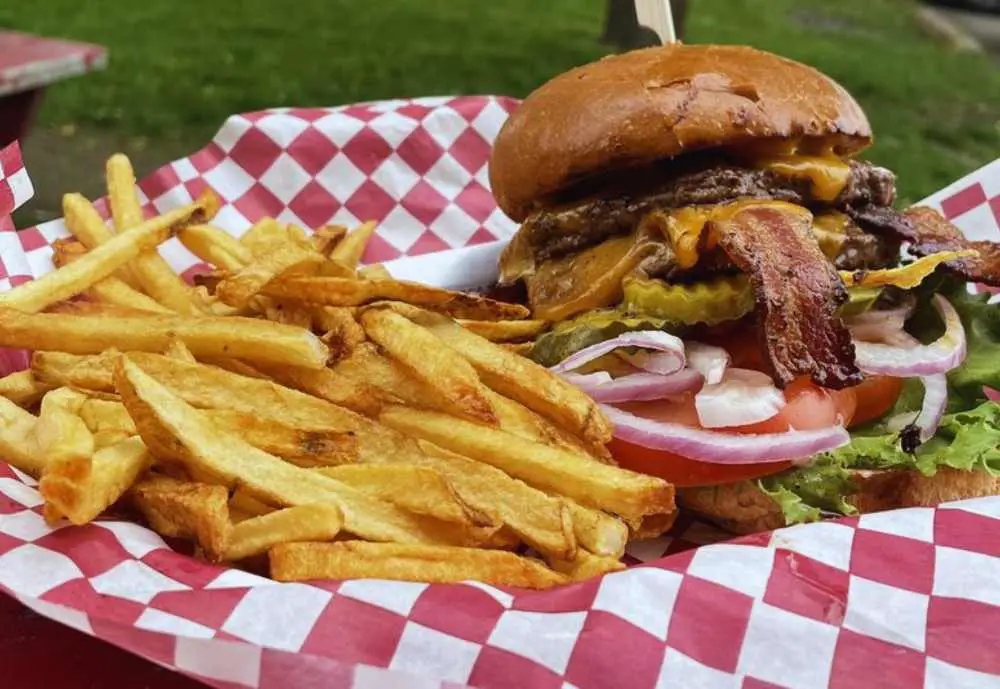 The Bacon Cheeseburger with onion rings is also a popular choice. Hangry's burgers are made with fresh ingredients and cooked to perfection. The restaurant has a 50s car theme, which adds to the fun atmosphere. Customers can enjoy their burgers in the restaurant or have them delivered to their homes. Try them out if you are looking for belt busting burgers in Spokane!
Menu: Hangry Menu
Top Review:
---
As we draw our epicurean expedition to a close, it's clear that the title of the "Best Burgers in Spokane" is hotly contested, each contender adding their unique sizzle to the city's culinary landscape. These magnificent creations, in all their juicy, flavorful glory, have taken the humble burger to lofty heights. From classic to gourmet, they've made their mark not just on our taste buds, but on our hearts too. The next time your cravings kick in, remember this savory guide and let the irresistible allure of these burgers guide your way. After all, in Spokane, we don't just eat burgers—we celebrate them!
You might also like these articles:
best burgers in Spokane, burgers spokane, burgers spokane wa