If you're looking for a great pizza in Baltimore, then this list is for you. Here are the best pizzas in Baltimore – from deep dish to thin crust, all of these places have delicious pizza that will make your mouth water.
No matter what style of pizza you prefer, there's something on this list perfect for everyone!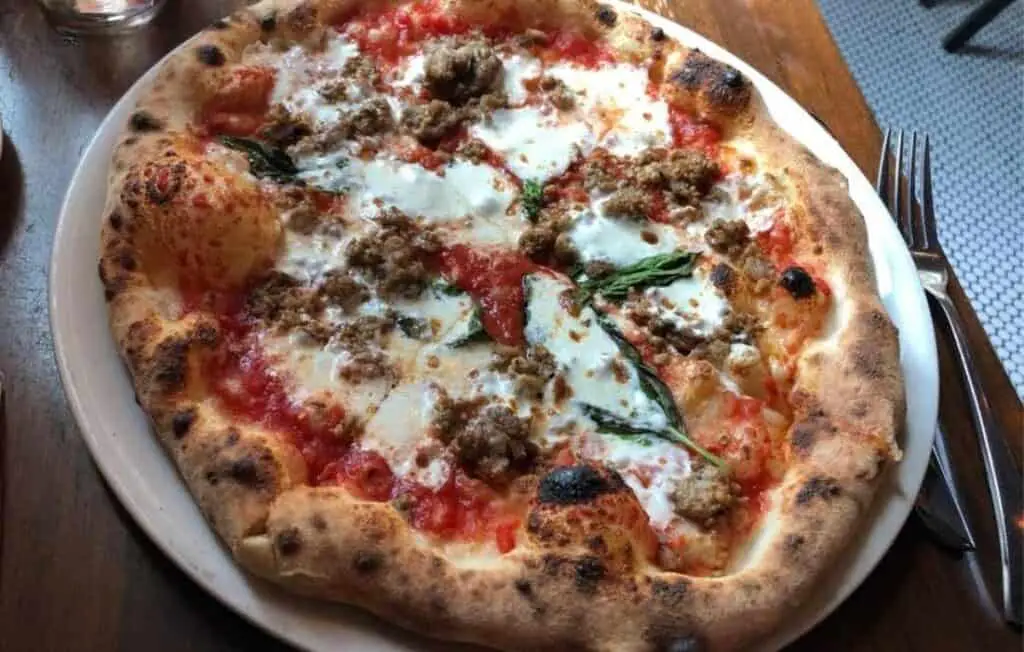 Verde is a pizza spot in the Hampden neighborhood of Baltimore that is quickly gaining a reputation for its delicious pies.
They have a variety of pizzas to choose from, as well as an extensive wine list and craft beer selections. They follow traditional methods when it comes to making their pizzas.
These pies go into an 850-degree oven for 90 seconds. This creates a pillowy crust with charred spots that complete the overall experience.
Come here if you're looking for a unique and delicious pizza experience.
Top Review: "As a native New Yorker living in Baltimore, I am a little particular about my pizza! Verde is by far my fave Neapolitan pie in the city. Verde has thin crust pizza and everything always tastes so fresh. I have tried so many of their pizzas on the menu and have never disliked any of them." – Abigail V.
641 S Montford Ave Baltimore, MD 21224, (410) 522-1000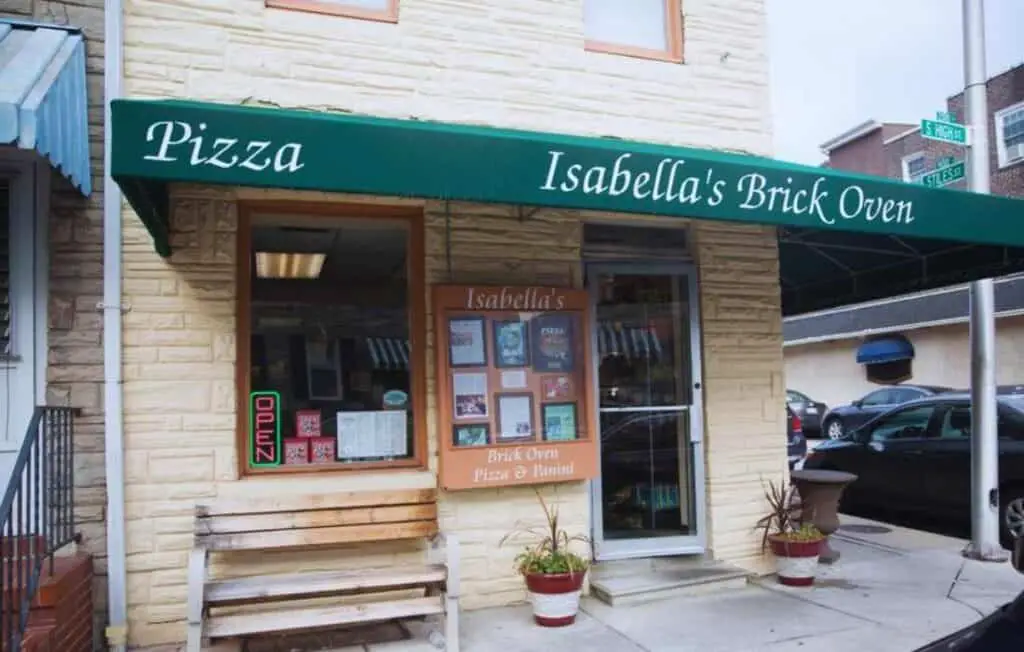 This restaurant is one of the best places in Baltimore for pizza.
Isabella's Brick Oven has been in the historic Little Italy of Baltimore for over 10 years and they offer award-winning pizzas and fresh salads.
They bake their pizzas in a brick oven, which makes the crust especially crisp and gives it an amazing flavor that is out of this world delicious!
Isabella's is actually a hole-in-the-wall restaurant that many locals love. On top of their oven-baked, thin-crust pizzas are homemade cheese and traditional toppings.
If you're looking for great paninis as well, this is one of the best Baltimore has to offer. It's homey and charming and a good gauge of local favorites.
Top Review: "Admittedly, I found this restaurant through GrubHub and ordered delivery, and only after tasting how amazing our DELIVERY was, did I realize how badly I need to eat this fresh. The Signorina Pizza was absolutely amazing (I added sausage and ricotta on top). It was hands down the best pizza I've had in years. Isabella's is my new pizza go-to!" – Ellen H.
221 S High St Baltimore, MD 21202, (410) 962-8888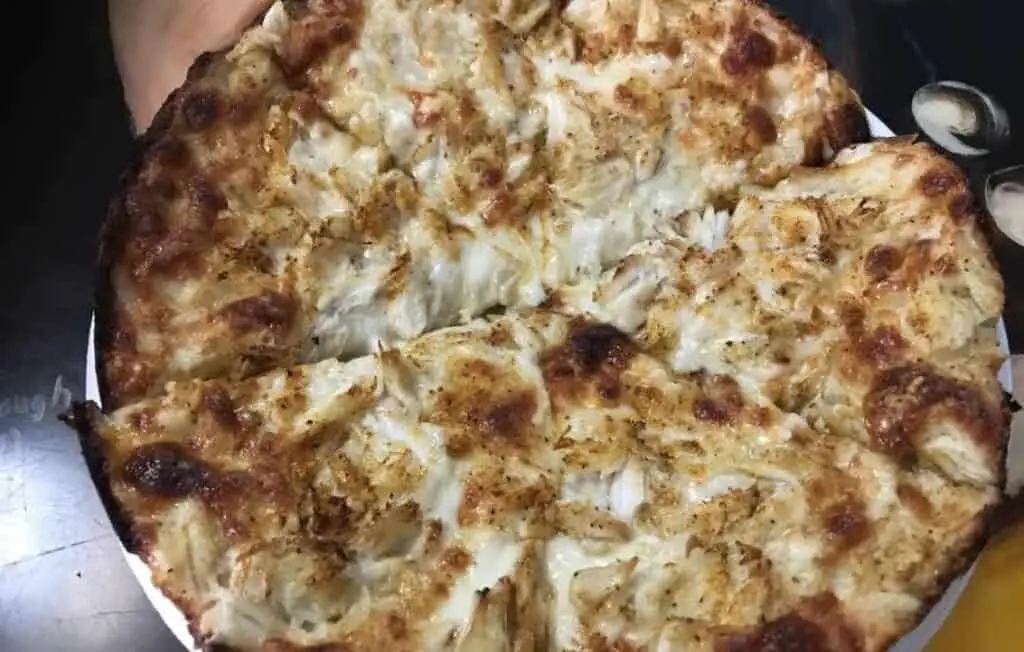 Matthew's Pizza is a unique pizzeria in Baltimore. They've been serving the community for more than 70 years now.
The USA Today and ZAGAT both say that Matthew's Pizza is one of the best pizza joints in America.
Not only that, their pies are a cross between a NY-style pizza and a deep-dish Chicago pizza. The best part about this place? You can get a whole pie or by the slice, which makes it great if you're not looking to eat an entire pizza yourself!
If you're into seafood, one of their standout flavors is the Crab Pie.
This Baltimore restaurant also has calzones and salads on its menu.
Top Review: "The crab pizza is a must try! I ordered mine without onions and it was about a 30 minute wait. But, when the wait was over my entire body was ready! Yep! I ate this pizza in the car right outside Matthew's. Why wait. So so soooooo good, cheesy, and crabby!" – Rose K.
3131 Eastern Ave Baltimore, MD 21224, (410) 276-8755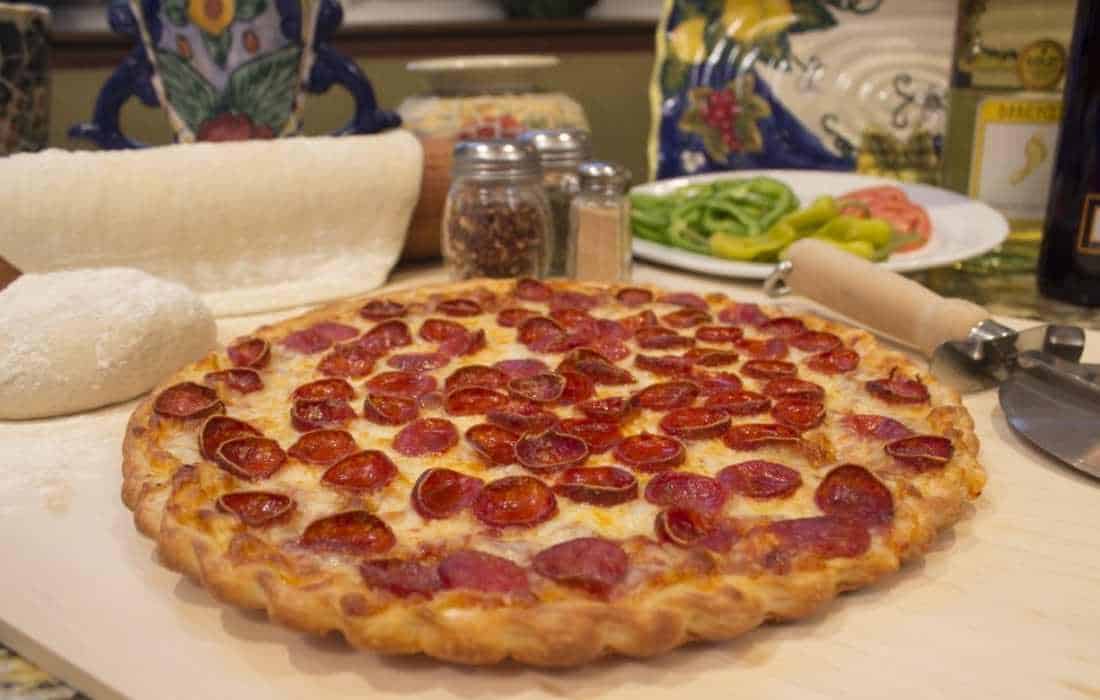 Another local favorite is Pizza John's, not to be confused with the mega pizza chain Papa John's.
Since 1966, this Baltimore pizza place has been a staple in the community with several generations eating Pizza John's growing up. Their pizzas are massive and filled with flavor and classic pizza toppings we all know and love.
They provide a warm and family-friendly atmosphere, and their pizza will not let you down. If you're in the mood for an old-school Baltimore restaurant, stop by Pizza John's!
Top Review: "The greatest pizza of all time. I will wait for someone to prove me wrong. Unfortunately also the most expensive pizza but always worth it. There has to be 20 people working at all times. Everyone looks like little pizza doctors and nurses in their outfits it's very cool." – Mel L.
113 Back River Neck Rd Essex, MD 21221, (410) 687-7733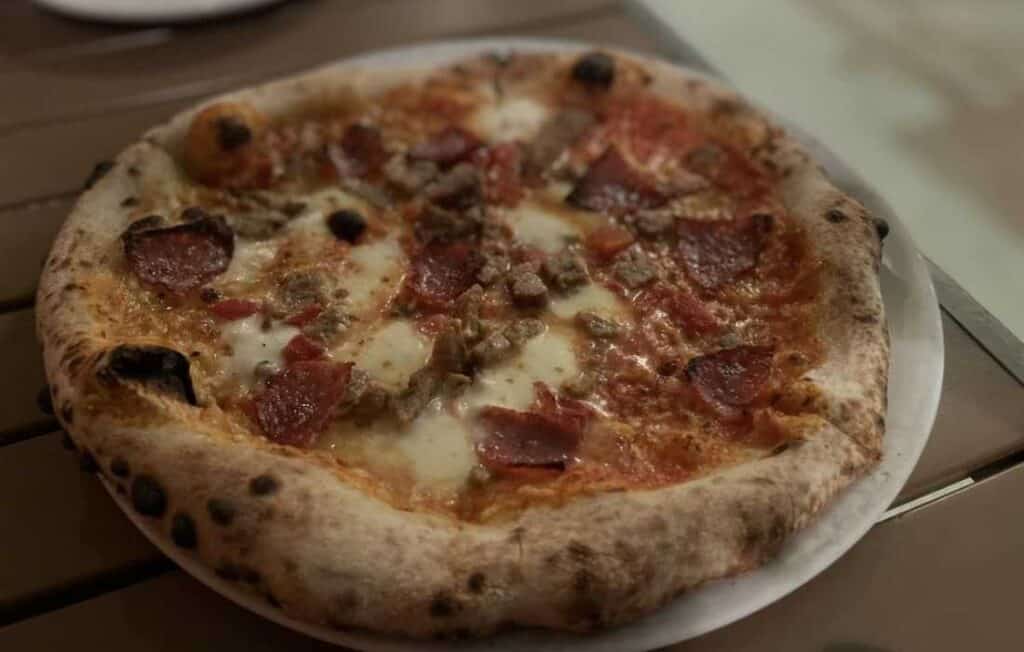 Hersh's is best known for its unique and delicious pizza combinations. This Baltimore restaurant offers a variety of pizzas, as well as salads and sandwiches on its menu.
There is always something different on their menu but the quality never wavers from their authentic wood-fired pizzas.
Some flavors to try are the Kale and Pistachio, the Miles Davis, or Salsiccia.
Top Review: "Incredible food all around!!! Everything tasted incredible. We started with the meatballs which were delicious, then the carbonara fries which were insane and so delicious and genuinely tasted exactly like carbonara with tons of guanciale chunks. We got two pastas and two pizzas and shared everything. All in all great food and cozy vibes especially during these cold winter months. Their patio looks awesome and I can't wait to try it over the summer." – Sophia M.
1843-45 Light St Baltimore, MD 21230, (443) 438-4948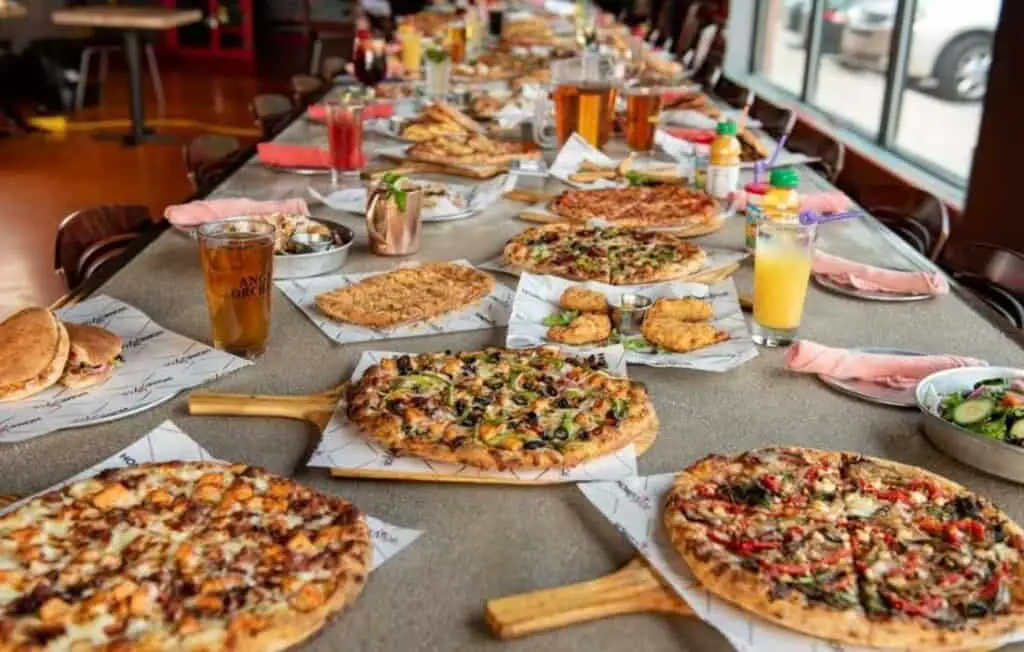 Another pizzeria that has a good reputation in the Baltimore pizza community is Home Slyce.
This spot specializes in New York-style pies with an outstanding homemade tomato sauce. Their standout flavor is their meatball toppings, it's a must-try if you're coming here.
They do have several locations to choose from.
Top Review: "My favorite pizza to be found in Baltimore! Almost always get take out or delivery from here and the quality is never compromised. Most recently we got the steak pizza (SO good), margarita and something eggplant, roasted red pepper, etc. The last one isn't anything to write home about but the rest were great! The pizzas arrived on time and the staff was really helpful when I needed to adjust the credit card I used when I placed the order ahead of time." – Charlotte J.
336 N Charles St Baltimore, MD 21201, (443) 501-4000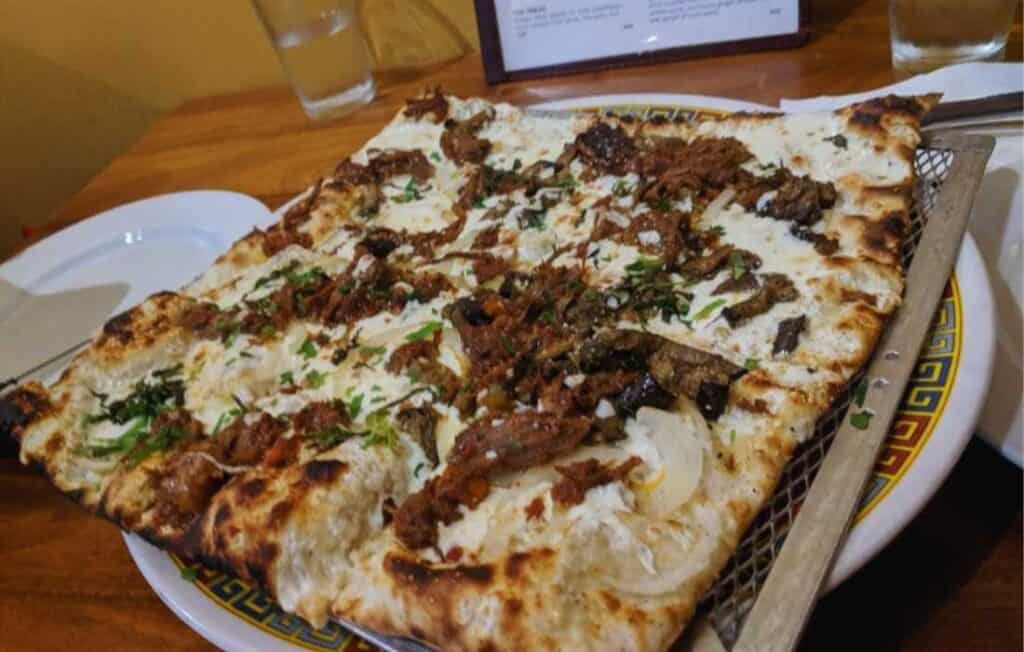 Joe Squared is a popular spot for families looking for pizzas.
The pizza parlor has cozy and friendly vibes that make it a good place for kids, plus they often have live music to go with their pies. They were featured in an episode of Diners, Drive-ins and Dives – very entertaining, as expected!
A Joe Squared pizza is made in their coal-fired oven with a sourdough crust. Don't be surprised to see a square pizza coming your way when you eat here since they deviate from the typical round-shaped pizza.
Try their Bacon and Clam pizza when you eat here.
Top Review: "If you're looking for a uniquely scrumptious pizza, I found it for you! It's Joe Squared! Wow! Wow! Wow! Every bite was a beautiful medley of herby, savory, cheesy goodness. Hashtag–our new favorite pizza!" – Gigi G.
33 W N Ave Baltimore, MD 21201, 410-545-0444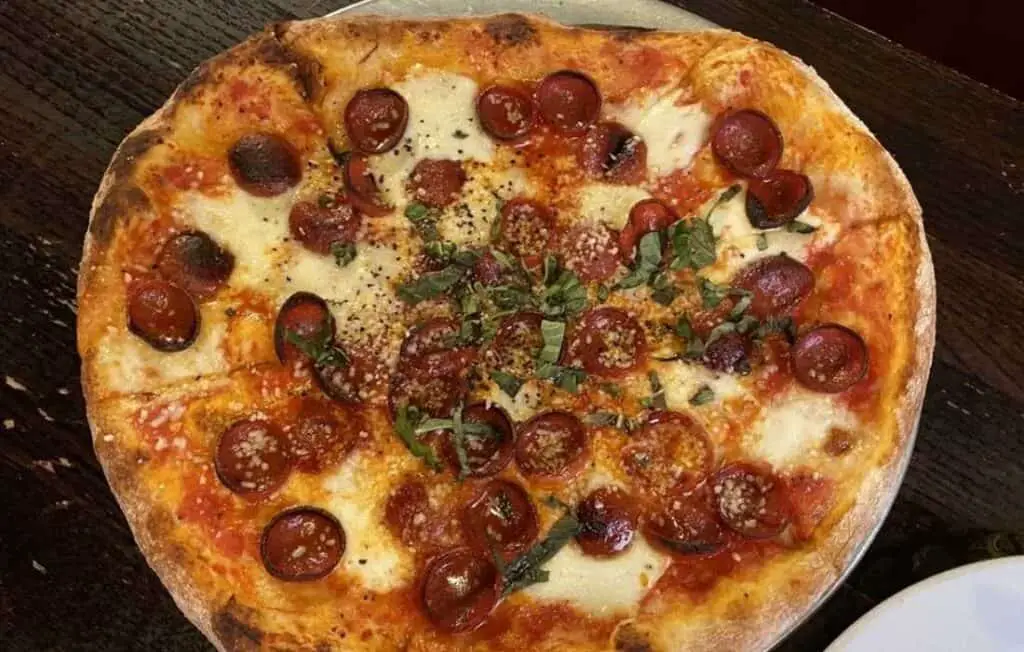 This pizza spot is known for its thin-sliced pizzas that some compare to flatbreads. Whatever it really is, it's still delicious and there are so many flavors and toppings to choose from.
They have a large selection on their menu with some unique flavors like the Hosoi Pizza. It's a spicy take on pie with jalapeños, bacon, and pineapple. Though that's not for anyone who doesn't like pizzas on pineapple, you'll still find something you'll like here with so many options!
Top Review: "What a hidden gem! I love this place for happy hour and a few games of skeeball. Their watermelon salad with goat cheese on top is one of the best ways Ive seen this dish presented. Goat cheese is absolutely amazing on watermelon wow. Their pizza is also phenomenal and we obviously had to get fries and a little dessert. You won't regret coming here!" – Tanya C.
2108 Eastern Ave Baltimore, MD 21231, (443) 759-6464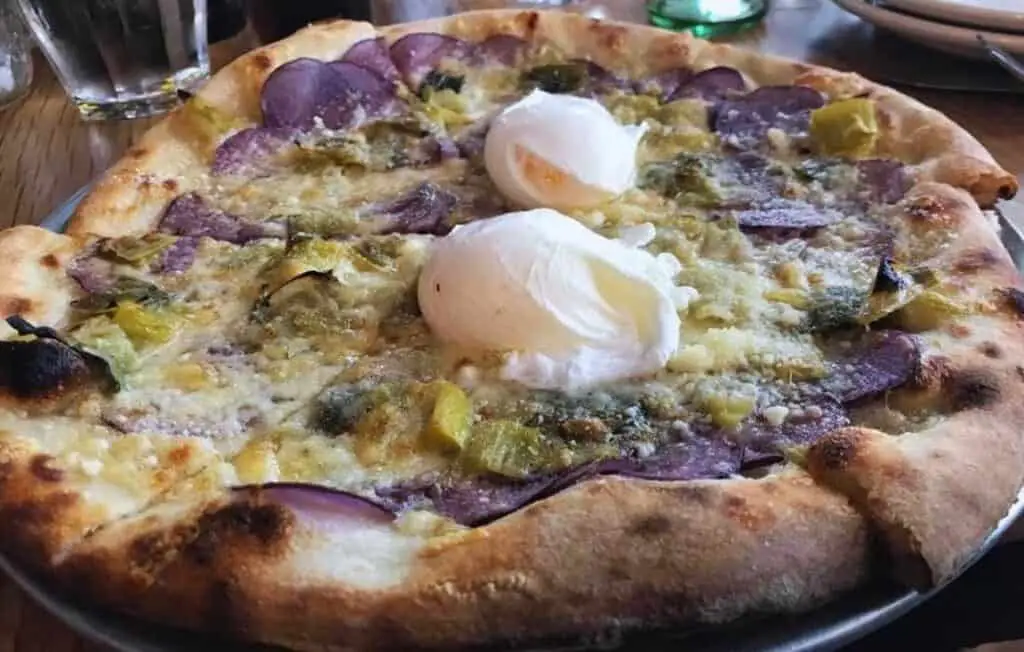 Noona, which translates to "older sister" in Korean is who this little Italian restaurant is for.
The restaurant offers a variety of Italian-inspired dishes but their pizzas are also worth the second look. Its made from sourdough and have many unique toppings and flavor profiles to choose from.
Some we recommend are Bambino (fennel sausage, ricotta, hot honey) or Magic Molly (potato, leek). If you're feeling adventurous, you can also try their DIY Margherita to customize your pie.
Top Review: "I went back to Noonas and it was fabulous! The pizzas ingredients were tasteful and clearly high quality fresh ricotta and pickled peppers. We also had a great salad appetizer and the sweet potato appetizer. The sweet potatoes were the only thing I didn't love. I would definitely go back and would also check it out for brunch." – Rachel U.
1203 W Mt Royal Ave Baltimore, MD 21217, (410) 424-0857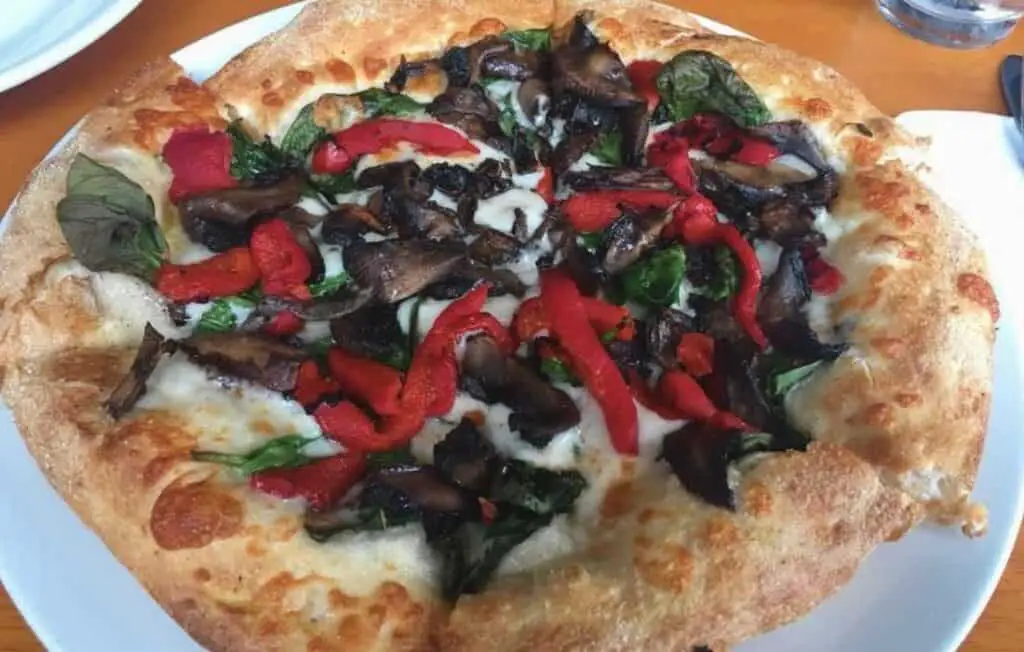 The spotlight in Zella's Pizzeria boils down to the basics: crust.
It's all about their homemade crust that's made fresh daily. It's medium-thick, crisp, and fluffy. Many say they could gladly eat the crust on its own.
But if you're willing to top that crust, you'll get a wide array of toppings and sauces for your order.
Zella's is a popular pizza place among locals and its location next to Hollins Market makes it accessible to many.
Top Review: "Always a favorite local pizza spot! Been here for the past 7 years and the quality of their pizza has never changed. It is always super flavorful with the perfect amount of toppings (thanks for never skimping out!) and the most delicious red sauce. I do agree though with some of the other reviewers… also find it odd that they do no wear masks indoors… but been ordering here for too long to question their food prep practices. I do always takeout though… have never dined in." – Jackie Z
There you have it! We've listed the 10 best pizzas in Baltimore to satisfy your pizza cravings. There are a lot of options that'll satisfy whatever kind of pizza you like.