Get ready to fuel up and start your day off right with the best breakfast spots in Durham, North Carolina. From classic southern-style dishes to unique twists on traditional favorites, these restaurants have it all.
Whether you're craving fluffy pancakes, savory biscuits and gravy, or a hearty omelette, you'll find something to love at these top-rated breakfast destinations. So grab your fork and knife and let's dig in to the most delicious breakfast in Durham!
True Flavors Diner
True Flavors Diner is a popular restaurant located in Durham, North Carolina. The diner serves classic American comfort food with a modern twist. Their menu features a wide variety of breakfast items, sandwiches, burgers, and entrees.
They are particularly known for their "ultimate biscuits and gravy", as well as their delicious milkshakes.
The atmosphere is casual and friendly, and the staff is known for their welcoming and attentive service. True Flavors Diner is a great spot for a casual meal with friends and family, or for a quick bite to eat while on the go. The restaurant is open for breakfast, lunch, and dinner.
Menu: True Flavors Menu
Top Review: "True Flavors is an experience. It's the type of place you tell people about. It's the type of place you take guests visiting from out of town. It is excellence in restaurant form. Their menu is amazing. I read through it and I want one of everything. Also it changes so every visit there's something new to discover. Lastly, they have the best grits ever. On top of the heaping praise above I had to call out the grits because omg they are heavenly." – Cobey C.
5410 Hwy 55 Ste AJ Durham, NC 27713, (919) 316-7978
Monuts
Monuts is a busy bakery and cafe located in Downtown Durham. The business began as a donut stand operating off a tricycle near the Durham Farmer's Market in 2011 and has since grown into a bustling counter-service restaurant and bakery with a full menu of breakfast and lunch fare including soups, salads, sandwiches, and of course, donuts.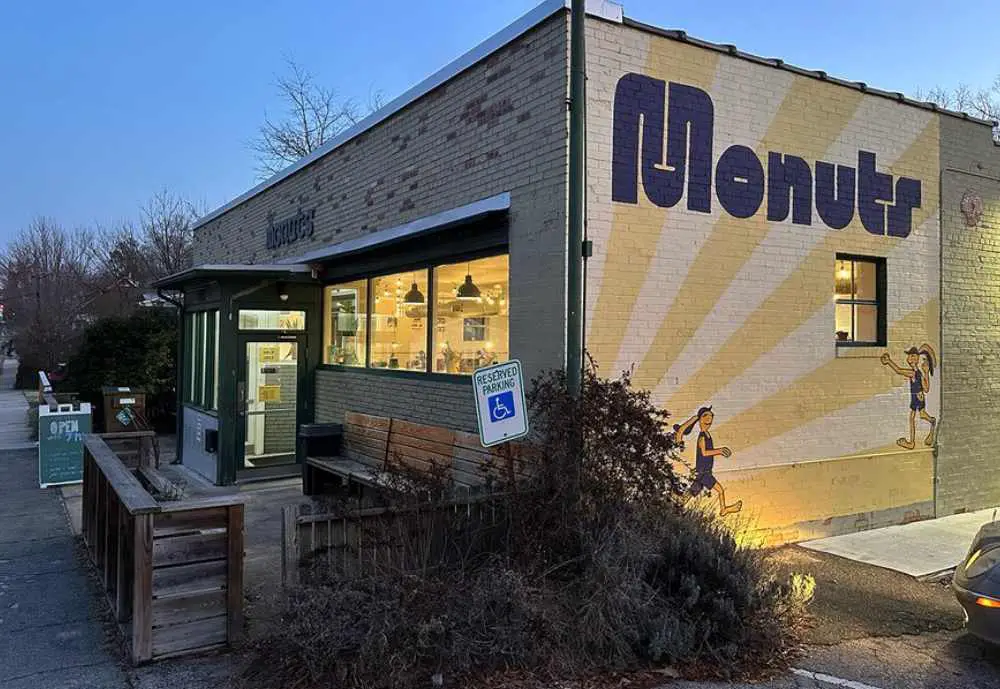 Monuts takes an updated approach to the American breakfast and lunch, pairing bold ethnic flavors with seasonal and local ingredients.
Whether customers are looking for a hot breakfast on a cold day, a crisp fresh salad at the height of summer or a handcrafted pastry or espresso to get them through the afternoon, Monuts has it covered.
No premade mixes or artificial flavorings are used in the food – everything is made from scratch, by-hand and with natural high quality ingredients.
Breads and pastries are baked fresh daily and sandwiches are made to order, proving that sometimes the best food is the simplest. Don't miss them, they are one of the best breakfast spots in Durham!.
Menu: Monuts Menu
Top Review: "If you're in Durham and need a place to grab a small breakfast and great coffee, definitely stop at Monuts! My wife was giving me a tour of all her favorite spots in Durham and I can see why Monuts is on that list. I made my own breakfast sandwich (everything bagel, egg, bacon, and pear jam) and grabbed a latte. The bagel was delicious and the jam was a nice sweet touch that complimented the rich yolk and salty bacon. The latte was masterfully prepared and had the timeless rosetta latte art. We'll definitely be back to Monuts when we're in town again!" – Christopher A.
1002 Ninth St Durham, NC 27705, (919) 286-2642
Debbie Lou's Biscuit Shop
Debbie Lou's Biscuit Shop in Durham, North Carolina is a must-visit destination for anyone looking for delicious southern-style biscuits. Located in the heart of Durham (also the same location as True Flavors Diner covered earlier!), the shop serves up fresh, homemade biscuits that are sure to satisfy even the most discerning palate.
With a variety of flavors to choose from, including classic buttermilk, savory cheddar, and sweet blueberry, there's something for everyone at Debbie Lou's.
The shop also offers a range of toppings and spreads, including gravy, honey, and jam, so you can customize your biscuit to your liking.
Menu: Debbie Lou's Menu
Top Review: "Wow! Wow! Wow! Debbie Lou's is on a completely other level… I ordered the famous Blueberry Chipotle Chicken with an egg. All I can say is it tastes just as good as it looks! It's the perfect blend of savory and spicy like no other. They don't skimp out on the size of the biscuit or on the sauce the biscuit is lathered in. I can't wait to be back down in Durham to go back and order something new! Locals… do yourself a favor and go check this place out ASAP if you haven't been!" – Daniel R.
5410 Highway 55 Ste AJ, Durham, NC 27713, (919) 316-7978
Elmo's Diner
Elmo's Diner has been a beloved establishment in Durham for over two decades, with a loyal customer base of repeat patrons. The team at Elmo's takes pride in offering friendly and efficient service, as well as serving fresh, homemade food that will make customers feel like they're eating a home-cooked meal.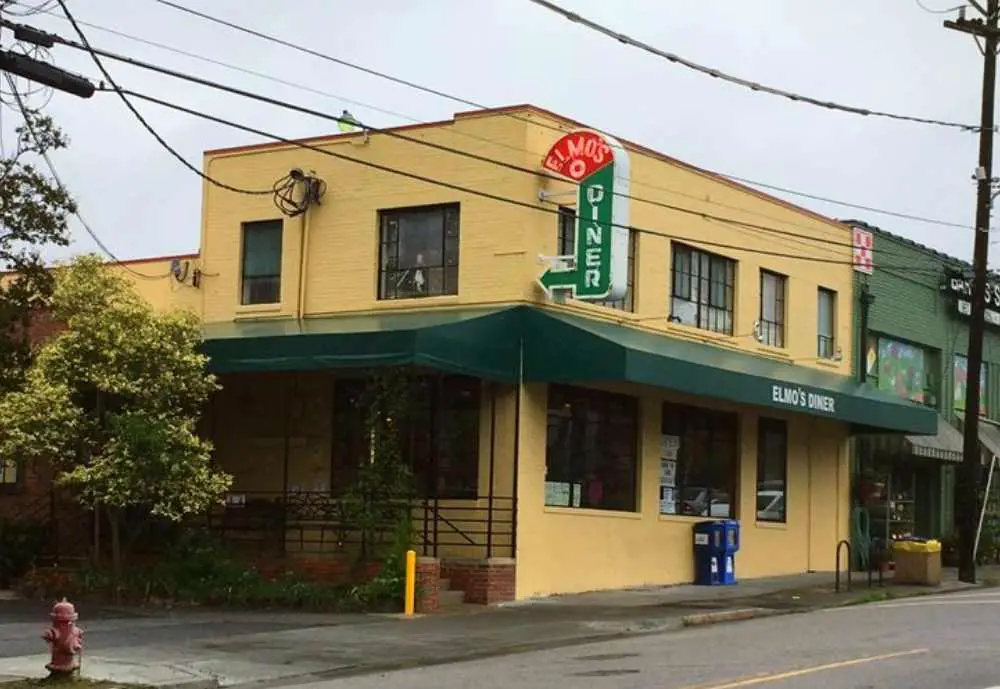 Elmo's does not use mixes or instant meals and all desserts and soups are made from scratch. In fact, some customers even call in advance to see if their favorite cobbler is the special of the day.
The atmosphere at Elmo's Diner is warm and welcoming, with comfortable booths, tables, and high chairs and boosters for young children. Many of the diner's regular customers and even some employees have grown up with Elmo's, making it a true family diner.
Menu: Elmo's Diner Menu
Top Review: "Love love love! I am an enthusiastic foodie, but Elmo's takes the cake as far as I'm concerned…and the name of that cake is the pumpkin apple bread! What a great diner! Everyone was super friendly, the place was packed but there was still not much of a wait, and the food was excellent.  I had the Santa Fe scramble, which was clearly the best item on a menu filled with excellent options. The Santa Fe scramble features black beans, sweet potato, corn fritters, eggs, feta, and tomatoes. Sweet fancy Moses, it was delicious! My husband got a breakfast burrito, and loved it as well. And that pumpkin apple bread? Out of this world!" – Liz M.
776 9th St Durham, NC 27705, (919) 416-3823
Beyu Caffe
Established in 2005, Beyu Caffe is a specialty coffee shop and semi-upscale quick service bistro that aims to please customers' palates with fantastic coffee, good food, and cool vibes.
The owner, Dorian Bolden, created the concept with the idea of filling a unique void in the Durham food scene. To prepare for the opening, Bolden spent four years training as a cashier, barista, bartender, and assistant manager at multiple food locations to learn the business.
After raising enough capital, Beyu Caffe opened its doors in December 2009, following 7 months of design and construction. Beyu Caffe is considered as downtown Durham's living room.
Menu: Beyu Caffe Menu
Top Review: "First time visiting here I found out that there was a live jazz band playing and me and some friends brought tickets…I'm so glad we did being over 40 it's amazing to see a place bring back the lounge and live music, the food was great especially the wings they had the perfect amount of seasoning, as a lover of fried green tomatoes though good I would have love more pimento cheese it was a very small amount between the tomatoes. The music was simply amazing, I know they have 2 shows, just wish our ticket brought more time to hear the band. Overall awesome experience and I'll for sure be back." – Angela H.
341 W Main St Durham, NC 27701, (919) 683-1058
Rise Southern Biscuits & Righteous Chicken
Rise Southern Biscuits & Righteous Chicken opened with a simple vision: to offer great food at an affordable price, made with quality ingredients by people who truly care. It's not like your typical breakfast spot!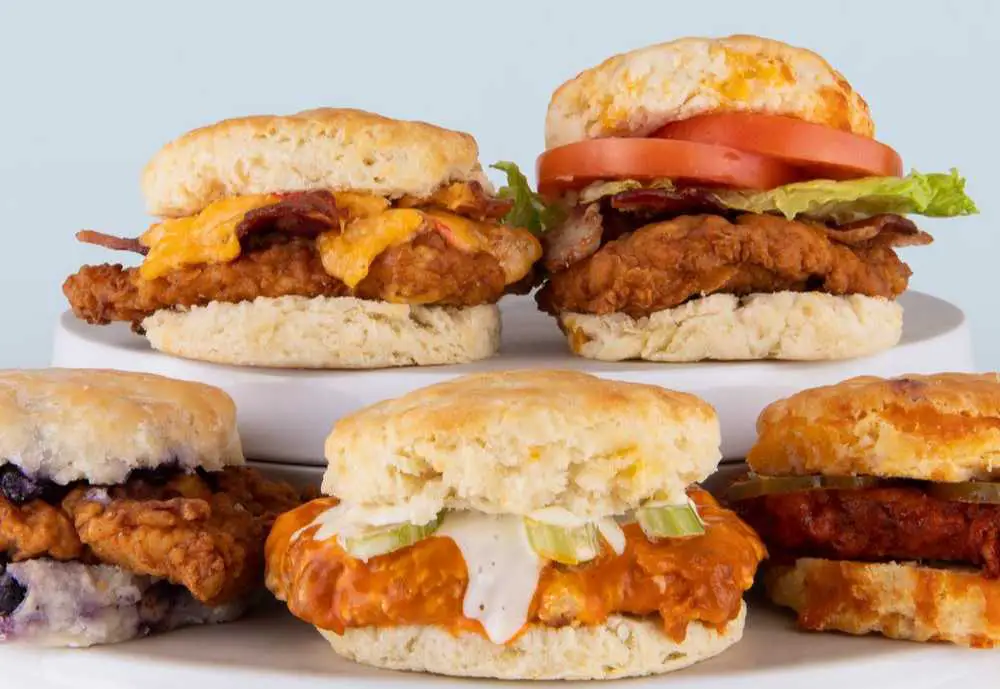 Every day from 7am-2pm, Rise serves biscuits and donuts, with a swift service line and no waitstaff.
The biscuit menu has all the everyday favorites–country ham, bacon, sausage, fried chicken, a variety of cheeses, spreads, and eggs made scrambled, fried, or runny.
Pick your favorite, and Rise will make it for you. Monthly biscuit specials also feature new flavors and combinations. Everything is prepped and cooked fresh, so don't wait too long, biscuits and donuts can sell out fast!
Menu: Rise Menu
Top Review: "I think this is the best chicken biscuit I've ever had, and I'm obsessed with their cheddar biscuit. It's super fluffy, and the cheese is blended super well with the dough! Their cheese tater tots are also very good, but super rich and greasy. They have a pretty convenient online ordering / pickup system. My only warning for this place would be that it gets busy and super slow sometimes. Don't run in for a time sensitive visit." – Beth H.
8200 Renaissance Pkwy – Durham, NC 27713, (919) 248-2992
Esmerelda's Cafe
Menu: Esmerelda's Menu
Top Review: "Esmerelda's is a true hidden gem in north Durham! I got coffee a few times when they used to be located in Northgate Mall and loved it. I was happy to hear they had opened in a new location after the mall closed. I have only had coffee and donuts from them, but their food menu has so much variety and always looks and smells delicious whenever I am there. I need to plan a full meal soon. Do not sleep on this place!" – Hannah M.
1515 N Pointe Dr Ste 108 Durham, NC 27705, (919) 864-8007
Bull and Bean
Bull and Bean is a neighborhood restaurant and market that is the perfect spot to grab a delicious breakfast.
Counter Culture coffee and espresso drinks, artisan sandwiches, unique salads, soups and scratch-baked goods are just a few of the delectable items that Bull and Bean has to offer.
Plus, they serve breakfast all day and an amazing weekend brunch from 8am-3pm on Saturdays and Sundays.
If you're looking for a special gift from North Carolina, the small but thoughtfully selected market area is the perfect place to pick up a token of Southern pride. They have artisan crackers, barbeque sauces & rubs, cheese straws, the best nut butters anywhere, honey from local bees, housemade dips and spreads, prepared dinners to-go and even greeting cards by local artists.
In addition, they have a nice selection of wines, craft beer and an array of kombucha, sodas, teas and juices, all of which are sourced from the Triangle area. Be sure to stop by, they are one of the best breakfast restaurants in Durham.
Menu: Bull and Bean Menu
Top Review: "This is my GO TO brunch spot in the triangle. I love the variety of options they have, the fast-casual style, and the price is not too shabby for a student on a budget. Their bennedicts are always great. I've tried their croissant with nutella and strawberries which was simple but still delicious. I like how they get their bread from Guglhupf. They constantly add specials which is always nice to try other things. They don't have it anymore, but they used to have a belgian waffle with berries and whipped cream…  and their whipped cream is sooo tasty! If you don't have a sweet tooth like me, their savory options are great too." – Surika A.
3710 Shannon Rd Ste 100 Durham, NC 27707, (919) 237-2398
You might also enjoy these mouthwatering breakfast articles:
breakfast durham, durham breakfast, best breakfast in Durham