Let's Dive into Charleston's Pizza Scene!
Ah, Charleston—where cobblestone streets meet culinary masterpieces. As history and charm beckon from every corner, so does the aroma of delectable pizzas, each telling its own savory tale. This city, renowned for its antebellum beauty and coastal allure, also hides a gastronomic secret—some of the best pizza joints in the South. Whether you're a deep-dish devotee or a thin-crust enthusiast, come with us as we slice through the Holy City's must-visit pizza paradises. Let's embark on a cheesy journey through Charleston's crusty gems!
Frannie & the Fox
First up, Frannie & The Fox. Frannie & The Fox in Charleston is undoubtedly one of the best pizza spots in town. This upscale restaurant offers an exceptional dining experience that is sure to impress any foodie.
The interior and decor are simply stunning, providing a chic and sophisticated atmosphere that adds to the overall dining experience.
While the ambiance is impressive, the real star of the show is the pizza. Frannie & The Fox's pizzas are made with fresh, high-quality ingredients that are expertly crafted to create unique and delicious flavor profiles.
The fennel sausage pizza is a standout option, with perfectly cooked sausage and a flavorful tomato sauce that is sure to satisfy any pizza lover's cravings.
For those looking for something a little more unique, the Taleggio pizza is a must-try. Made with burnt honey and black pepper, this pizza is a perfect balance of sweet and savory flavors that will leave your taste buds wanting more. Whether you're a local or just passing through, Frannie & The Fox is a must-visit for any pizza enthusiast.
Menu: Frannie & The Fox Menu
Top Review: "Ya'll. This is such the total package. Lovely ambience with comfortable booths, beautiful courtyard, great lighting and acoustics. Service from hostess, to bartender, to our engaging server (Thanks Jimmy for everything!) was spot on. And the brunch menu was a delightful combination of new flavors and old favorites done really well. We loved sharing the bakery basket (hello cherry "pop tart" with Nutella dipping sauce) and perfect meatballs while enjoying a nice dry Rosè carafe from the tap. Then onto amazing pizzas and crab fritters with a spicy aioli. Just go!" – Theresa F.
D'Allesandro's Pizza
The next spot for some of the best pizza you can find in Charleston is D'allesandro's Pizza. D'AL's Pizzeria in Charleston, South Carolina, is a family-owned establishment founded by brothers Ben and Nick D'Allesandro in 2006.
Known for its thin-crust pizzas crafted from homemade recipes, D'AL's offers a menu that extends to salads and sandwiches. Notable pies include the "Get Gnarly" and "The BeetNick".
Their beverage selection impresses with six draft and 25 bottled beers. D'AL's offers enticing lunch specials at $6.95 and happy hour deals at $8. Embracing dietary diversity, this local gem features vegan and vegetarian-friendly options, including vegan cheese, tempeh, and tofu.
Top Review: "Yum. This pizza was local, hot when I picked it up, and delicious. My wife likes a pizza with a good amount of sauce on it. This pizza fit the bill. We got the Parm with Meatballs, a bacon and a cheese. The restaurant was cute and quaint from the outside. Nestled in a corner building, it blends in perfectly with the historic neighborhood. It belongs here. I ordered on Doordash with the pickup option. The staff was friendly. The order was ready right in time. Good place to get your Charleston pizza!" – Brian M.
Crust Wood Fired Pizza
Crust Wood Fired Pizza is a local pizza kitchen in Charleston, South Carolina with three locations: James Island, Downtown Charleston, and Summerville.
Crust Wood Fired Pizza uses locally sourced ingredients to create high-quality, hand-crafted artisan pizza.
Each location has both indoor and outdoor seating options for dine-in or take-out.
Enjoy popular dishes such as arancini, butternut pizza, and the "Crustavore" pizza, which is made with bacon, pepperoni, crispy prosciutto, sausage, hot coppa, tomato sauce, and mozzarella.
Try them out for some of truly some of the best and original pies in Charleston.
Menu: Crust Wood Fired Menu
Top Review: "Amazing pizza! We got three pizzas to go, they were accurate on their timing, which only took 35 mins from the time we called. We ordered a cheese, pepperoni, and Bianca with spinach and prosciutto. All three were amazing, the wood fired crust is always the best, the cheese was melted perfectly and the sauce while a little sweet for my liking was still pretty good. We will definitely be coming back to try more pizza when we are in town." – Brittany T.
Pizzeria Di Giovanni
Next is Pizzeria Di Giovanni. It all began during Giovanni's childhood. His mother and beloved sister have always served as his culinary inspirations.
of them were constant figures in the kitchen, filling Giovanni's upbringing with a profound love for food.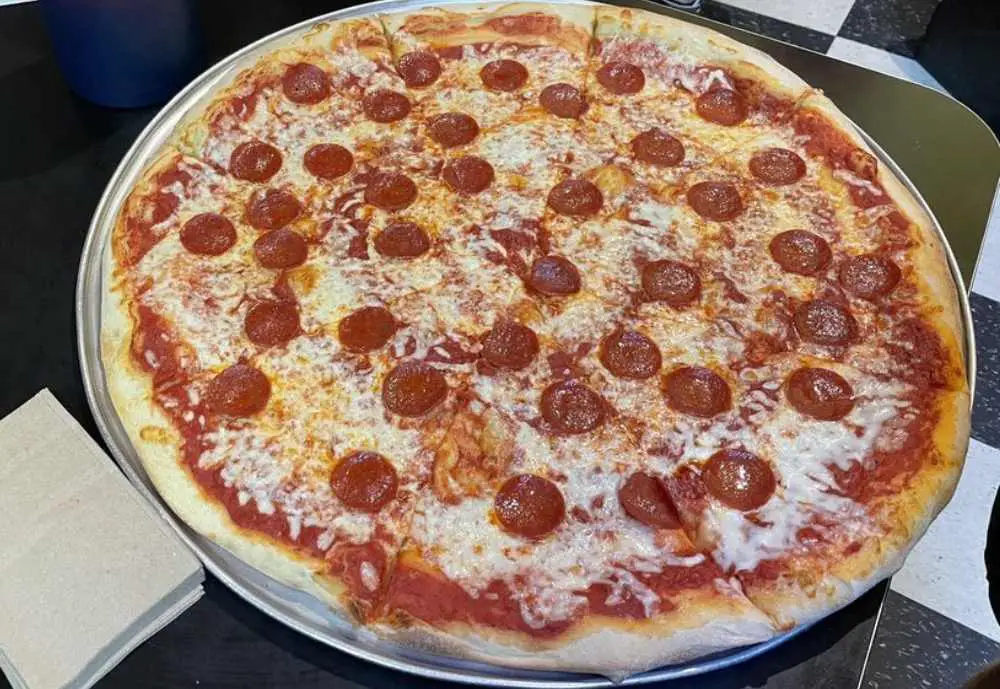 In their home, pizza was more than just a meal; it was a cherished tradition. They prepared it using a secret recipe, a treasured family secret passed down through generations.
Today, Giovanni is fortunate enough to have merged his passion and profession seamlessly. Working alongside an amazing team at Pizzeria Di Giovanni, he continues to craft authentic Italian pizzas using only the finest ingredients.
For Giovanni and his team, the joy they derive from making pizzas is a reward in itself, contributing to why Pizzeria Di Giovanni is one of the best pizza spots in Charleston, South Carolina. Please note! They only take cash!
Menu: Giovanni's Pizza menu
Top Review: "I am so glad I stumbled upon this place! It's a gem! You can get slices with any toppings you like, and they are huge slices! The owner is very cool and laid-back, and there is a Ms. Pac-Man machine! A very cool little place." – Meredith A.
Renzo
Renzo, located in Charleston, South Carolina, is not your average pizza spot. This standout eatery specializes in naturally-leavened, wood-fired pizzas that are a cut above the rest.
In addition to their exceptional pizzas, Renzo offers a range of market-driven snacks and small plates, perfect for sharing and exploring a variety of flavors.
Have a go at Renzo's, they absolutely have some of the best pizza in Charleston, South Carolina. You will not regret!
Menu: Renzo Menu
Top Review: "We have visited twice now and both times were so good. The food is amazing and fresh. The service is always fabulous! We also ordered wine and martinis to go with our meals and they were amazing!! Overall, the restaurant is nicely decorated and feels like you're at your family's house for dinner." – Maddie R.
---
As our saucy sojourn through Charleston's pizza spots comes to an end, it's clear that the Holy City's allure isn't just in its historic tales or ocean breezes—it's folded into every slice, every topping, and every bite of its pizzas. The symphony of flavors witnessed here is testament to the culinary artistry of this Southern gem. Until next time, keep that pizza passion alive and let Charleston's pies inspire many return visits!
You might also like drooling over these pizza articles:
best pizza in charleston, pizza in charleston, pizza near me, best pizza near me, pizza charleston sc, best pizza charleston sc