Imagine a masterpiece sandwiched between two fluffy buns, a creation so divine that it could only be the brainchild of an unsung culinary Picasso. That, my friends, is the humble burger, the gastronomic equivalent of a Shakespearean sonnet that's been deep-fried and served with a side of fries. Welcome, dear reader, to our quest for the best burgers in Cincinnati, Ohio. We've scoured every nook and cranny, from the bustling heart of the city to the tranquil banks of the Ohio River. And boy, do we have some juicy tales to tell! Prepare your taste buds, because we are about to embark on a flavor-packed journey that'll make your appetite do the cha-cha. Spoiler alert: The 'best burgers in Cincinnati' may just be the culinary equivalent of a standing ovation at the end of a rock concert.
Milkman
Milkman in Cincinnati, Ohio is known for its delicious burgers made from high-quality smashed beef. The restaurant offers a limited menu, but their burgers are definitely worth trying.
The Milkman burger, in particular, has received rave reviews from customers, with one even saying it was one of the best burgers they had in years. The Deluxe burger is also a popular choice, with its shredded lettuce, tomato, grilled onions, and special sauce.
For those who like it spicy, the Spicy burger with damn hot spice, pepper jack cheese, jalapenos, bacon strips, and garlic herb mayo is a must-try. The prices are reasonable, making it a great choice for a quick and affordable meal.
Menu: Milkman Menu
Top Review: "Check them out next time you are near Washington Park.
‍ Come here for burgers, boozy/ non-boozy milkshakes and more!
I enjoyed the "Frozé Rosé" and the fried buffalo chicken sandwich." – Angie H.
Krueger's Tavern
Another burger hot spot is Krueger's Tavern. Krueger's has received loads of rave reviews, with many describing them as excellent and flavorful. The relaxed atmosphere and eclectic playlist make it the perfect place to enjoy a delicious burger and unwind.
So, whether you're in the mood for a lunchtime burger or a late-night snack, Krueger's Tavern has got you covered. Don't miss the opportunity to try one of the best burgers in Cincinnati!
Menu: Krueger's Menu
Top Review: "The cocktails are fantastic and the classics like the pesto jar app and the veggie burger are soooooo good. They have a new modern look to the bar and the service was top notch.  It's lively and can have a wait at peak times but definitely stop in the next time you're in OTR with friends or a date!" – Alexandra H.
Delwood
Delwood in Cincinnati, Ohio is a must-visit spot for burger lovers.
The El Jefe burger is a standout item on their menu that is sure to satisfy any craving. The burger is cooked to perfection and topped with crispy bacon, avocado, and a spicy aioli that adds a kick of flavor.
For those who prefer a classic burger, the Classic Double Cheeseburger burger is a great option. It's two 4 oz patties, American cheese, pickle, special sauce on a toasted potato bun. Pro tip: ask for your burger Smothered! Both burgers are served on a soft brioche bun that adds the perfect touch of sweetness to the savory flavors.
Get to Delwood for some of the best burgers in Cincy!
Menu: Delwood Menu
Top Review: "We had a great time at Delwood. It's an awesome neighborhood spot in Mt. Lookout. I really enjoy the neighborhood and am glad this restaurant is a part of it. The burger is classic. It's as good as everyone says. I didn't expect the cocktails to be as good as they are. Wait staff was super friendly. The only downside I guess is parking, but that's for anything on the square. Usually the place is pretty busy and once you go, you'll see why."
Bone's Burgers
If you're a burger lover in Cincinnati, Ohio, Bones' Burgers is a must-visit spot. With two locations in Montgomery and Oakley, this local gem is known for its fresh ingredients and incredible flavor.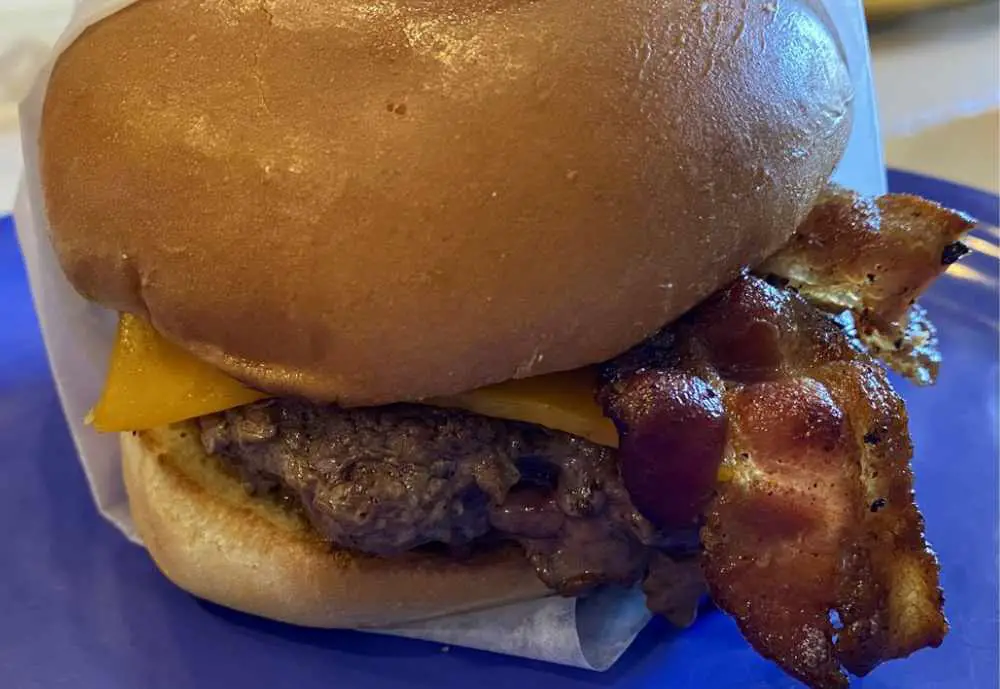 The burgers are made with grass-fed beef, which makes a real difference in taste and texture. Bones' Burgers offers over 14 different types of burgers to choose from, including a chili burger, brunch burger, and the Hawaiian themed Aloha Burger.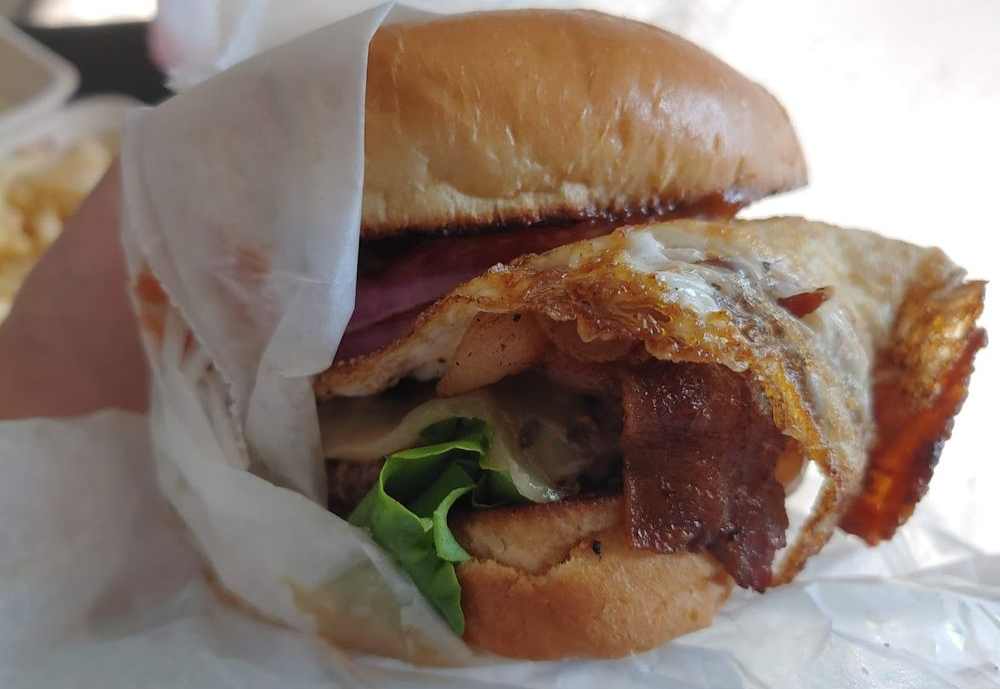 All burgers are served on locally baked whole-grain bread, with a choice of 10-15 different cheeses and other locally sourced toppings.
Menu: Bones' Burgers Menu
Top Review: "The burgers were cooked perfect. We got the California burger, heat burger, and hash burger. Service was attentive and exceptional. Finished it off with a spice cake. Also this place makes their own ketchup!!! Amazing and coming back again." – Farrah S.
BRU Burger Bar
BRU Burger Bar in Cincinnati, Ohio is a must-visit destination for burger lovers. With a focus on the American classic, the menu offers a wide array of burgers with unique and delicious toppings, such as the Bourbon Burger with caramelized onions and bourbon glaze.
Vegetarians and vegans will also find plenty of options, like the Impossible Burger and the Portobello Burger. The burgers are made with high-quality ingredients and cooked to perfection.
In addition to the mouthwatering burgers, BRU Burger Bar also offers fresh salads, shareable appetizers, daily cut fries, and house-made desserts. With a casual yet trendy atmosphere and friendly staff, BRU Burger Bar is the perfect spot to enjoy a delicious meal in Cincinnati.
Menu: BRU Burger Menu
Top Review: "This place is awesome. Got the triple dip, which was very good.   Got a burger and it was one of the best burgers I think I ever had.  If your downtown and want a good burger under $15 try it out.. Oh the fries and onion rings are good as well" – Robert B.
And so, our greasy, glorious journey comes to a close. We've traipsed the tantalizing terrain of Cincinnati's burger landscape, savoring every sizzling, sensational bite. From the bustling streets of downtown to the serene riverside views, the search for the 'best burgers in Riverside' has been nothing short of a mouthwatering roller coaster ride. The next time your stomach growls like a disgruntled rock star yearning for an encore, remember our carnivorous carnival. Because, dear reader, a great burger isn't just a meal – it's a symphony of flavors that beats a high-five from a T-rex any day. Happy munching, Cincinnati!
You might also like these articles:
best burgers in cincinnati, burgers cincinnati