Welcome! And top of the morning! Looking for the best breakfast in Santa Monica?
We've compiled a short list of the best breakfast and brunch restaurants in Santa Monica. We cover excellent spots by the beach, southwestern spots if you are craving a little heat, and frankly everything inbetween.
Without further adieu, bon appetit!
Blue Daisy
Our first breakfast spot is Blue Daisy. The people say the vibes and ambiance are great, and the location is pretty accessible.
It's not too close to the tourist areas so you can avoid the crowds. There can be a wait time during peak hours, but good thing they have both indoor and outdoor seating.
They serve home cooked meals and typical American breakfasts like French toast, eggs benedict, salmon benedict, and scrambled eggs with prosciutto.
Other menu items people recommend are the breakfast combo and the breakfast burrito.
Menu: Blue Daise Menu
Top Review: "Perfect Sunday brunch on so many levels.  First up, it was actually easy to find street parking.  Yes, meters enforced daily, but prices weren't to bad.  We waited for a table for about 10-15 mins.  Definitely a reasonable wait time.  Once seated at our table on the patio, everything was flawless. It was easy to view the menu though the QR code.  After a few minutes, we finally decided what we wanted and our waitress was right there, ready to take our order.  Food was served in a timely manor and presented beautifully. The taste of my meal, the eggs scandia, solidified it for me…I will definitely be returning here. The turkish latte was equally as amazing. I marked this place a while ago with the intention to visit and it exceeded my expectations." – Debbie F.
609 Broadway Santa Monica, CA 90401, (310) 395-9777
Huckleberry
Huckleberry is a farm-to-table spot with a lot of variety and things to choose from.
Their food and ingredients have the best quality and freshness, plus they have baked goods and excellent coffee.
Theirs is a trendy casual spot with a hip and chic aesthetic. Some Huckleberry favorites are the green eggs and ham, egg and ham sandwich, fried egg sandwich, and maple bacon biscuit.
Menu: Huckleberry Menu
Top Review: "I ordered the chicken and waffle concoction which I believe was topped with bacon bits, whipped maple butter, Saracha sauce.  It may have been a special and I don't see it on the online menu. When it arrived, it was a tall dish and eventually toppled.  The chicken and waffle portions were very good, one of the better waffles I have eaten.  Too much whipped butter on top ruined the dish for me.  I asked the server if I could have a half of a plain waffle to replace the other piece, he cheerfully replaced it.  I would order this in the future but with the butter on the side.  One more thing, I asked for hot syrup and it was provided. The service, ambiance and service were great." – Chef Will G.
1014 Wilshire Blvd, Santa Monica, CA 90401, (310) 451-2311
Urth Café
For a European-style café that's casual, comfortable, and not too intimidating, head to Urth Café. They have healthy alternatives like vegan and gluten-free options.
They also have baked goods, and they roast their own coffee. If that's not your cup of tea, you can order from their excellent selection of teas.
As for food, people often recommend their pumpkin pie, smoked salmon plate, chicken pesto sandwich (or the omelet version), and the Urth salad.
Menu: Urth Cafe Menu
Top Review: "We walked to Urth from our hotel in the rain and got quite wet, but it was worth it! Their warm drinks and hot delicious breakfast warmed us right up! We had the oatmeal, classic Belgium waffle, açaí waffle, organic oatmeal, and the spinach and feta omelette. So delicious we even grabbed some pastries for breakfast the next day." – Maren B.
2327 Main St, Santa Monica, CA 90405, (310) 314-7040
Gjusta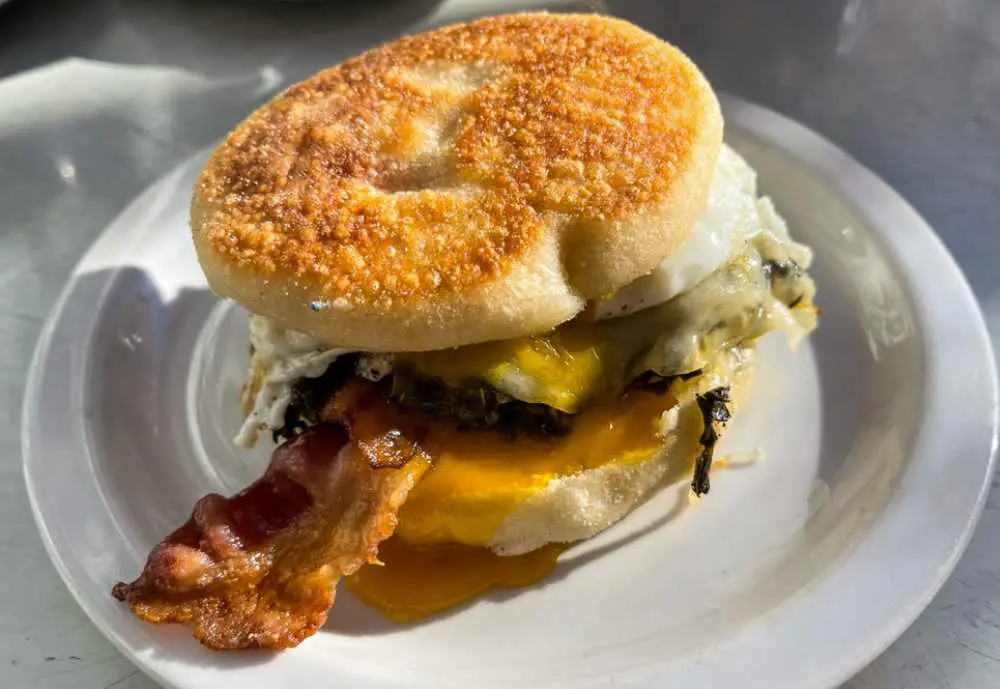 As a deli and bakery, there are many breakfast options in Gjusta. It's a little more expensive than the other breakfast and brunch spots on the list, but they say it's worth it.
The quality of their food is what people come back for, and they've reviewed that it's always consistent and delicious. Be prepared for a line if you're coming in during the weekend.
What to order? Try porchetta melt sandwich, brisket sandwich, baklava croissant, fish plant, or the croque madame.
Menu: Gjusta Menu
Top Review: "My daughter and I had a wonderful breakfast at Gjusta.  Our first time here and absolutely loved it, great smell of bread as you walk in.  The guy that helped us was super nice and patient.  We bought a sourdough Baguette and olive bread.  We had sesame bagel and pumpernickel bread with my request of lebneh and zaatar and great espresso and cappuccino.  They were sold out of pastries  but there's always next time." – Suzy B.
320 Sunset Ave Venice, CA 90291, (310) 314-0320
Dogtown Coffee
Dogtown Coffee has an all-day breakfast and can satisfy your caffeine fix with its organic coffee blends.
They are known for their great burritos but also have baked goods and healthy alternatives.
There is an outdoor patio with the occasional live music, and their overall vibes are great and inviting.
If you're getting burritos, people have lots of praise for their munchies burrito and breakfast burrito.
Other than that, you can also get the acai bowl and main st. slider.
Menu: Dogtown Coffee Menu
Top Review: "What an awesome coffee shop in Santa Monica! As soon as I walked in here, I felt like I was transported to the Lords of Dogtown movie. The vibe, the people, and the overall aesthetics of this place gave full-on surfer/skater vibes. In addition, their menu options are great AND you can order in advance online directly from their app so that you don't have to wait for your food. I ordered the munchies breakfast burrito along with the salty dog. I'm a fan of salt and sweet, and the salty dog was just that. The breakfast burrito was amazing! It had tater tots, which is always a win for me with breakfast burritos. It was served with a wheat tortilla, which is wish it was served with a regular flour tortilla, but the inside of the burrito def made for it." – Margaret P.
2003 Main St Santa Monica, CA 90405, (424) 600-5895
Flake
Flake is an unassuming spot that is affordable and a local favorite. They also do great burritos and have generous portions of acai bowls.
They can rack up a crowd, so ordering online or on their app is recommended before braving the crowds on a weekend.
This beloved Santa Monica breakfast also has a delicious breakfast sandwich and croissant sandwich.
Menu: Flake Menu
Top Review: "Crojo is amazing. Get the crojo. I got it without bacon because I don't eat meat but overall such a satisfying breakfast sandwich.. the crojo sauce is delicious. Love this place. Fresh squeezed OJ too! You can sit outside on Rose if you want as they do have a few tables but mostly people seem to just grab and go! Either way they have quite a few options for breakfast and the staff is always really friendly. Definitely recommend for a quick bite!" – Justine R.
513 Rose Ave, Venice, CA 90291, (310) 396-2333
Bru's Wiffle
Known for its chicken and waffles, Bru's Wiffle is one of the best breakfast and brunch places in Santa Monica.
This brunch spot has very filling dishes and huge portions, so you won't leave feeling hungry.
There is a wait time between getting a seat and your orders, but it isn't too long. You can also try their French toast, chicken on fire, and banana split.
Menu: Bru's Wiffle Menu
Top Review: "What an adorable breakfast/lunch spot right off of Douglas Park. Large outdoor seating area in the back. Food was delicious – I had the shasuka and it came with toasted bread that was just right for sopping up the tomato and feta sauce. My friend had the vegetable omelette and it looked so good that I want to get it next time. Bloody Mary was also solid, they make it with soju which is a Korean alcoholic drink typically made of rice or sweet potatoes (I had to look it up). Will definitely be coming back." – Polly S.
Jinky's Café
Jinky's Cafe is a local spot that deserves to be on this best breakfast list. They specialize in breakfast, and you can see that from their extensive breakfast menu.
Come early because you might get caught up in a line. While you're at it, get their flaky French toast, chili, breakfast sandwich, Santa Fe scramble, or Desperado Breakfast.
They have a relaxing and casual vibe inside with a friendly staff.
Menu: Jinky's Menu
Top Review: "I went here this morning after looking at multiple breakfast spots. The staff was attentive. I had at least 4 staff members just check to make sure I was okay and served. The Bombay Mist was delicious and lactose-free. I asked a server if I should get the Lox Plate or the Loc Benedict and he recommended the Benedict. I'm so glad he recommended it because it was fresh and delicious. It looked like a popular spot for families to have breakfast. I would definitely go again." – Jamaya P.
1447 2nd St Santa Monica, CA 90401, (310) 917-3311
---
Did we miss a spot that deserves to be mentioned? Shoot us an email at: [email protected] Thank you!
---
You might also like:
breakfast santa monica, breakfast in santa monica, santa monica breakfast, best breakfast in santa monica, best breakfast santa monica, breakfast near me, breakfast places in santa monica, breakfast places santa monica, breakfast spots in santa monica, best breakfast places in santa monica