Well, howdy y'all! We're about to embark on a lip-smacking journey in search of the best burgers in Waco, Texas – a town where burgers are not just food, they're a way of life. Imagine this: Each burger is like a Lone Star State cowboy, saddling up a bun and galloping right into your taste buds. You see, down here, our burgers pack more punch than a rodeo bull, and they're just as ornery to tame! So tighten your belt buckles and grab your napkins, folks. We're about to rope in and wrangle the most mouth-watering, bun-wrapping, meat-grilling monstrosities that proudly wear the title "best burgers in Waco." Hold on tight, this is going to be a deliciously wild ride!
Dubl-R Old Fashioned Hamburgers
Dubl-R Old Fashioned Hamburgers in Waco, Texas is known for serving top-notch burgers made with high-quality ingredients. According to reviews on Yelp and TripAdvisor, the burgers at Dubl-R are far better than those at fast food chains.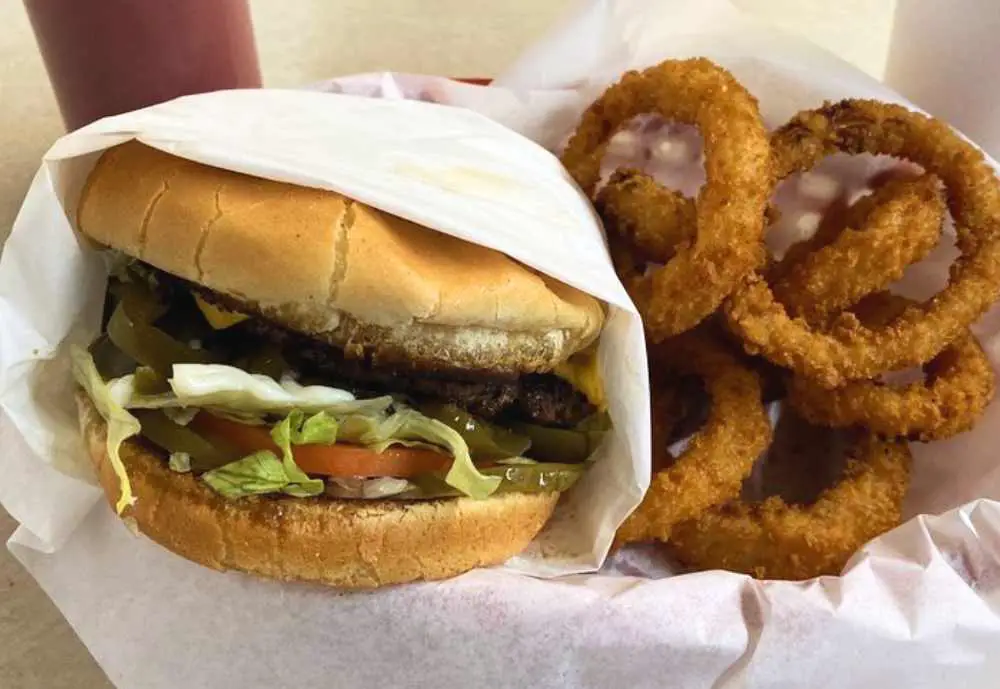 Customers rave about the simple yet delicious cheeseburgers, which are always fresh and cooked to perfection. Dubl-R has been voted Best Burger in Waco for more than 10 years, and it's easy to see why. If you're ever in Waco and looking for a delicious burger, be sure to check out Dubl-R Old Fashioned Hamburgers.
Menu: Dubl-R Burgers Menu
Top Review: "Friendly, local good-hearted Waco, TX folks that make top shelf burgers. The ingredients are high quality. And it's always busy, so it's always fresh. Just a simple burger with curly fries or tots – nothing complicated, but they nail it each time. I love cheeseburgers. By far my favorite thing to eat, and this place is high on my list of the best burger I've ever eaten – maybe the best. It's so good. I've never been in when it wasn't packed. It's tight quarters, loud, and smells like a greasy burger. IT'S THE BEST! For locals to the area, you owe it to this business and to yourself to come eat here." – Michael W.
Billy Bob's Burgers Bar & Grill
Billy Bob's Burgers Bar & Grill is a big time destination for burger-foodies traveling to Waco, Texas. This restaurant offers a wide variety of delicious burgers, including the jalapeño burger, which is a fan favorite.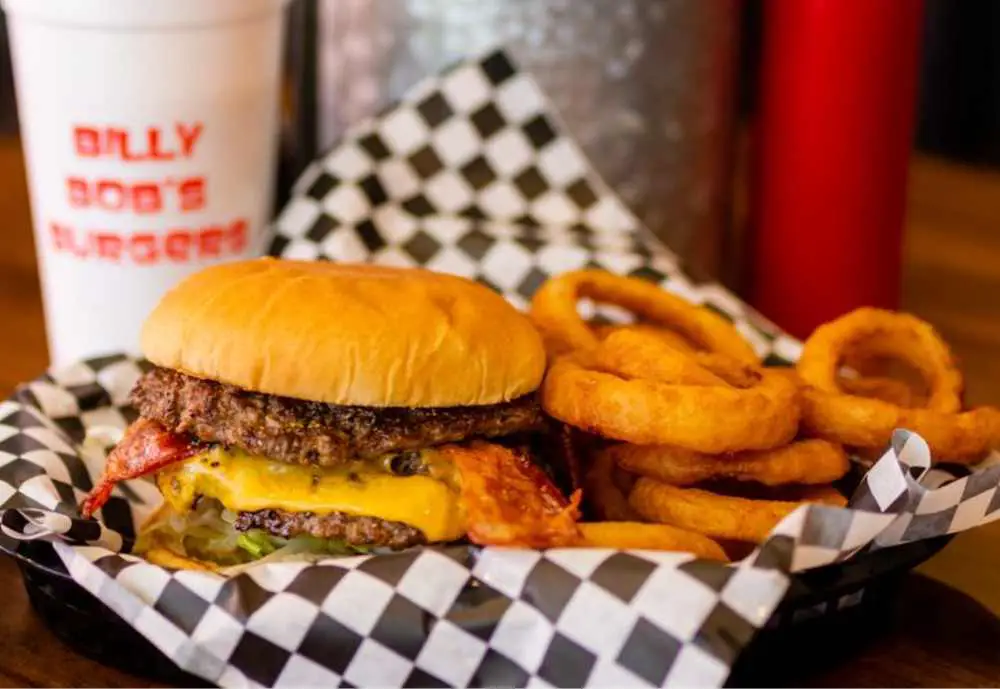 The fries are crispy and perfectly seasoned, and the beer selection is impressive. The atmosphere is casual and laid-back, making it a great spot to grab a bite with friends or family.
While the bun could be toasted, the overall quality of the food and service make up for it. Check out Billy Bob's Burgers Bar & Grill for some of the best burgers in Waco!
Menu: Billy Bob's Menu
Top Review: "Service was on point. I was in search of a delicious fresh burger, and that is just what I received. I tried to Texan and my mother tried the patty melt. They were both delicious and freshly made. The bartender didn't get his name but African-American gentleman with braids was also very attentive and making sure we were taken care of. I'll definitely be back." – Yolanda P.
Captain Billy Whizzbang's
Captain Billy Whizzbang's in Waco, Texas is a family-owned joint that has been serving up delicious burgers since 1977. Whizzbang's is a favorite among locals, tourists, and Baylor students alike, and is known for having very good burgers.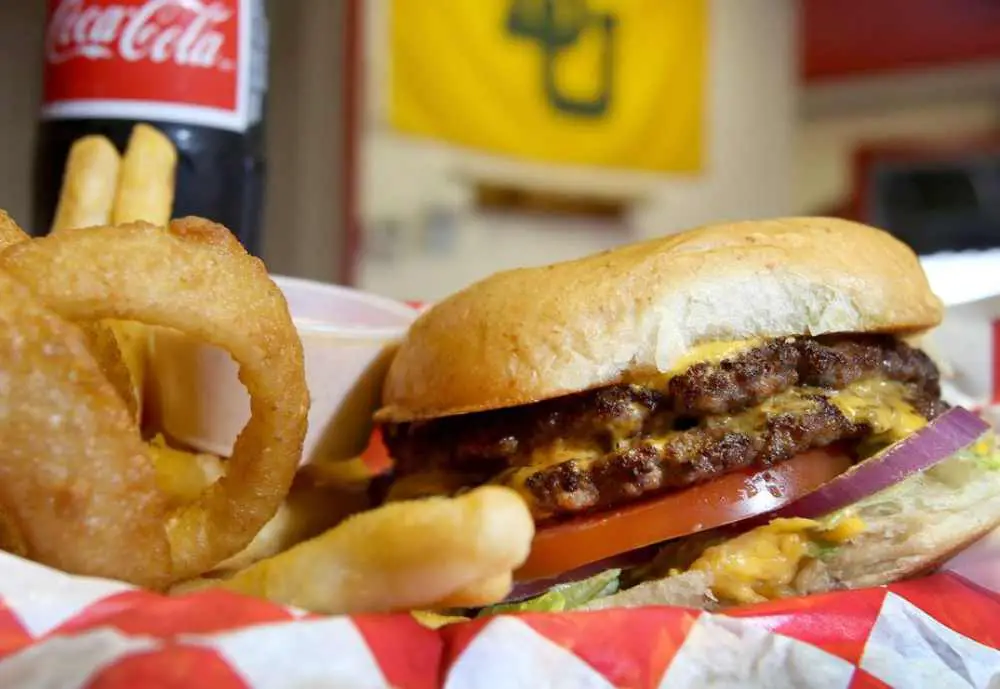 Their signature dish is the Whizz-Pigg Burger, and the burger patties are hand-pressed daily, ensuring a fresh and juicy burger every time. For a unique twist, try the jalapeno bun, and be sure to save room for a hand-made milkshake or fried strawberry cream cheese pie for dessert.
Located at 901 Lake Air Dr. in Waco, TX, try Whizzbang's out for easily some of the best burgers in Waco.
Menu: Whizzbang's Menu
Top Review: "Fire spot. If you are looking for a solid, chard burger be sure to come over here. You know it's going to be good when there's cheese oozing out of the wrapper. The right amount of grease and spread to make a nice blanket for the burger to sit on the bun. Friendly and helpful staff that did not have any problem going the extra mile to make sure our burgers could safely make it back home without the blanket of grease ruining the bun." – Jeremiah G.
Revival Eastside Eatery
Revival Eastside Eatery is a small, women-owned restaurant located in Waco, Texas, that opened in 2019. Revival serves Texas-sourced and house-made salads, sandwiches, and burgers, as well as a selection of beer and wine.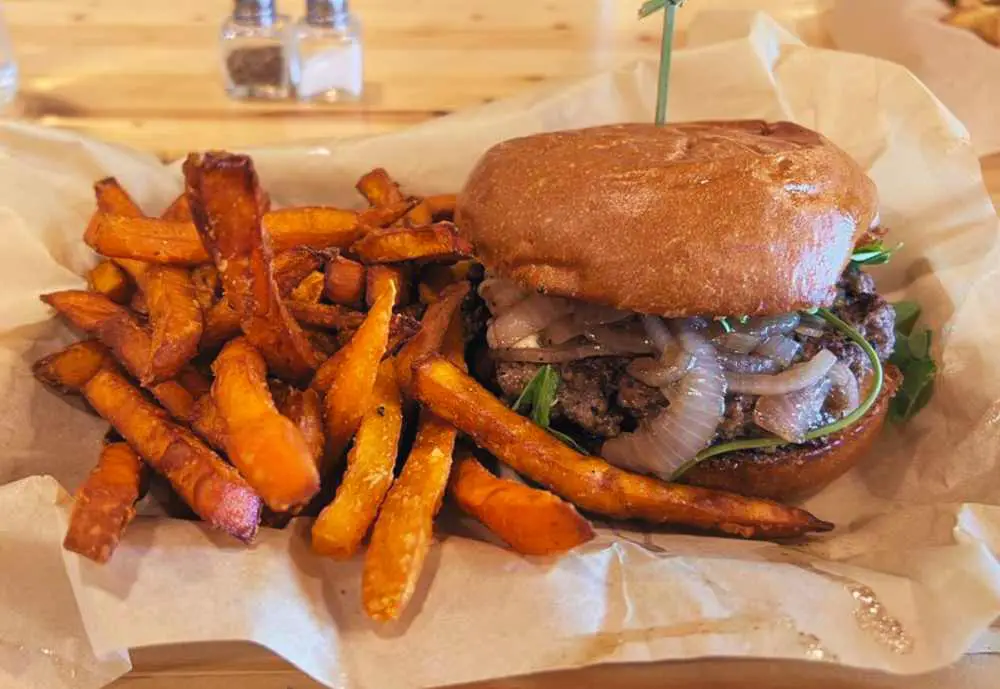 The concept of the restaurant is simple, to greet people with a smile, serve delicious food, and have a place for people to gather. Many of their ingredients and products are sourced from the great state of Texas.
The restaurant is located in a former church building on Elm Avenue, which adds to its unique and charming atmosphere. Revival Eastside Eatery has brought a new spirit to the area, and it continues to grow in popularity with locals and visitors alike.
Menu: Revival Eastside Eatery Menu
Top Review: "Great experience began with one foot in the door. Greeted by friendly staff and sit where you like option.  Our server was awesome mentioning they are happy to address any food allergies or restrictions. Made nice suggestions. We split the Rachel, went for the fries and added the broccoli slaw. Super fresh and super yum! Wished I hadn't shared. Nice balance of beer options on tap. Looking forward to going back for a burger!" – Heather B.
Cupp's Drive Inn
Cupp's Drive Inn is another fantastic burger spot in Waco, that serves up classic burgers. Reviews on both Tripadvisor and Yelp rave about the quality of their burgers, with many calling them the best they've ever had.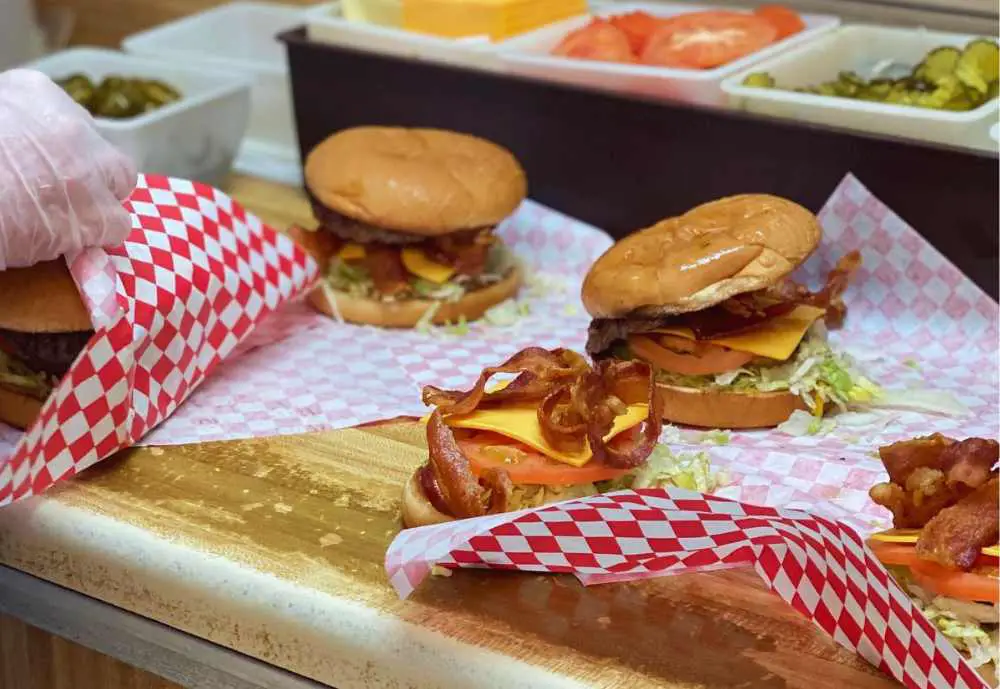 Fresh ingredients, homemade buns, and perfectly cooked meat are the main reasons why the burgers are so good. One reviewer on Tripadvisor even goes as far as to say that the burger at Cupp's Drive Inn is the best they've ever had. The restaurant has been around since 1947, and it seems that they've perfected their burger recipe over the years. If you're in Waco and looking for a great burger, Cupp's Drive Inn is definitely worth a visit. (Tripadvisor and Yelp)
Menu: Cupp's Menu
Top Review: "This hole in the wall joint made the best burgers! We ordered a cheeseburger basket that came with a burger, small fry, and can soda. I was a little  apprehensive because of the looks of the place, but was splendidly surprised when I got my food. Burger was moist,  fresh vegetables inside, fries homemade. Everything is cooked in the open where you can see it. I'm so glad we came by. I definitely would come again. Oh, and the service was friendly.  That's always a plus. Because of these things, I can overlook the way the place looked." – Judy S.
Christi's Hamburgers
Christi's Hamburgers is a must-visit spot if you are looking for a classic, old school hamburger made with love. This old-fashioned burger joint has been serving up delicious burgers since the 1970s.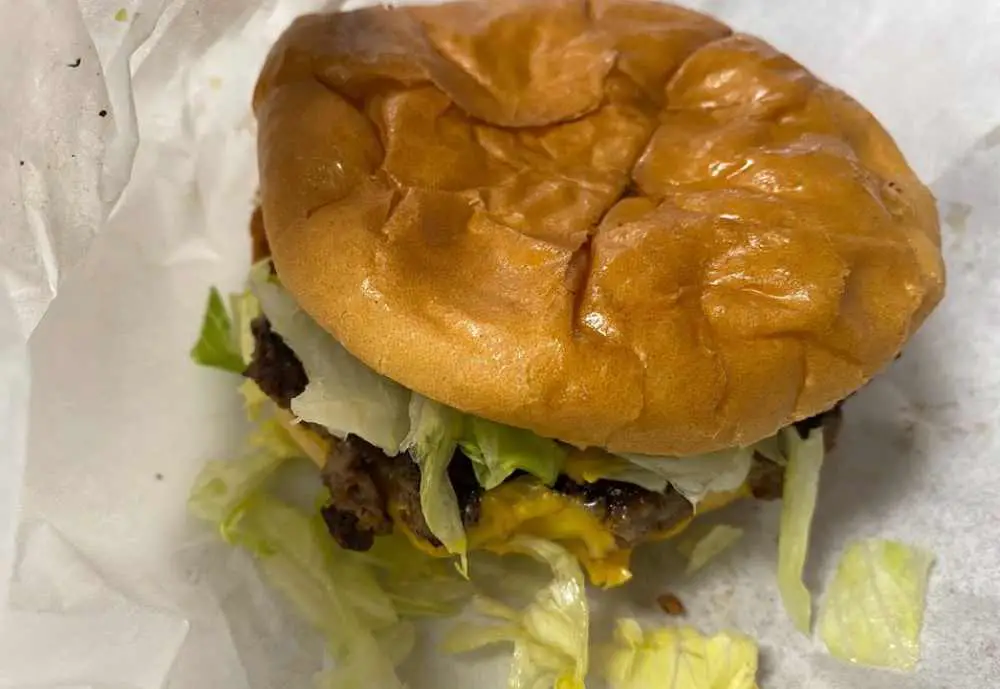 Their burgers are made with fresh meat that is slapped onto a marble slab and then grilled to perfection.
Customers rave about the juicy burgers and friendly staff. The restaurant also offers delivery and pickup options. If you're in the Waco area, be sure to stop by Christi's Hamburgers for a taste of their famous burgers.
Menu: Christi's Hamburgers Menu
Top Review: "The cheeseburgers here are very awesome. We dine there a lot during the week. Always friendly and fast service. Just the way a burger should be, juicy, plenty of vegetables, and a crispy toasted bun. Would highly recommend that you give them a try if you're in the Waco area." – Steven G.
Twisted Root Burger
Twisted Root Burger in Waco, Texas is known for its gourmet burgers made from high-quality beef, turkey, and even vegan patties. The menu offers a variety of unique and creative burger options, including game meats at some locations.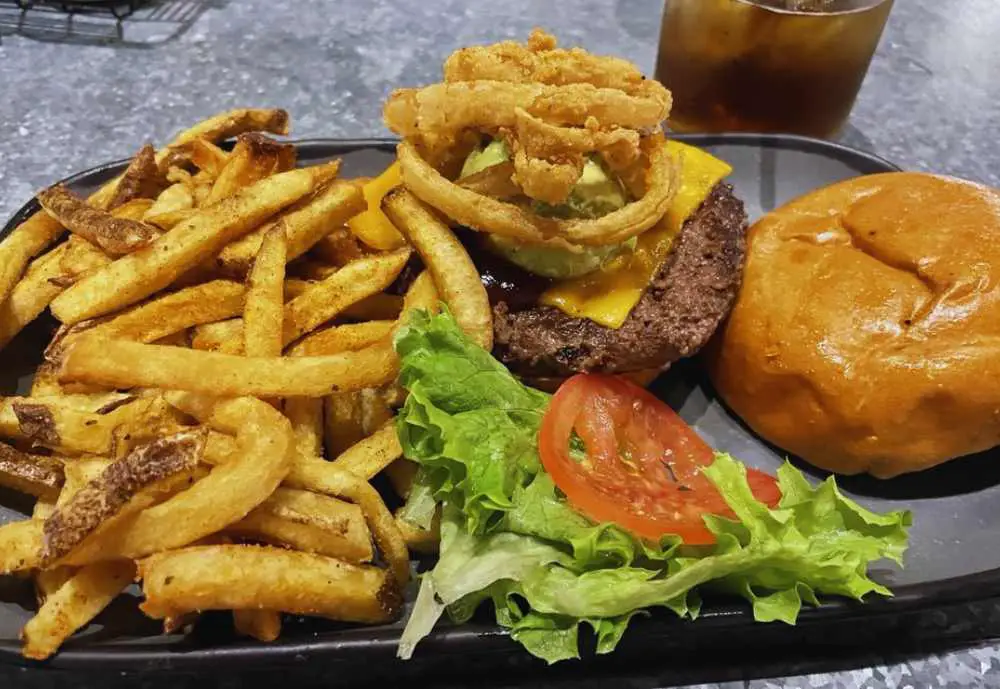 Customers can also build their own burger with a wide selection of toppings, including those from the pickle bar. The restaurant also serves craft beer, draft beer, and spiked shakes.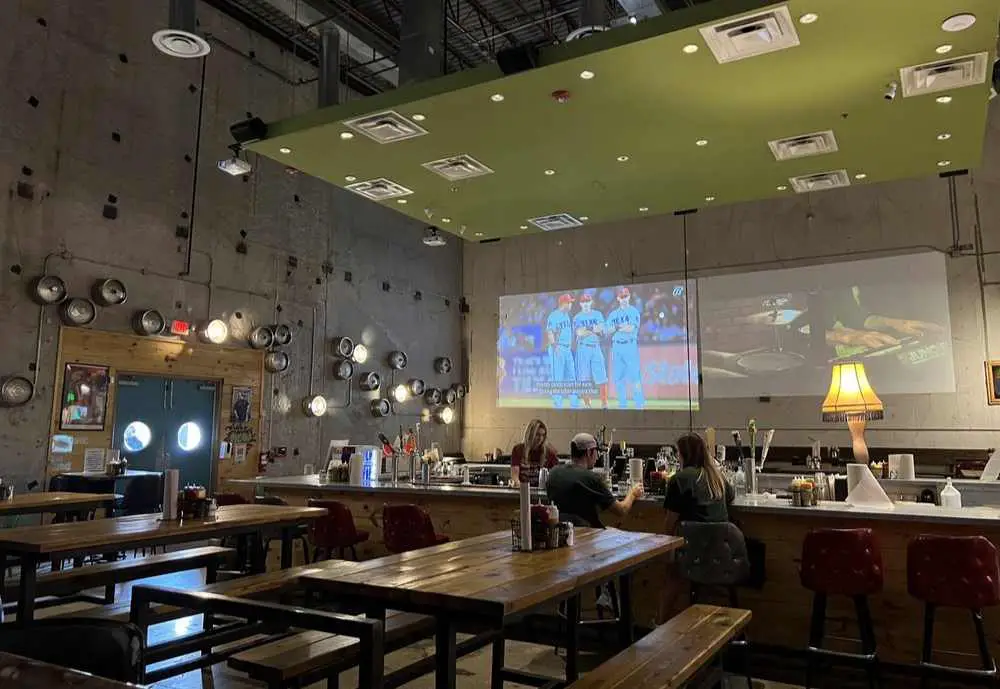 With its quirky and laid-back atmosphere, Twisted Root Burger is a popular spot for locals and visitors and one of the best spots for burgers in Waco.
Menu: Twisted Root Burgers Menu
Top Review: "Fantastic burgers, atmosphere, and service! The ambiance is quirky and cozy and the staff is incredibly kind and fun spirited. The buzzers that tell you when your order is ready are even a hoot here. The staff will assign you a famous pop culture celebrity which is such a simple yet unique way to entertain guests. They have all wall of any flavor pickle you can imagine to top of your burger or enjoy on the side. The burgers are some of the best I have ever had! Perfectly balanced flavor and textures. I ordered the "gosh jam it" and it was a flavor bomb. The creamy and herby goat cheese with spicy chipotle sauce and sweet pepper and tomato relish was so delicious!" – Athena H.
Burgertology
Burgertology, a food truck in Waco, Texas, offers a variety of delicious burgers made with fresh and high-quality ingredients.
Their menu is filled with fun themed burgers and fries named after popular recording artists such as Fleetwood Mac, Ozzy Osbourne, Lynrd Skynrd and many more.
Menu: Burgertology Menu
Top Review: "Awesome burger and even better tots and fries. When I say awesome I mean awesome.  I had the Celo Burger and the Green Chilie was the perfect spice.   The burger was cooked perfect and the service was even more outstanding, if that is possible, than the food. Must have when in Waco." – RG
Well, there you have it folks, the wild ride across the plains of Waco's burger landscape has come to a satisfying end. As we've discovered, finding the best burgers in Waco is no easy task, but one that's worth every juicy, savory bite. Just like a cowboy after a long day, we've hung up our hats and wiped the BBQ sauce from our chins. Remember, every burger we've tackled is a testament to Waco's culinary spirit, as diverse and dynamic as Texas itself. So the next time your stomach starts to growl louder than a prairie wind, you know exactly where to head for the choicest, tastiest, rodeo-worthy best burgers in Waco. Until then, stay hungry my friends, and keep those lassos ready for your next burger adventure!
You might also like these articles:
best burgers in waco, burgers in waco, waco burgers, burgers near me