Welcome! And top of the morning!
We've compiled a short list of the best breakfast and brunch restaurants in Santa Fe, New Mexico. We cover excellent spots downtown, southwestern spots if you are craving a little heat, and frankly everything in-between.
Without further adieu, bon appetit!
Pantry Restaurant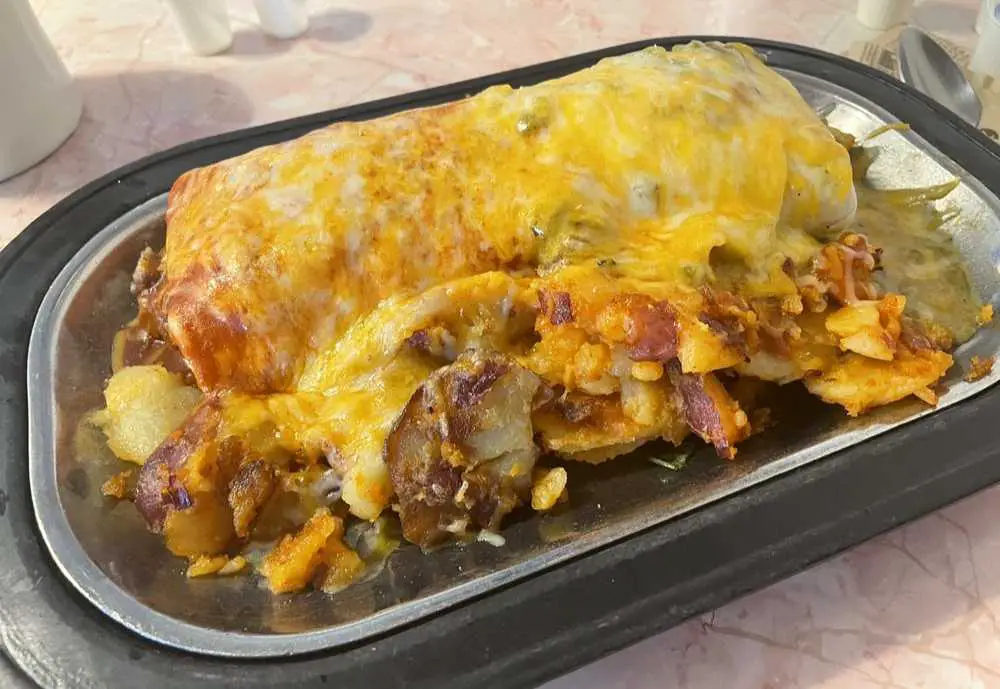 Pantry Restaurant is a great local spot where the community meets for good food and bonding moments.
They are a beloved institution that has been serving Santa Fe since 1948. What's great about them is their welcoming atmosphere, friendly, affordable prices, and big plates of food. Their food is also great for breakfast and brunch!
Come and try their Santa Fe beef brisket, breakfast burrito, huevos rancheros, Carne adovada plate, and chile relleno omelet.
Menu: Pantry Restaurant Menu
Top Review: "So good we had it twice! Our toddler developed a bad ear infection while we were travelling in Santa Fe so our plans to dine out were dashed and we ended up ordering take out to our air bnb several nights as she recovered. The Pantry is one of the top rated restaurants in the city and I'm so happy to report that it doesn't let you down – even when ordering for carry out. The first night my husband and I shared some kind of sampler that included chile rellenos (a must when in NM) and tacos. Honestly it was some of the best food I've had. Later on in our trip, after a particularly grueling wait at a local urgent care (re: the ear infection), we picked up a breakfast burrito to share on our way back to the bnb. Also SO GOOD. While I think just about anything with green chilis in it that you find in NM is pretty dang tasty, Pantry really is a very good option for any meal. I hope that next time we can dine in and get the full experience!" – Sarah G.
1820 Cerrillos Rd Santa Fe, NM 87505, (505) 986-0022
Clafoutis
Another best breakfast place in Santa Fe is Clafoutis. They serve some of the best baked goods in the city, and it's got lots of variety.
This French café has aesthetics, and it's easy on the wallet. Their specialty lies in baguettes and pastries.
As for their meals, each plate that comes out is bright and looks inviting. Besides the baked goods, you can get the coconut French toast, French plate, and caramelized peach crepes. You should also get their Croque madame!
Menu: Clafoutis Menu
Top Review: "This is such a cute French bakery and cafe with some of the best pastries! It's definitely a must visit if you want all the carbs. I've had the croque monsieur to go which would probably be better eaten at the restaurant, but it was still cheesy and good after I reheated it. During my last visit, I dined in and there was a 20 minute wait for a weekend brunch but it was well worth it. I had the Country plate which comes with pâté, cheese, bread, a side salad and dessert of the day. I loved the combination of flavors and everything was super fresh. The best part was definitely the almond flavored clafoutis pastry which was perfect to share!" – Monica V.
333 W Cordova Rd Santa Fe, NM 87505, (505) 988-1809
Tia Sophia's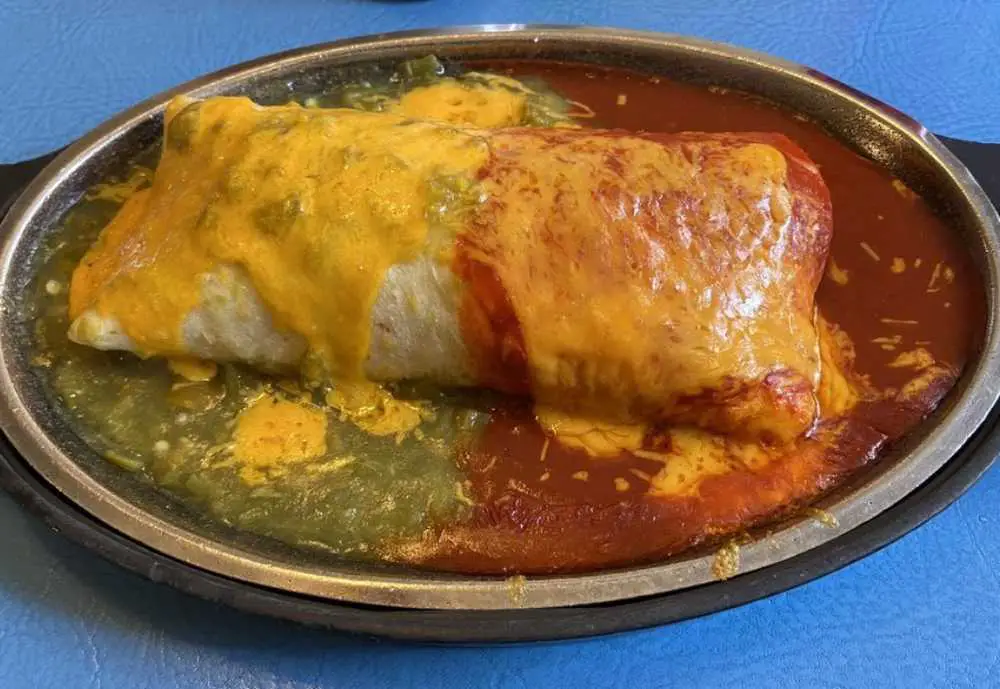 Tia Sophia's is a simple and unassuming breakfast spot in Santa Fe with food that never disappoints and friendly and pleasant staff.
This diner is a classic breakfast spot that no tourist or local should miss. They serve New Mexican classics that will surely fill you up.
Visitors recommend the Santa Fe plate, enchiladas, omelets, huevos rancheros, breakfast burrito, and sopaipilla from their menu.
Top Review: "Whenever you look up at any blogs about what to eat in Santa Fe, Tia Sophia's appears on every single one so we had to make a stop and see what the hype is all about. First off, when you enter, it doesn't seem like much but the decor is very welcoming and reminds you of being at your grandmas home. We were greeted by the owners and he was super friendly. This was the same curtesy that every customer was greeted with. He was very inviting and it only made us more excited to dine in. I ordered the Santa Fe plate and it was delicious. The green Chile went really well with all of the food combinations on the sizzling plate. There was an enchilada, rice, and beans with veggies. It also came with a taco on the side. There was so much food for the value. I was stuffed by the time we were done." – Melanie T.
210 W San Francisco St Santa Fe, NM 87501, (505) 983-9880
Dolina Santa Fe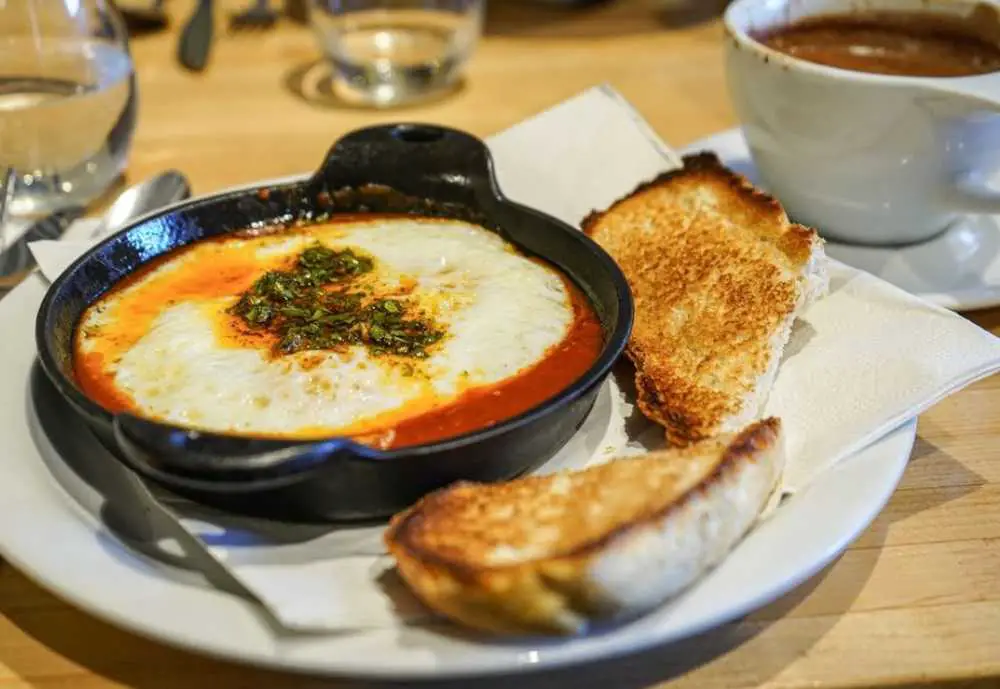 Dolina Santa Fe is a popular place, so you may see a mix of people here with tourists and locals alike, even some families and kids.
They get a massive weekend crowd looking for some of Santa Fe's best breakfast and brunch options.
They have classic breakfast items like French toast, breakfast burrito, and their version of a Santa Fe omelet.
They also have great pastries like their breakfast croissant. Other items people recommend are salmon tartine and baked eggs.
Menu: Dolina's Menu
Top Review: "Love everything about this place! Just go. Thank me later. I literally have cravings for the cured salmon tartine!  Impressive pastry case, great coffee, interesting menu with a variety of dishes… the chicken sandwich is killer!  And the staff is wonderful. Well done Dolina!" – Marie J.
402 N Guadalupe St Santa Fe, NM 87501, (505) 982-9394
Tune-Up Café
Next on the list of the best breakfast in Santa Fe is Tune-Up Cafe's New Mexican dishes. This café is a Santa Fe institution and deserves a visit while in the city.
They are tucked away in a quiet neighborhood with friendly and accommodating service.
Their New Mexican plates include crowd favorites such as huevos rancheros, banana leaf-wrapped tamales, and the El Salvadoran combo. Their dishes have generous portions, and their comforting homemade food would be a great start to your day.
Menu: Tune-Up Cafe Menu
Top Review: "Super delicious food and such a sweet neighborhood place! I had carne asada Los Burros Xmas style (both red and green sauce), a chile relleno, and  a local draft beer, followed with a tres leches to go. All were top notch and generously portioned. Definitely a destination spot!" – Jeremy D.
1115 Hickox St Santa Fe, NM 87505, (505) 983-7060
Plaza Café
Plaza Café offers delicious comfort food made from fresh, local, and quality ingredients. They have multiple locations in the city too.
But what makes them stand out is their retro design and cute diner that can make you feel nostalgic for the good old days.
Many visitors also like their outdoor patio, where you can people-watch and see the hustle and bustle of a thriving Santa Fe community.
Their breakfast must-haves include hatch green chile cheeseburger, New Mexico burrito, and the New Mexican chopped salad.
Menu: Plaza Cafe Menu
Top Review: "We were able to get a table for two with no wait at 0830 on a Saturday. Staff was incredibly nice, and had our drinks and orders taken within minutes. We got the special chicken mole blue corn enchiladas which were delicious. We saw the green chile french toast go by and wished we had ordered it! It also abuts the Santa Fe plaza, the art museum, and the history museum." – Christopher T.
54 Lincoln Ave Santa Fe, NM 87501, (505) 982-1664
Palacio Café
Palacio Café is a small and straightforward café in a convenient location near tourist spots.
This charming café with excellent service has some of the best breakfasts in Santa Fe. It's a no-frills environment that delivers quality food.
Visitors recommend their breakfast burrito, green chile, and huevos rancheros.
Top Review: "The best smothered burritos. When we are in town we eat every breakfast here, have for years. A really nice family owns and runs the restaurant. We have become friends. Best breakfast in Santa Fe hands down. Great service, fantastic people." – John W.
209 E Palace Ave Santa Fe, NM 87501, (505) 989-3505
Sage Bakehouse
Sage Bakehouse is a popular local spot where you'll find lots of freshly baked bread, baked goods, and pastries.
Don't miss out on their bread because that's their bestseller and gets the most praise. The service is also great, but you have to get there early or find yourself stuck in a line.
Other things to get here include the almond croissant, cinnamon melt, and cream cheese danish.
Menu: Sage Bakehouse Menu
Top Review: "If ever you're in Santa Fe, NM do make a trip to Sage where you can find the freshest of fresh breads, breakfast eats, seasonal soups & seriously tasty chai. The service was amazing–and that says a lot coming from an order-at-the-counter joint." – Anne S.
535 Cerrillos Rd Santa Fe, NM 87501, (505) 820-7243
---
Did we miss a spot that deserves to be mentioned? Shoot us an email at: [email protected] Thank you!
---
You might also like:
santa fe breakfast, breakfast in santa fe, best breakfast in santa fe, best breakfast santa fe, breakfast santa fe nm, breakfast near me, santa fe breakfast places