Nicknamed as the "Mile High" city, Denver is the capital and most populous city of Colorado. They are famous for their world-class museums, historical landmarks, and first-rate breweries making them a popular tourist destination.
So, what are you waiting for? You should give Denver a try and enjoy their local dishes. If you do not know where to start, here are some of the best breakfast restaurants in the area that you can visit. 
Denver Biscuit Company
If you are craving biscuits for breakfast, then choosing Denver Biscuit Company is the right choice. Considered as the best breakfast place in the area, they come highly recommended from both the local community and its guests. 
Denver Biscuit Company has 4 locations in the area making it convenient for all its patrons to visit the place for breakfast. Their popular dishes are Fried Chicken Biscuit Sandwiches, DBC Club, and the Biscuit French Toast.
For guests that are not a fan of heavy breakfast, Denver Biscuit Company has several light menu options to choose from. So, to have that hearty meal breakfast experience, this place should be on your list.
Menu: Denver Biscuit Company Menu
Top Review: "Popped into this busy joint on the morning of my last day in Denver. 5/5 for deliciousness, 5/5 for excellent service, and 5/5 for value! Despite waiting in a short line, we were seated in no time at the bar, which was comfortable and roomy. It is a casual restaurant in an open space. Our server was really friendly despite how busy it was, and we served ourselves some hot brewed complimentary coffee with an adorable selection of homey mugs. We shared a classic biscuit with gravy, and for a bite of sweetness we also ordered a giant biscuit cinnamon topped with savory bacon bits, topping everything off with a side of fries. We left the restaurant fuller and happier, and it was an unforgettable way to round out our trip." – Eva C.
3237 E Colfax Ave Denver, CO 80206, (303) 377-7900
Culinary Dropout
There is nothing more satisfactory than eating a classic breakfast that is perfectly done right. Culinary Dropout made it their goal to do just that with their brunch offerings.
It is not only the ideal place to eat brunch, but it is a haven for friends who are coming together to enjoy good food and music.
In addition to serving good food, Culinary Dropout has the ambiance and service to match. It is perfectly the go-to place for guests that love to experience both good food and drinks. 
For their other popular dishes try their amazing breakfast pizza, Crispy Chicken Katsu or the Prosciutto Deviled Eggs.
Menu: Culinary Dropout Menu
Top Review: "I loved this place! My favorite part is the setup and location. The lights, artwork, and unique details really makes this place come to life, inside and out. Our service was good. The waiter seemed laid back and very friendly. He wasn't over the top happy which I personally like, because that often appears fake. The food was great. I had the breakfast pizza and took a few slices home. Even re-heated, the flavors were outstanding. I love Detroit style and they mastered it. Oh and the make your own charcuterie board was GREAT. Everything about this place made it a great visit. Casual dining, good tv access for sports, and a fun social opportunity. 5 stars! I will be returning." – Anna N.
4141 E 9th Ave Denver, CO 80220, (720) 779-0190
Onefold
Established in 2015, Onefold breakfast restaurant is the perfect choice if you prefer to eat dishes using locally sourced and organic ingredients. All their ingredients are handmade from organic flour tortillas to their bone broths. It is also the ideal place for guests that are dining in with family members. Try their own handcrafted inspired recipes that they are created from scratch.
Considered one of the go-to spots for brunch in Denver, they do not only serve dine-in guests, but they also serve breakfast to go. This is the ideal place for people who are always on the go, especially during mornings.
If you are looking for a traditional American cuisine with a mix of Asian recipes, Onefold is just the place for you. Try out some of their popular dishes like the Congee Breakfast, Bacon Fried Rice Breakfast, and the Breakfast Tacos.
Menu: Onefold Menu
Top Review: "DARE I SAY IT- I think this may be my favorite Brunch spot in Denver?!?! Yeah. It is. A BIG requirement for me is good coffee. Onefold ain't playin in this arena. Delish. My other big requirement is well cooked eggs. So many breakfast places don't do my over medium eggs right but Onefold got my fried eggs perfectly running in the middle. They also serve a decent size portion, which isn't always the case at a "brunchy" place. I'm gonna leave this review short and sweet so you can just get on with trying it out. GO ON NOW!" – Hannah K.
1420 E 18th Ave Denver, CO 80218, (303) 954-0877
Four Friends Kitchen
Do you miss eating your grandma's comfort food? The kind of dish you look forward to eating with a touch of love and care? Four Friends Kitchen is a Southern inspired contemporary American comfort food.
All their dishes are created with a modern twist on how your grandma's cooking is done. With a mix of healthy options, you can be assured that your breakfast is not only delicious, but awesome too.
Four Friends Kitchen was established in 2015. The goal of the owners is to provide a good option for breakfast and brunch to guests that want to spend quality time with their family. It's not everyday where you can get to dine in a restaurant while at the same time enjoying the cozy feel of a family home. 
So, if you want to experience that nostalgic feeling, try Four Friends Kitchen. Rest assured that you will surely get what you bargained for, which is quality food and excellent service.
Menu: Four Friends Kitchen Menu
Top Review: "Wait a minute. A terrific breakfast place that is within walking distance, offering both inside and outside seating? Um, thank you very much, table for two, please. I love this place. They have great servers with energy, knowledge, personality, and awareness. It makes the whole place thrive. Great music, spacing of tables, and interior decorations kick butt. Their food is wonderful. Fairly priced with a lot of fun options. Whatever your palette or tastebuds for the morning, you'll be fine. They're batting 1.000 in my scorebook." – Daniel E.
2893 Roslyn St Denver, CO 80238, (303) 388-8299
Fox Run Cafe
Next on our list is Fox Run Cafe. Top notch breakfast offerings in a very stylish and cozy ambiance.
There are a few dishes that will flat out WOW you. Try the pork and egg sammy, their Uh-mazing avocado toast, or the corned beef hash.
Menu: Fox Run Cafe Menu
Top Review: "Have you ever had a meal and you can't stop smiling because everything just taste so damn good? This was my experience at Fox Run Cafe. It was my favorite Denver breakfast spot so if you are planning out your list – this has to be at the top. We stopped by on a Thursday morning and there was no wait (thank goodness). We were immediately seated. I love the feel of the place with the lighting, nice plants, and touches on the table. You must order the Strawberry Shortcake French Toast, Pork & egg sandwich,  and a cup of coffee to pair. I was raving about both dishes  so I'm glad we shared. The service was also great. Fox Run Cafe knows what they are doing – go visit!" – Yelaldine S.
3550 E Colfax Denver, CO 80206, (303) 537-4584
Cafe Miriam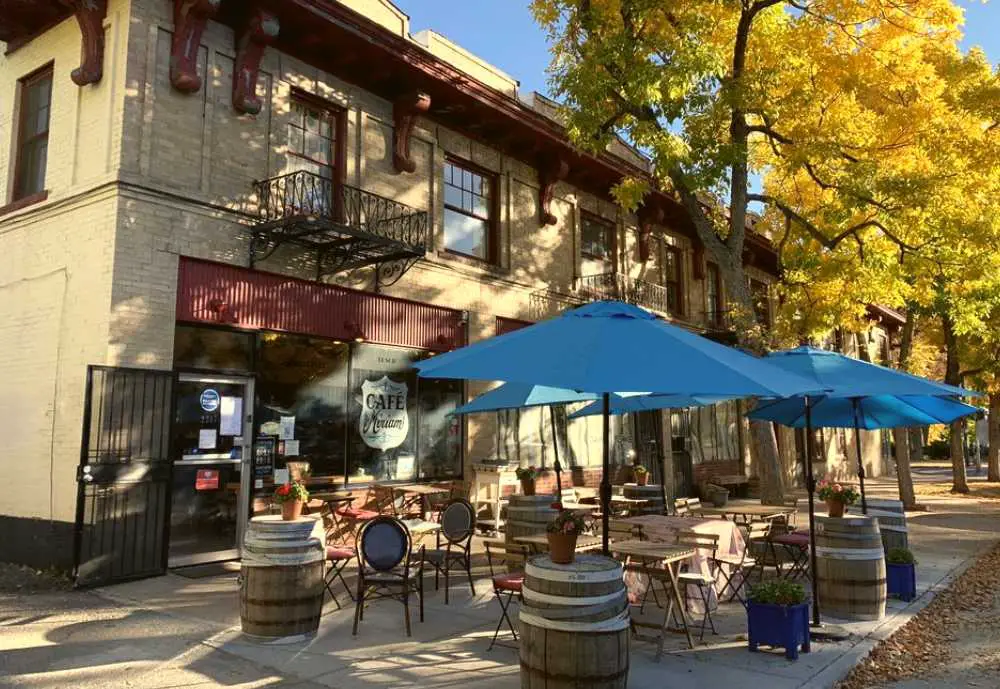 Quite possibly the cutest cafe you will find in Denver. French & Moroccan cuisine on offer, with great coffee. Amazing croissant breakfast sandwiches and various kinds of crepes.
Don't miss Cafe Miriam!
Menu: Cafe Miriam Menu
Top Review: "This is the French cafe I didn't know I was missing from my life. When you need a good croissant sandwich- this is your spot! They also have a full coffee bar, and CREPES! Love it. The staff are friendly, and the atmosphere casual. This is going to be a regular spot for me I'm sure. Can't wait to go back!" – Anna B.
2217 E 21st Ave Denver, CO 80205, (720) 325-9027
Snooze, an A.M. Eatery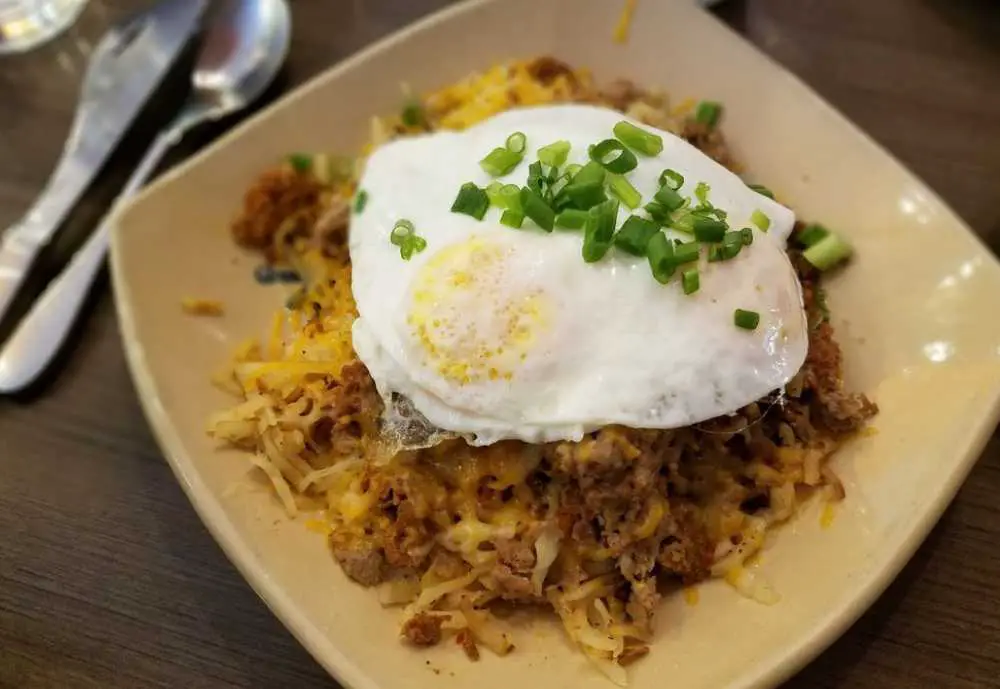 For guests that are looking to experience a more adventurous breakfast meal, Snooze, an A.M. Eatery is the perfect place to go to. While most restaurants probably offer the same menu options like eggs, batter, and coffee, this breakfast joint does something creative. They are always looking for ways to make the breakfast classics more than just an ordinary meal. 
The owners of Snooze, an A.M. Eatery knows that breakfast should start with better ingredients. So, they serve your breakfast meal with a creative twist using real ingredients that are responsibly sourced and thoughtfully prepared. 
Try their delectable pancakes, French Toast, Benedicts, Breakfast Burritos, Breakfast Sandwiches, and many more. Your taste buds will surely be tantalized with its mouth-watering menu choices. Not only do they cater to guests with normal cravings, but they also provide paleo to vegetarian, vegan, and even gluten-free dishes. 
Menu: Snooze Menu
Top Review: "I LOVE SNOOZE. I used to live in San Diego and go to their location there whenever I could – it was my favorite brunch spot and absolutely always worth the wait. I was visiting Denver this weekend and when we drove past Snooze I got so hyped. We had to go  I tried the eggs Benny flight which was sooooo good and stole the show. The pancake flight was also delightful. I loved my honey oat latte – so sweet and filling. I wish there was a Snooze where I live in Sacramento." – Emily C.
2262 Larimer St Denver, CO 80205, (720) 792-2767
With all these listed options, you can never go wrong with your choice for breakfast restaurants. From classic breakfast to homemade familiar dishes, everything that you are craving for is just around the corner waiting to be uncovered. So take the time and enjoy what these notable restaurants have to offer.
---
Did we miss a spot that deserves to be mentioned? Shoot us an email at: [email protected] Thank you!
---
You might also like: