Looking for the best breakfast in Toledo, are you? The Glass City is home to some of the most delicious and diverse breakfast spots around.
From classic diners serving up hearty plates of pancakes and bacon, to trendy cafes offering artisanal pastries and pour-over coffee, it's all here in Toledo.
Whether you're a local looking for a new spot to start your day or a tourist in search of the perfect breakfast spot, you've come to the right place.
Sunrise Skillet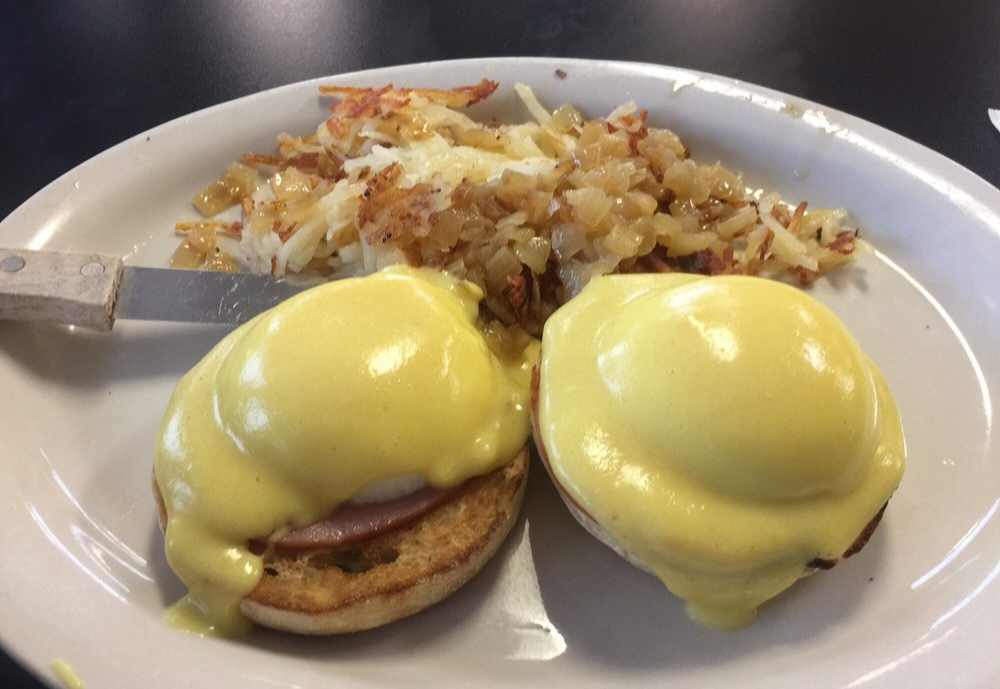 Menu: Sunrise Skillet Review
Top Review: "Friendly fast service keeps us coming back. Top notch diner with quality meals.  The best in Toledo for breakfast of any kind! Pancakes, French toast, waffles, biscuits and gravy I could go on and on. Generous, delicious portions, great coffee and adult beverages available are just a few more reasons to love this place. Hidden gem in this strip mall, don't pass them up." – Jeffrey R.
1855 S Reynolds Rd Toledo, OH 43614, (567) 315-8866
Fowl & Fodder Downtown
Fowl & Fodder Downtown is excited to introduce its eclectic and hyper-seasonal menu to the Toledo food scene. The restaurant, established in 2017, is helmed by Chef Aaron Lawson and his team, who focus on utilizing regional farms and locally crafted products to create fun and creative twists on southern fare.
The menu items at Fowl & Fodder Downtown are scratch-made and feature all-day breakfast options, a craft beer selection, and small-batch signature cocktails. But what sets the restaurant apart is its commitment to transparency. Diners can know exactly where their food came from, how it was produced, and the story behind its local label!
As part of the local food movement and the revitalization of downtown Toledo, Fowl & Fodder Downtown is proud to make real food from real farms available to all corners of the city and for all people to enjoy.
Fowl & Fodder is like a fine breakfast vino not to be missed. Easily one of the best breakfast spots in Toledo.
Menu: Fowl & Fodder Menu
Top Review: "Absolutely fantastic, creative breakfast food with excellent vegan options. I stopped in at about 9:30am on Friday holiday and there was plenty of space. I had seen they had vegan options, and I was looking for a filling breakfast. I tried out their mushroom scramble ($16 plus tax), which turned out to be a super creative dish: tofu scramble, mixed roasted mushrooms, hummus, green onions, celery, picked mustard seeds, onions, and avocado, served with 2 crispy tostadas. The flavors and textures were unique and delectable, and the portion was very large. I was very happy after. Good, friendly, attentive service and a comfortable spot. Highly recommended if in downtown Toledo." – Matt B.
614 Adams St Toledo, OH 43604, (419) 214-1588
Glass City Cafe (Temporarily Closed)
The Glass City Cafe is known for serving delicious Deli-Style Sandwiches and some of the best burgers in Toledo. They also serve Breakfast All Day featuring The Haymaker, Rueben Omelets, and The Breakfast Club.
In addition to their tasty food, they offer live music every Saturday morning with a variety of genres including Blues, Alt-Country, Acoustic Rock, and the popular Bluegrass Breakfast on the 4th Saturday of each month.
Glass City Cafe's atmosphere is down-home and Toledo-themed, making it a great spot for locals and visitors alike. Visitors are encouraged to stop by and give the Glass City Cafe a try.
Menu: Glass City Cafe Menu
Top Review: "JUST GO. SERIOUSLY. Friendly Staff. Historic Vintage Vibes. Grandma's cooking with a slice of hipster. Live bands! C'mon. Carry Out! Supports local bands. Efficiently cleaning dishes BY HAND. Bring coins for the meter if you plan on driving here! Kid-Friendly, BUT the one booster seat and one wooden high chair that they do provide may be a bit old so it may not fit most infant car seats. Be mindful that these are small seating arrangements and space to have the waitress and other guests walk by." –
1107 Jackson St Toledo, OH 43604, (419) 241-4519
Focaccia's 419
Focaccia's is a beloved part of the downtown Toledo restaurant scene, known for its homemade soups, salads, sandwiches, specials, and brunches.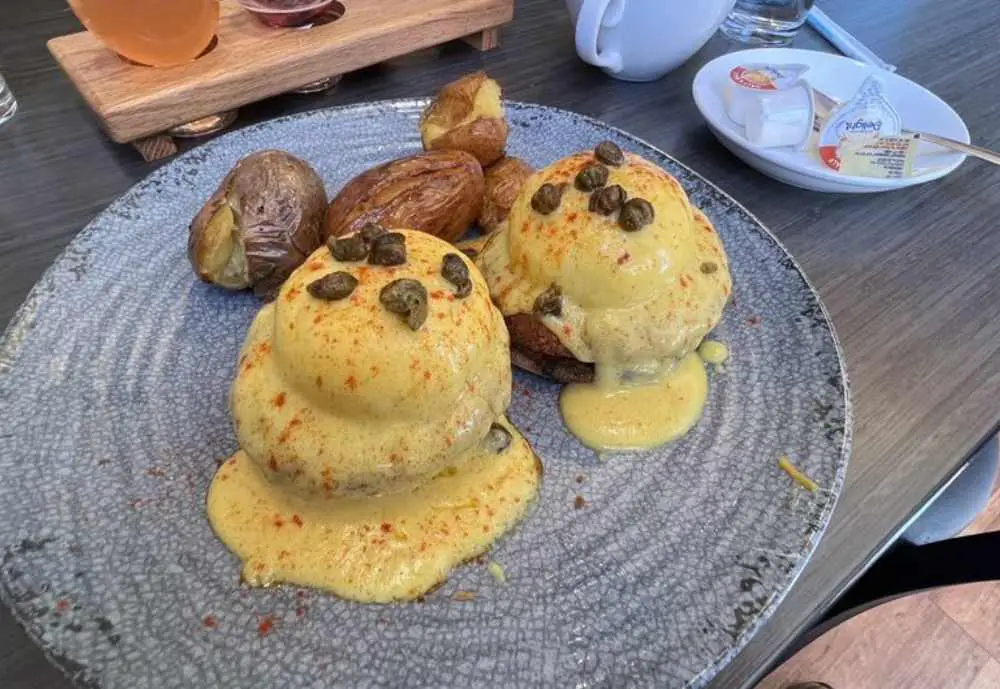 The restaurant prides itself on providing top-notch, fresh food and classy service to its customers.
Menu: Focaccia's Menu
Top Review: "We were staying across the street and came over for brunch. They have igloos out front if you want to have a private space but inside they have a DJ jamming which adds to the fun. The deviled eggs are creamy and flavorful. You can tell the lattes are made with extra care. The naan was a great alternative to toast. If you enjoy crab cakes definitely order them here. Cassandra was wonderful and helped with her recommendations." – Anita S.
333 N Summit St Ste 100 Toledo, OH 43604, (419) 246-3354
Hang Over Easy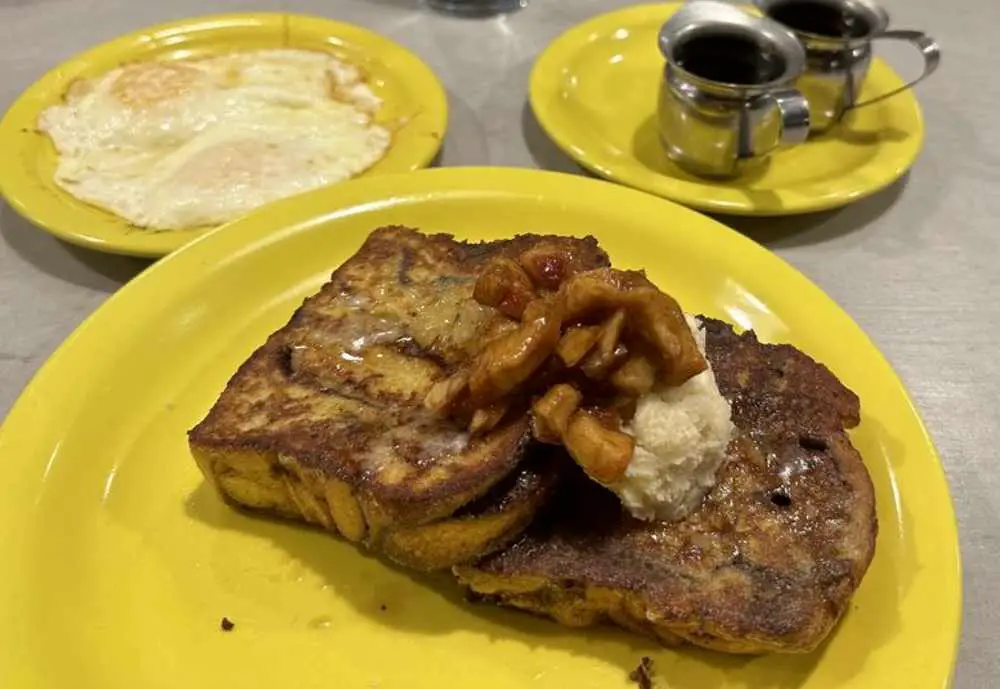 Menu: HOE Menu
Top Review: "I've visited numerous times since they've opened and everything was phenomenal! I think I could eat a HOE rueben sandwich once a week and still never get tired of it! The Chicken and Waffles and The Dirty are also amazing! The cocktail list is huge and I like that they include fun cocktails too." – Melanie F.
3157 Hollister Ln Perrysburg, OH 43551
You might also enjoy these mouthwatering breakfast articles:
breakfast Toledo, Toledo breakfast, best breakfast in Toledo