If you're looking for a delicious breakfast in Virginia Beach, you're in luck! This vibrant coastal city is home to a plethora of amazing breakfast spots, each offering its own unique spin on classic morning dishes. Whether you're in the mood for something sweet, savory, or somewhere in between, you're sure to find a breakfast spot that hits the spot. Join us as we explore some of the best breakfast spots in Virginia Beach, from cozy cafes to trendy brunch spots and everything in between!
The Bee and the Biscuit
The Bee & The Biscuit is located in the heart of Pungo, Virginia Beach. The cozy cottage dates back to 1919 and adds to the charming atmosphere of the place.
You can start your day with a mouth-watering selection of breakfast dishes, including freshly-made biscuits, benedicts, omelets, and breakfast sweets. And the best part? Breakfast and lunch are served all day long, so you can satisfy your cravings any time of the day.
If you're a coffee lover, you'll love the custom-blended coffee at The Bee and the Biscuit. For those who like to add a little bit of alcohol to their brunch, the restaurant offers yummy Bloody Marys and Mimosa Flights that perfectly complement the menu.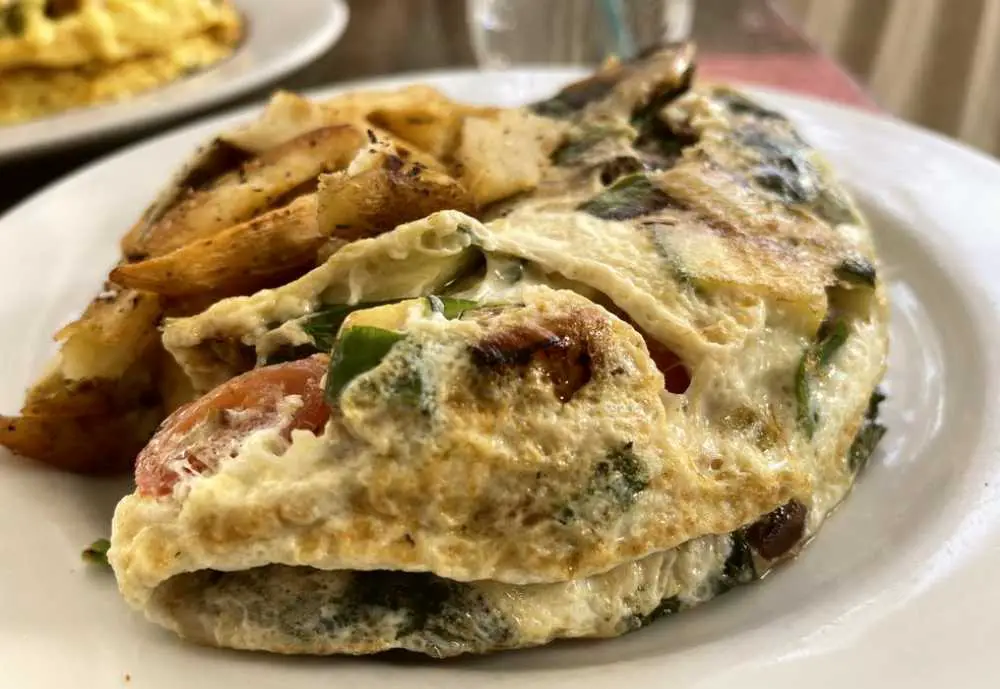 If you're looking for a quieter dining experience, the restaurant recommends visiting during weekdays when it's less crowded. So whether you're looking for a delicious breakfast or lunch, The Bee & The Biscuit has got you covered!
Menu: The Bee and the Biscuit Menu
Top Review: "I have been to the Bee a few times since my last review and I have never been disappointed.  Yes there is almost always a wait, but unlike anywhere else I go I am not only willing to wait but I come expecting to.  The wait has been made much nicer since Chase is manning the outdoor bar.  I get a nice chat with my delightful mocktail which he mixes up fresh for me.  The food is always perfection.  From the thin mint cupcake that was on special to the "liquid gold" sausage gravy I always end up with on my plate.  I just can't seem to stop ordering it.  The cinnamon roll is huge and sharable.  They make everything fresh in their kitchen and it is all wonderful.  I constantly bring new faces to the Bee with me to share in the magic and delight that I have come to love so much." – Katie V.
1785 Princess Anne Rd Virginia Beach, VA 23456, (757) 800-5959
The Rustic Spoon
The Rustic Spoon has stripped away the formalities of typical dining experiences. Instead, they focus on using quality, locally-sourced ingredients and family recipes to create delicious comfort food with a modern and local twist.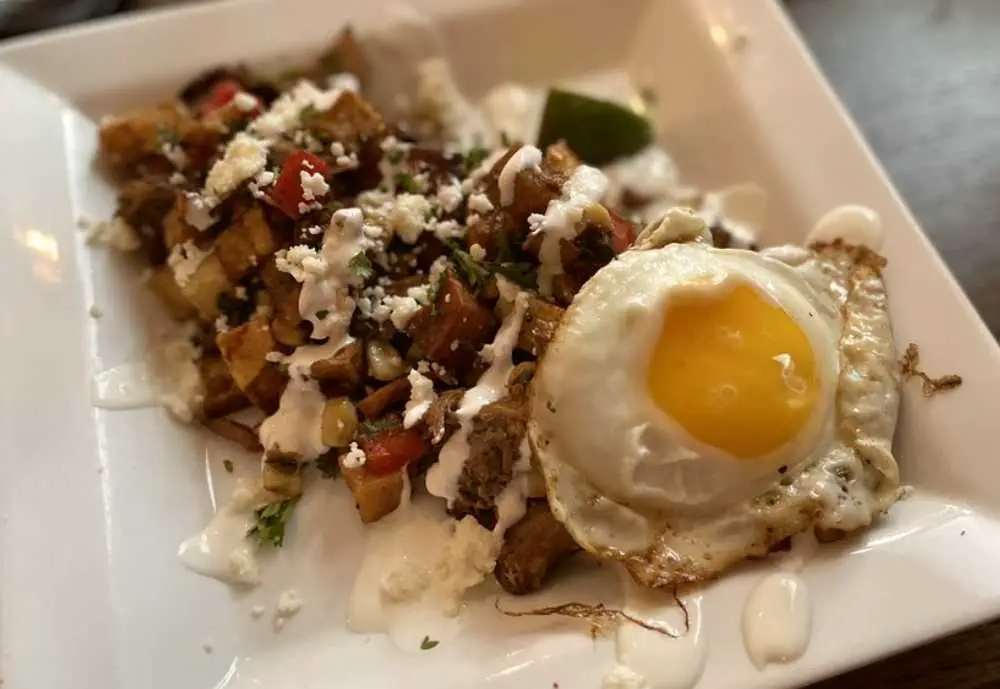 If you're looking for a great brunch spot, The Rustic Spoon has got you covered. And if you have dietary restrictions, fear not – they have gluten-free options available as well.
In short, The Rustic Spoon is all about family, friends, and food. They invite you to come on in, enjoy a delicious meal, and create memories that will last a lifetime.
Menu: Rustic Spoon Menu
Top Review: "Incredible brunch!  From the minute you walk in the door, such a warm greeting and fast friendly service.  We also had the brussel sprout appetizer but devoured it before we could take a picture.   The food was delicious, cooked perfectly to our requests, and was brought quickly.   You can't go wrong with all of the menu choices so we can come back to try them all!" – Nadine T.
1658 Pleasure House Rd Ste 101, (757) 937-8930
Huntley's Place
If you're looking for a cozy and welcoming spot for breakfast in Virginia Beach, you've got to check out Huntley's Place! This little gem is open every day from 7:30 am to 3:00 pm, so it's perfect for early birds or those who like to sleep in a bit.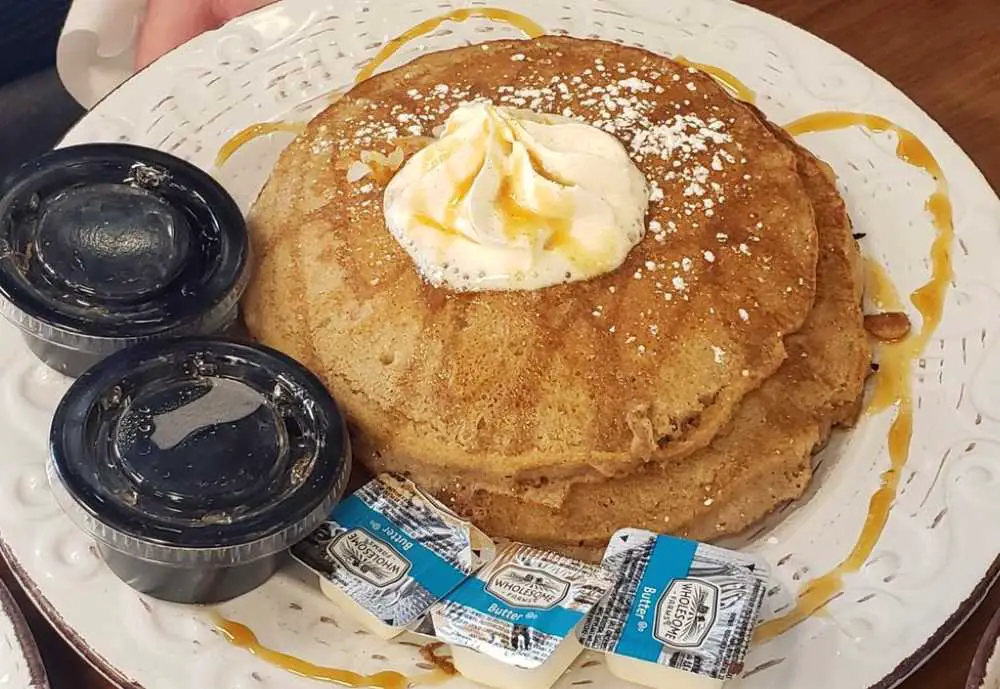 One of the things that really sets Huntley's apart is the friendly staff – the servers are so welcoming and hospitable, you'll feel right at home. The restaurant itself is small and intimate, which adds to the cozy atmosphere.
Be sure to check out the specials on the chalkboard – you might just find your new favorite dish!
And the breakfast and brunch menu is extensive, so whether you're in the mood for something savory or sweet, you'll find something to satisfy your cravings at Huntley's Place. One of the best breakfast spots in Virginia Beach, without a doubt!
Top Review: "What a great little locals spot for breakfast and lunch! Located in a strip mall off General Booth Blvd, it's a popular destination for the surrounding area and I can definitely see why! Kelly took such good care of us, she was energetic, friendly and efficient. She instantly treated us like we were friends. I ordered the peanut butter and banana pancakes. The pancakes were fluffy and evenly infused with the delicious flavors! I ordered a separate plate of eggs, toast and hash browns. I was intrigued by their full bar and noticed some amazing cocktails flying by. Will definitely have to come back for those alone!" – Melissa E.
1581 General Booth Blvd Virginia Beach, VA 23454, (757) 600-7730
Commune
If you're looking for a restaurant that's all about using fresh, local ingredients, look no further than Commune! Since opening its doors in 2015, Commune has been dedicated to sourcing all of its produce, dairy, meats, and wheat from local farms and suppliers.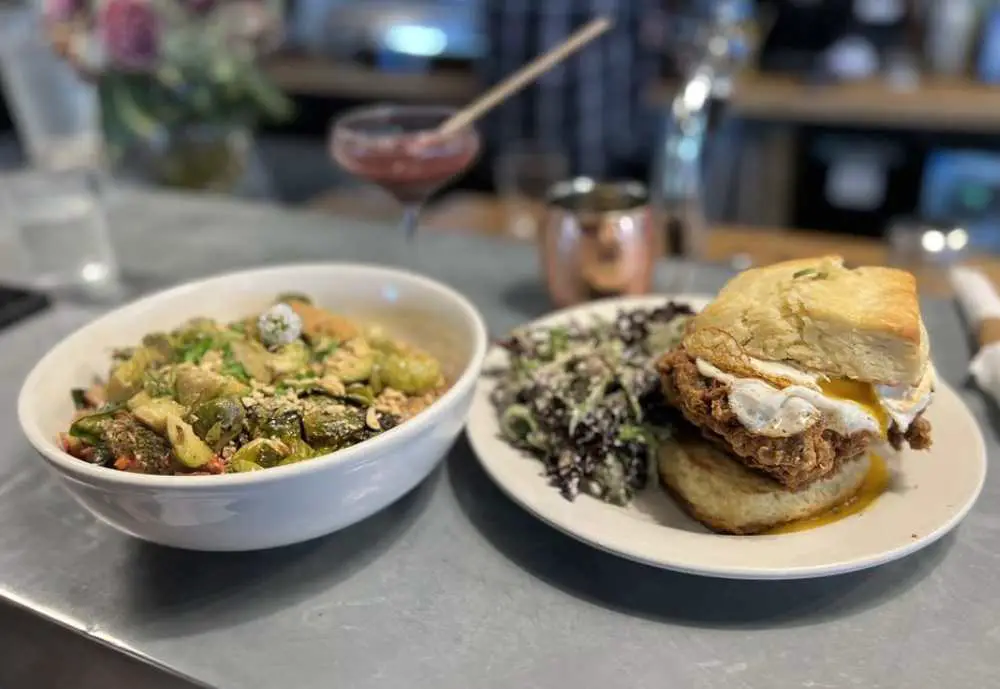 Some of the ingredients even come straight from the restaurant's own garden! And because the menu is always changing to reflect what's in season, you'll always find something new and exciting to try.
Commune also serves conscientious coffee, herbal teas, and hand-crafted sodas, all in a cozy cafe setting. And don't forget to try their homemade naturally leavened breads and selection of baked goods!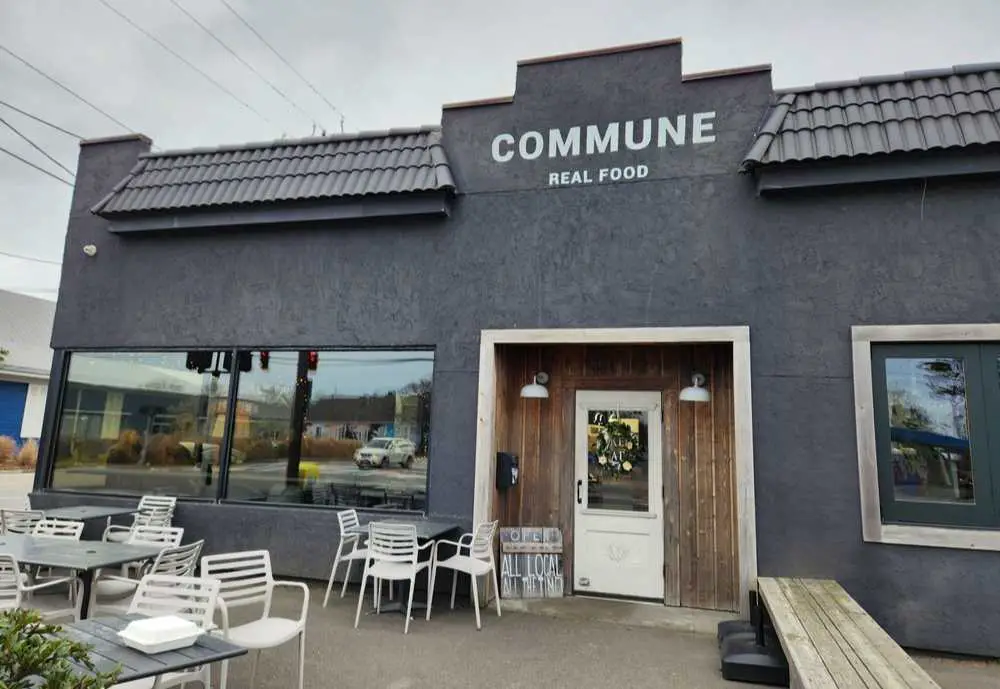 If you're planning a visit, be sure to note that Commune's hours of operation are from 8am to 3pm, seven days a week.
Menu: Commune Menu
Top Review: "This was a great brunch spot! My mom and I shared the cornmeal waffles with fried chicken and the brussel sprout tartine. Both were great, but the sprouts were really really great! The hot chicken sandwhich and eggs benedict were given the thumbs up as well! It was a cute place with a modern yet home-like feel. Great service!" – Eden B.
501 Virginia Beach Blvd Ste B Virginia Beach, VA 23451, (757) 963-8985
The Egg Bistro
If you're a brunch lover, you've got to check out The Egg Bistro! Established in 2007 by owners Mike and Doug, who were tired of subpar breakfast food while following The Dave Matthews Band on tour, this restaurant is on a mission to change everyone's perception of brunch. With three locations, including their newest in the Haygood section of Virginia Beach, The Egg Bistro is the perfect spot to start your day.
The menu features fresh and creative dishes, all made with locally sourced products from Virginia and North Carolina. And if you're in the mood for a drink, they've got you covered – their bar menu includes the best bloody Marys and mimosas in Virginia, as well as six rotating local craft beers on tap.
One thing that really sets The Egg Bistro apart is their exceptional service. Whether you're a regular or a first-time visitor, you'll be greeted with a warm welcome and friendly smile.
And if you're planning a visit, keep in mind that they're open from 7-2 Monday through Friday, and 7am to 3pm on the weekends. They also take reservations Monday through Friday. So what are you waiting for? Head over for some of the best breakfast in Virginia Beach!
Menu: Egg Bistro Menu
Top Review: "Wow a favorite spot while visiting sandbridge for sure! Staff was so friendly and the food was delicious. If you sit on the deck drinks are half prize-can't beat that. Their menu was huge so it was hard to pick because there was so many good option. I had a Bloody Mary which was delicious and the crab cake Benedict. Yum! Their Turkey sausage and potatoes were good too." – April R.
2129 General Booth Blvd Ste 105 Virginia Beach, VA 23454, (757) 689-6312
Session
If you're in Virginia Beach and on the hunt for a delicious breakfast spot, you absolutely can't go wrong with Session! Not only do they have some of the tastiest breakfast items around, but they also offer vegan options for those with dietary restrictions.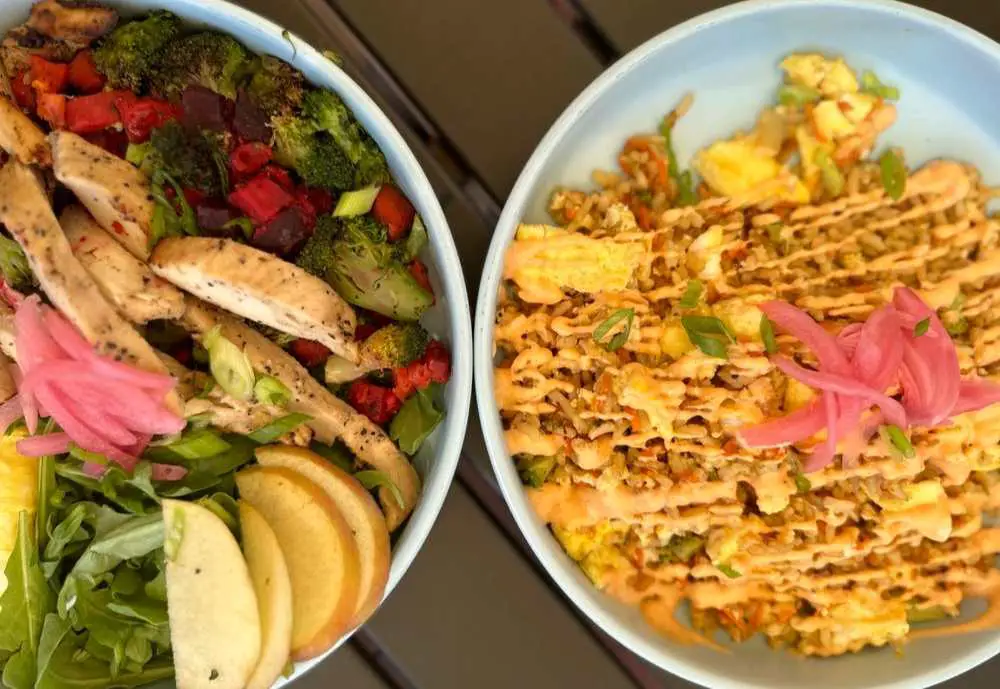 Plus, their outdoor seating is perfect for those who want to enjoy some fresh air while they eat. Don't let the fact that it's located in a strip mall fool you – this place is still classy and trendy! You won't want to miss out on their popular dishes like the Avocado Toast, breakfast burrito, and breakfast fried rice.
Just make sure to plan accordingly since they're closed on Tuesdays, and their hours are from 8am to 3pm daily. Trust me, a visit to Session is a breakfast experience you won't forget!
Menu: Session Menu
Top Review: "I wish i could give 10 stars. each time i come is better than the last. i brought my mom and sister this time and am converting them to session addicts. there's vegan and vegetarian and gluten free options, the owners are super friendly and chatty and knowledgeable about everything. they also have a rewards system that is pretty epic. theres no excuse for session to not be in your life." – Priscilla B.
2973 Shore Dr Ste 104 Virginia Beach, VA 23451, (757) 904-1492
So hey! Virginia Beach is home to a variety of amazing breakfast spots that are sure to satisfy any craving.
From the cozy ambiance of Session and the mouthwatering dishes at The Egg Bistro, to the Southern comfort food at The Bee and the Biscuit, the creative cuisine at The Rustic Spoon, and the homestyle cooking at Huntley's Place, there's something for everyone. So whether you're a local or just visiting, be sure to check out these fantastic restaurants and start your day off right with a delicious breakfast!
You might also enjoy these mouthwatering breakfast articles:
virginia beach Breakfast, virginia beach breakfast, best breakfast in virginia beach, best breakfast downtown virginia beach, virginia beach breakfast restaurants, downtown virginia beach breakfast