Looking for the best Italian in Cleveland? Cleveland may not be the first city that comes to mind when you think of Italian cuisine, but the city has a thriving restaurant scene with numerous Italian eateries serving delicious and authentic dishes.
We highlight some of the best Italian restaurants in Cleveland that you won't want to miss!
Mia Bella Restaurant
Mia Bella is a family-run Italian Restaurant that offers Italian and Mediterranean dishes.
They showcase creative twists to classic Italian dishes you know and love. Their most popular dishes include cheese tortellini, lobster ravioli, and shrimp Saganaki.
Menu: Mia Bella Menu
Top Review: "From first sight, I could already tell that it was a popular restaurant. When I went, the restaurant was full with people standing outside waiting. While my party had a reservation, it did take a bit to get our table. However, the restaurant owner and employees are very kind and welcoming. Since our wait was a little longer than usual, when we got to our table, they gave us  Eggplant Parmesan and Calamari on the house. These two dishes were a surprise, and they were both phenomenal. As a main, I got the Gnocchi alla Romana, which was one of the best gnocchi I've had in Cleveland! I highly recommend this place! It has great food and the staff are very welcoming, giving home vibes." – Victoria W.
12200 Mayfield Rd Cleveland, OH 44106, (216) 795-2355
Luca Italian Cuisine
Luca Italian Cuisine is an excellent spot for special occasions with a spectacular view over the city.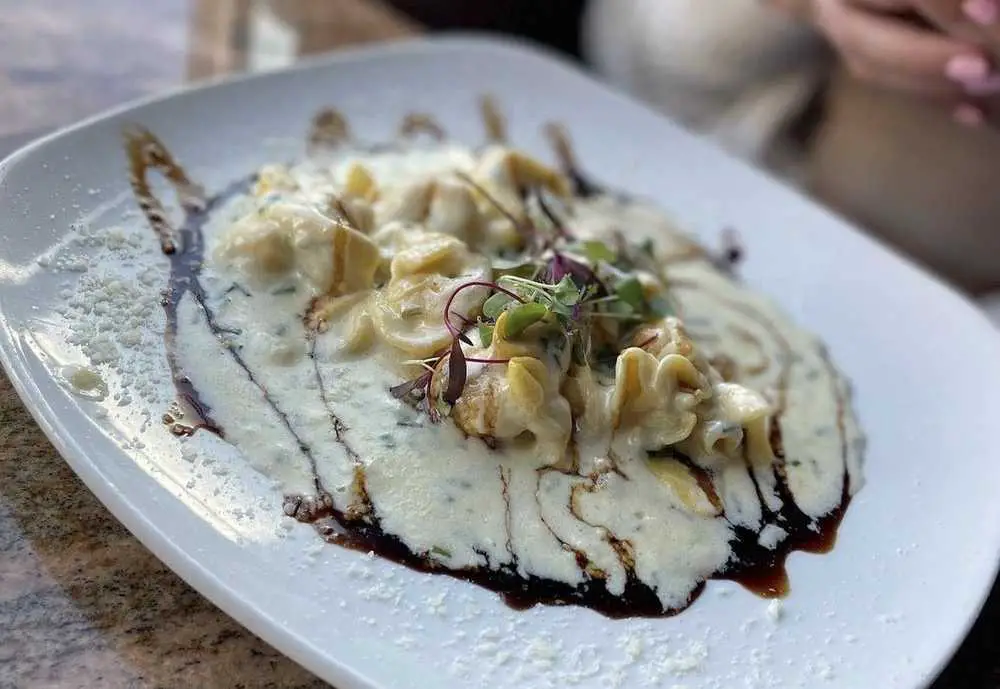 The fine dining restaurant offers some of the best Italian dishes in Cleveland. You can pair their dishes with the perfect wine with the guidance of their sommelier.
They have a good Sacchetti Al Tartufo Bianco, calamari, and ravioli di aragosta.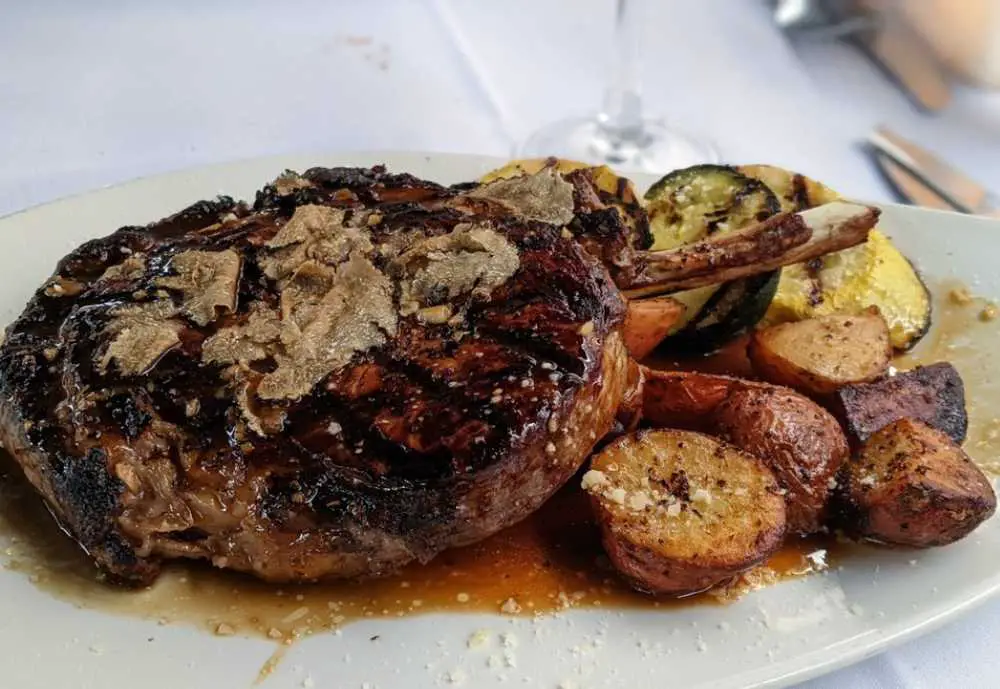 Menu: Luca Menu
Top Review: "I have dined at this restaurant several times over five years and can't get enough. I was fortunate enough to get a window seat overlooking the city and it was a spectacular view.  The service was great and the table bread is one of the best you can get at a restaurant. Choosing as app or meal is extremely difficult since the selections are so tempting. I chose the lobster ravioli and it was very tasty but not one of their larger portion offerings.  If you want something very different try the Cannelloni Di Vitello. It's a bit salty but super delicious." – Rob S.
2100 Superior Viaduct Cleveland, OH 44113, (216) 862-2761
Etna
Etna is another fine dining spot with authentic Italian flavors and friendly service.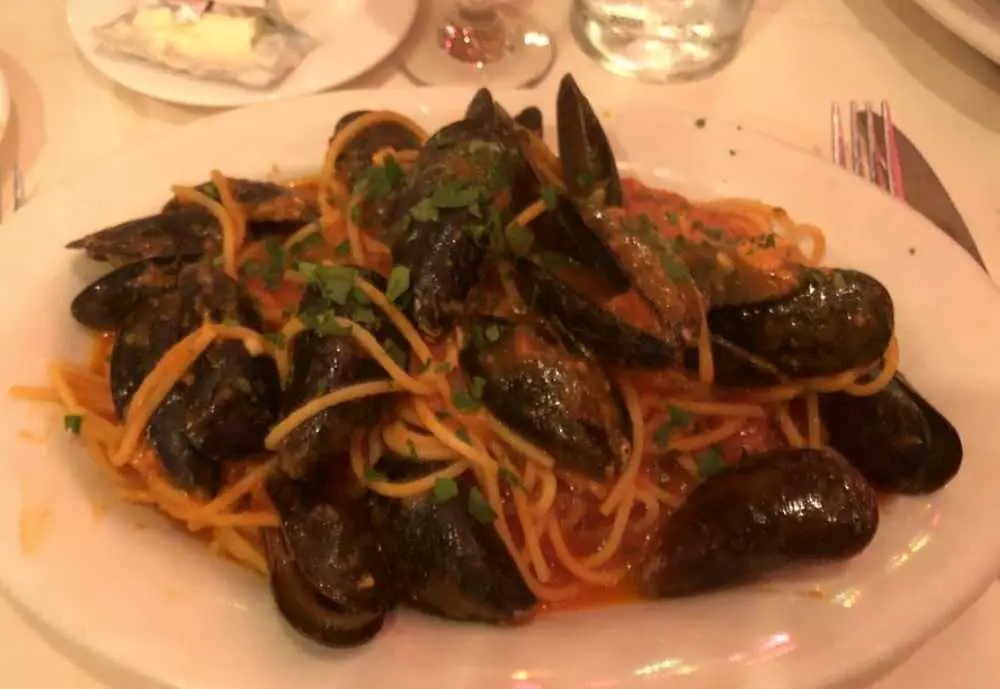 Their menu boasts a selection of fresh seafood, pasta, appetizers, and meats that will satisfy your Italian food cravings.
Some must-try dishes include the black ink pasta, scallops, grilled calamari, and smoked salmon salad.
Menu: Etna Menu
Top Review: "SO SO good. came for a date night and we tried the mussels, gnocchi with eggplant, and the steak. We also started off with a glass of moscato each, but it was so good that we ordered the whole bottle. The mussels came first. The sauce that it's in is absolutely incredible. We kept dipping our bread in it and had to force ourselves to stop so that we could save room for the rest of the food. Probably my favorite part of the meal. Then we got the steak, I believe called the bistecca all'olio di toscana. Very juicy and yummy. And the gnocchi alla normana was so good, especially the eggplant. Felt very rich and flavorful. I guess that just means we need to come back! Tried half the Little Italy restaurants so far and this was our favorite." – Cynthia K.
11919 Mayfield Rd Cleveland, OH 44106, (216) 791-7670
Bruno's Ristorante and Catering
Another spot considered one of the best Italian restaurants in Cleveland is Bruno's Ristorante.
Bruno's is cozy and has an intimate dining setup, but the vibes are truly fantastic, with rich landscapes and vibrant art reflected in the décor.
Their commitment to freshness and traditional cooking can be seen in every dish, with their homemade pasta and delicious sauces.
People recommend the eggplant lasagna, Italian wedding soup, chicken parm, and Limoncello cake.
Menu: Bruno's Menu
Top Review: "Bruno's was amazing. From the hostess to the wait staff everyone was so nice. The food was delicious and portions huge! Definitely leaving with leftovers. I had the linguine alla pescatore and it was filled with so much seafood it was difficult to get to the pasta. Would highly recommend." – Valerie S.
2644 W 41st St, Cleveland, OH 44113, (216) 961-7087
Mama Santa's
Mama Santa's, a family-owned restaurant, has made a significant contribution to the cultural and historical growth of Little Italy.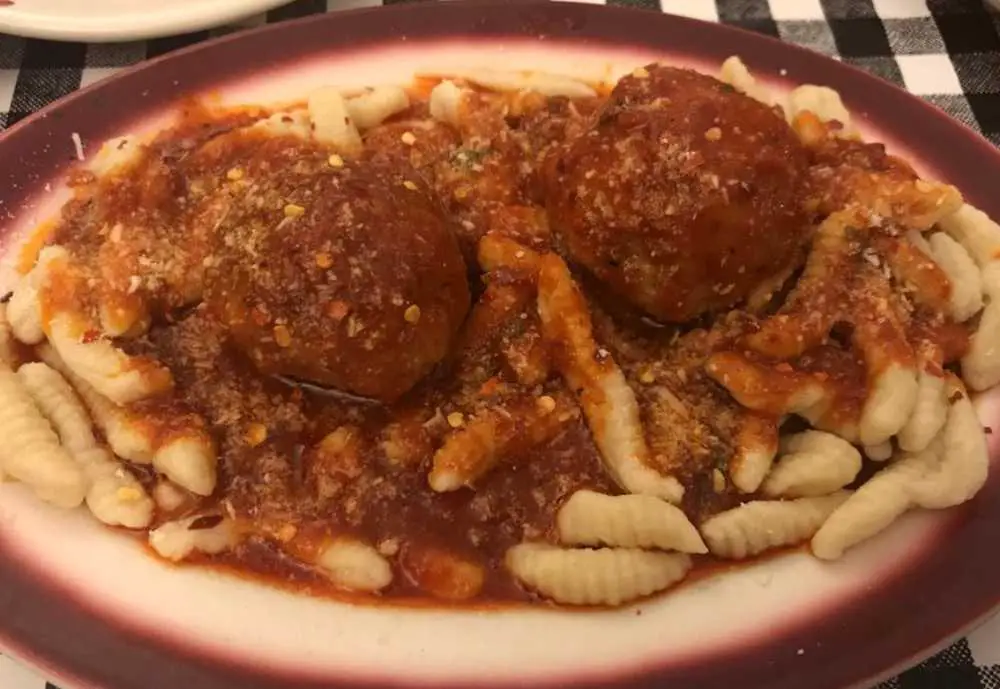 Mama Santa's is a hugely popular place, and it's a must-visit while you're in the city. You can customize your pizza or try any of their gluten-free options.
Wondering what to order? Go for the cavatelli, spaghetti, ravioli, and get the antipasto.
Menu: Mama Santa's Menu
Top Review: "Mama Santa is an institution in Little Italy   The food is absolutely delicious from the pizzas to the pastas! This is a wonderful family owned restaurant that takes pride in everything they serve! The staff is on point and so friendly making your dining experience so enjoyable!" – Ivette I.
12301 Mayfield Rd Cleveland, OH 44106, (216) 421-2159
From family-owned and operated spots like Mia Bella and Mama Santa's to fine dining establishments like Luca Italian Cuisine and Etna Ristorante, each restaurant boasts its unique charm and culinary expertise. With passionate chefs and dedicated staff, visiting any of these restaurants will satisfy your Italian food cravings and leave you with unforgettable dining memories. Try any of these best Italian restaurants in Cleveland!
You might also like drooling over these articles:
best italian in cleveland, cleveland italian restaurants, best italian in cleveland