Looking for the best Italian in Manhattan? New York City is known for its diverse and exceptional cuisine, and Italian food takes a special place among its achievements. Considered the birthplace of Italian American cooking, this city offers top-notch Italian dining options across its five boroughs.
From the traditional Tuscan flavors to the bold and spicy Sicilian dishes, this guide showcases the best Italian restaurants in Manhattan. Get ready to experience a taste of Italy in the heart of New York.
L'Artusi
L'Artusi has been a staple in the West Village for over ten years, delivering Italian cuisine at its finest.
The bi-level restaurant draws huge crowds with its mouth-watering spaghetti, creamy tagliatelle coated with Bolognese sauce, and giant spreads of wagyu carpaccio drizzled with horseradish cream.
Just hearing about it is already making us hungry. Other dishes you shouldn't miss include the olive oil cake, roasted mushrooms, and Garganelli.
Menu: L'Artusi Menu
Top Review: "Love this place. Soo savory and flavorful but not overly salty. Despite everything being served in cutesy and highly instagramable fashion, the food is incredibly filling. Lots of variety and both brunch and dinner menus are fantastic. I would come more often but I wouldn't call this place healthy. Great for groups. Servers friendly." – Helen S.
228 W 10th St New York, NY 10014, (212) 255-5757
Carmine's Italian Restaurant
Carmine's is a family-style restaurant that specializes in Southern Italian cuisine. You can get great value with their generous portions, flavorful dishes, and homemade desserts.
This Italian restaurant is a popular spot in Times Square, but the service never falters, and the quality remains consistent.
It's one of the reasons why it's the best Italian restaurant in Manhattan, at least according to some people.
Previous visitors recommend calamari, spaghetti and meatballs, and lasagna. Definitely give Carmine's a go, they have some of the best Italian in Manhattan!
Menu: Carmine's Menu
Top Review: "It's so good it makes you want to slap your mamma.   I'm kidding I would NEVER be disrespectful to my momma, but I may stomp on her bunion just to eat here.  Sorry mom! We come to New York just to eat here.  I'm not kidding when I say the past few times I booked our Christmas trip here I make sure to make a friday reservation. Plus you get to hold the trident of Poseidon just to eat their massive servings.  LOOK AT THAT FORK! Reminds me of the wooden spoons my mom used to whip me with…and now you know why I wouldn't slap my momma." – Michael Q.
200 W 44th St New York, NY 10036, (212) 221-3800
Olio e Piu
Olio e Piu is a breath of fresh air with a bright, airy space that's possible because of its open dining setup. They are an excellent pick for brunch or a night out with friends.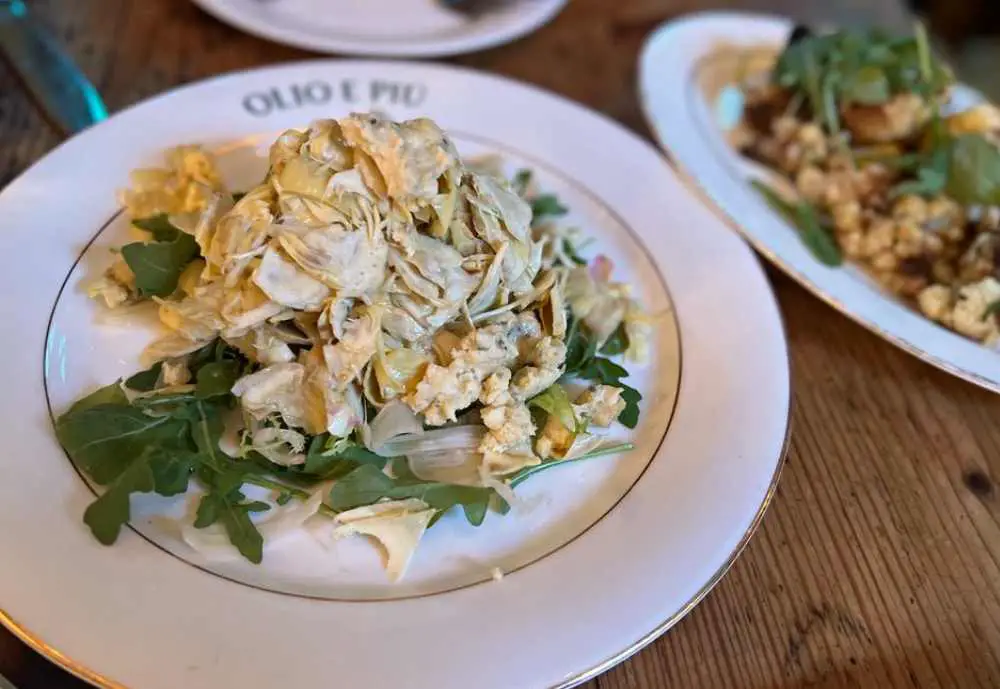 They offer simple and authentic Italian dishes with classics like Margherita pizza and their tiramisu. Their house-made pasta is also all the rave — try the Spaghetti Chitarra alla Carbonara, Fusilli e Manzo, or the Fettuccine Tartufo.
Let them show you exactly why they're one of the top picks for Italian restaurants in Manhattan.
Menu: Olio e Piu Menu
Top Review: "All around amazing food. Beautiful ambience with wooden tables and indoor plants. We got the chitarra a la carbonara and squid ink pasta. Both were top tier with fresh pasta. Gokce our server was very kinda and friendly as well! Overall great night, looking forward to coming back!" – Kevin M.
3 Greenwich Ave New York, NY 10014, (212) 243-6546
Trattoria Trecolori
Trattoria Trecolori offers fresh, homemade pasta, succulent seafood, veal, and mouth-watering mozzarella.
They also have daily and weekly specials that change with the seasonal ingredients available.
Give these dishes a try: Chicken parmigiana, fettuccine alfredo, or Fritto Misto. Their desserts are also the perfect ending with a classic gelato or tiramisu.
Menu: Trattoria Trecolori Menu
Top Review: "Fantastic food, fast service in a perfect pre theatre eating establishment. Loved the seafood over squid ink pasta. Probably one of my all time fave dishes. The pistachio tartuffo which I selected was insanely good and a very generous portion!  It was our anniversary so of course I ate it all! Reservations recommended." – Cristina S.
254 West 47th St New York, NY 10036, (212) 997-4540
Via Carota
Co-owned by co-owned by Jody Williams and Rita Sodi, Via Carota is one of the best Italian restaurants in Manhattan.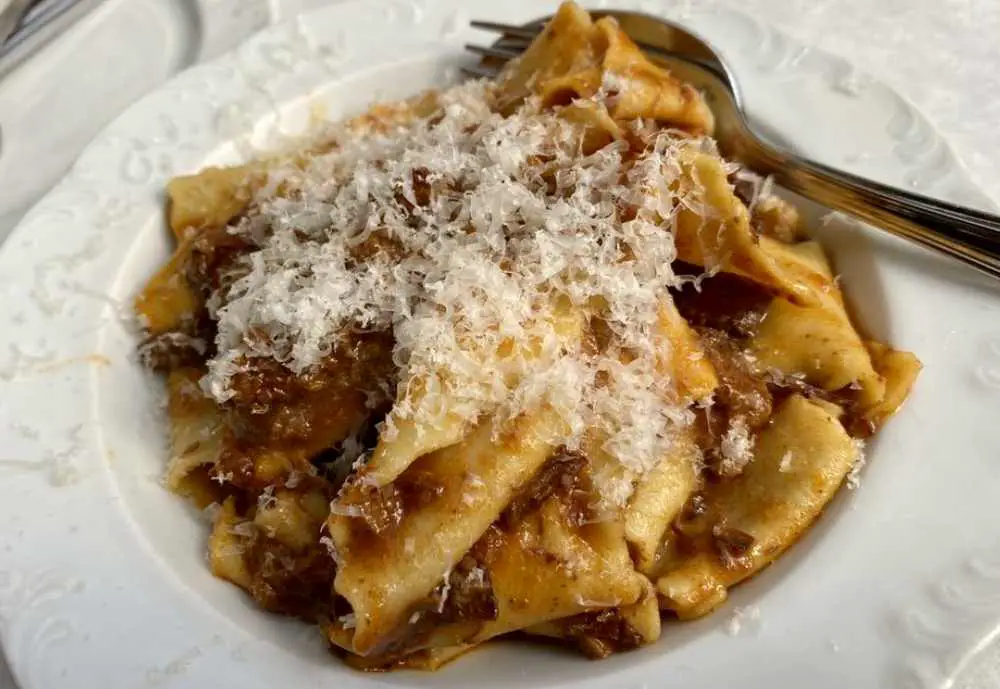 They have the old-world Italian vibe down to the tee. But what truly sets Via Carota apart is its standout vegetable dishes – the options change regularly, so you're always in for a surprise.
Via Carota's most popular dishes are Cacio e Pepe, wild boar ragu, and the Vitello Tonnato.
It gets pretty packed here, so please come early, but regardless, people say the wait is worth it for some of the best Italian in Manhattan.
Menu: Via Carota Menu
Top Review: "Impeccable service and delicious food. Chicken Liver on toast was great. Their bread with olive oil was good too. The salad was fresh and just perfect. Pasta (pappardelle with wild boar ragu) was cooked to perfection. For dessert we had their chocolate mousse and panna cotta which came with a biscotti on the side. It was packed and we were told the wait time would be approximately 30 mins but they called us within 10-15 mins. Highly recommend this restaurant for great Italian food. The only thing I would avoid would be adding a tiny bit of extra virgin olive oil over the panna cotta it's a little too overpowering." – Saroasha E.
51 Grove St New York, NY 10014, (212) 255-1962
Each establishment has its unique vibe, ranging from family-style to classic and traditional to hip and happening, but what they all have in common is a love for food and sharing it with others.
You won't be disappointed with whichever one you choose to walk into today. They are some of the best Italian restaurants in Manhattan for a good reason. The best way to decide which is your favorite is to go on a food journey, which sounds like a dream come true.
You might also like drooling over these articles:
best italian manhattan, italian manhattan, best italian restaurants in manhattan, best italian in manhattan