Looking for the best Italian in Phoenix? We've got you covered!
Phoenix, Arizona, is known for its warm weather, stunning desert landscapes, and diverse culinary scene. But they still slay in offering authentic and delicious Italian cuisine. In this guide, we'll look at some of the best Italian restaurants in Phoenix that are sure to satisfy your cravings for pasta, pizza, and all the classic Italian dishes you love.
The Parlor Pizzeria
The Parlor Pizzeria is a hidden gem that often goes unnoticed as one of Phoenix's best Italian restaurants, despite its impressive pizza offerings.
The restaurant's menu extends beyond its signature pies and features a variety of homemade pasta dishes with sauces crafted from produce grown in garden boxes right in front of the restaurant.
You can't go wrong with classic pepperoni pizza, Funghi pizza, and the Duck Club. Make sure to get both pasta and pizza for some of the best Italian in Phoenix!
Menu: The Parlor Menu
Top Review: "Our family is regular at the Parlor,  love the pizza and pasta.  We love the cauliflower gratinata and fritto misto appetizers.   Service is great plenty of space in the restaurant to not feel cramped.  One of our favorite places to get pizza and pasta." – Randy W.
1916 E Camelback Rd Phoenix, AZ 85016, (602) 248-2480
Pomo
Still craving some pizza? Try Pomo next! This casual pizzeria has pizzas, pasta, and gelato.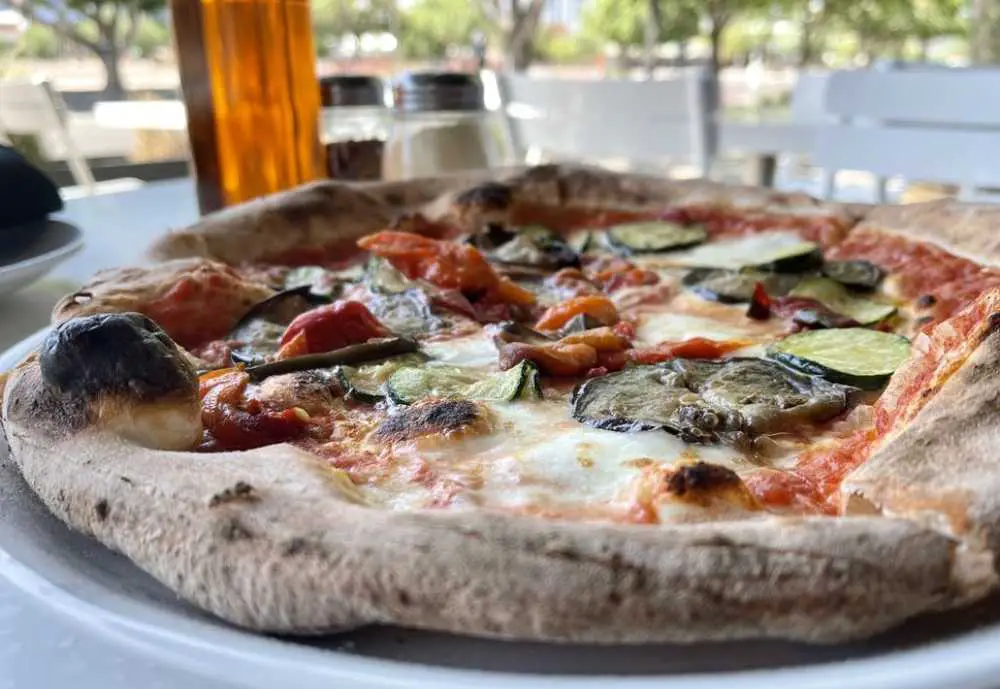 They're affordable and have gluten-free and vegan options. Pizzas have a slightly crispy crust with some char and excellent cheese.
People recommend Margherita pizza, Toto Sapore pizza, Principe pizza, then end with their tiramisu.
Menu: Pomo Menu
Top Review: "This food is authentic and delicious. The salt crusted dipping bread comes to life with the olive oil served with it. The meats and delectable cheeses make for a very appetizing start to your meal or to share over the lovely craft cocktails. This is a downtown gem. Outdoors seating is a plus!" – Nancy J.
705 N 1st St Ste 120 Phoenix, AZ 85004, (602) 795-2555
The Sicilian Butcher
For something a little different, try The Sicilian Butcher. They are the experts when it comes to hand-rolled meatballs, and you can't go wrong with that.
Other dishes they offer include fresh-made pasta, cured meats, and gelato. Their "choose-your-own-meatball" adventure is a unique experience with your choice of balls, sauces, and bottoms.
Try that or any of their other great dishes like Uncle Arthur's Meatballs, steak meatballs, stuffed gnocchi, or charred octopus.
Menu: Sicilian Butcher Menu
Top Review: "We came here for Happy Hour (surprise surprise, we love our HH's!) and split the bottle of wine and meatball/polenta platter.  The house wine is quite good for house wine and the meatballs were yummy as well.  Bartender definitely steered us in the right direction for being first timers! I'd go back." – Cindy R.
15530 N Tatum Blvd Ste 160 Phoenix, AZ 85032, (602) 775-5140
North Italia
As one of the best Italian restaurants in Phoenix, you can't miss visiting North Italia. The restaurant takes great care in every detail, from the ambiance to the food and drinks.
It has a great ambiance and is excellent as a hangout spot. They offer classic Italian dishes with a selection of wine, beer, or house-made cocktails.
We recommend the Bolognese, Zucca chips, Margherita pizza, and tiramisu.
Menu: North Italia Menu
Top Review: "This place is amazing. All the way from start to finish! The appetizers blew my mind, they were perfect starters to get the appetite going. Had the calamari, white truffle garlic bread, and beef carpaccio. Had a cocktail, but got too excited I forgot to snap a picture. That was amazing as well! The entrees were the short rib and bolognese. Both astounding as well. The ambiance was extremely fun and the service was top notch. Now I understand what the hype is about!" – David K.
4925 N 40th St Phoenix, AZ 85018, (602) 324-5600
Fabio On Fire
Fabio on Fire, tucked away in Peoria, is a must-visit for any West Valley foodies seeking authentic Italian cuisine.
The menu is bursting with traditional Italian dishes, including the classic Lasagna with its generous portion size and the Short Rib Ravioli with its buttery cream sauce.
Their ravioli stands out on the menu as it seems to be the local favorite. Aside from that, they also have wood-fired pizzas and yummy desserts.
Their popular dishes include butternut squash ravioli, short rib ravioli, lobster ravioli, and gelato.
Menu: Fabio on Fire Menu
Top Review: "This place is absolutely amazing, by far some of the best Italian food I've ever had. The menu changed here and there offering different dishes and their desserts are homemade and very delicious. The servers are all very polite and nice as well as knowledgeable regarding their menu. My wife and I have gone here a few times now and our experiences seem to get better and better. It's a great date night spot and the food prices are very reasonable for the kind of high end food that you receive. I highly recommend this spot to anyone and everyone. You won't be disappointed!" – Joshua M.
8275 W Lake Pleasant Pkwy Ste 101 Peoria, AZ 85382, (623) 680-5385
There are many options to choose from if you're craving delicious and authentic Italian cuisine. You can go for mouthwatering pasta, impressive pizzas, or even meatballs. Be sure to try out some of the best Italian restaurants in Phoenix and experience the rich flavors and warm hospitality that make Italian cuisine so beloved.
You might also like drooling over these articles:
best italian in phoenix, phoenix italian restaurants