The best breakfast in St. Paul can be found at one of the city's many fantastic cafes and diners.
From cozy, family-owned establishments to bustling eateries, there's something for every type of breakfast lover in St. Paul.
No matter at all if you're in the mood for a classic plate of eggs and bacon or something a little more adventurous, you're sure to find the perfect meal to start your day off right!
Cafe Astoria
Cafe Astoria is a popular independent local coffee cafe and creperie located in the west 7th neighborhood of St. Paul.
They believe in community investment and aim to serve their neighbors with the best possible coffee, food, and service. The cafe is known for their creative coffee and delicious menu, making it a top choice for those searching for the best breakfast in St. Paul.
Cafe Astoria is a must-visit for a memorable breakfast experience!
Menu: Cafe Astoria Menu
Top Review: "A bustling coffee shop with a personality. The coffee and food were both top notch. I was looking for a coffee and a breakfast place near the Xcel Energy Center, however, I found that there are mainly just national chains surrounding the arena. Cafe Astoria was well worth the walk. After ordering, a line formed out the door… so I instantly knew I made a good choice. The manager and/or owner of the coffee shop was very responsive and tried to keep the line moving as efficiently as possible. This was a nice place to hangout for a while and kill some time before my flight departed later in the day. Overall, I had a great experience at Cafe Astoria and I will certainly come back the next time I'm in St. Paul." – Keith P.
180 Grand Ave Saint Paul, MN 55102, (651) 508-1654
The Buttered Tin
Launched in 2013, The Buttered Tin is a popular breakfast spot in St. Paul that serves American breakfast classics with a twist.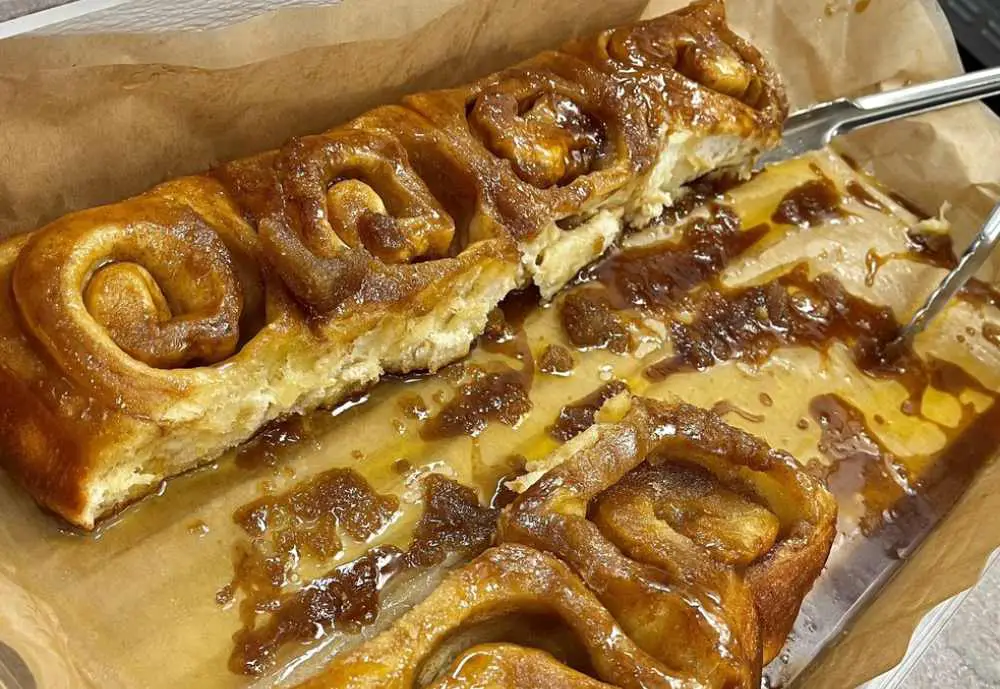 Their menu is fun, comforting, and emphasizes the use of fresh, local, and simple ingredients. The ingredients are carefully sourced and the food is prepared with care, making it the perfect choice for a daily routine, weekly tradition, annual celebration, or even a once-in-a-lifetime moment.
We whole-heartedly recommend trying their Huevos Rancheros Benedict, Banana Foster French Toast, or the generously portioned Pig's Eye Breakfast for something more traditional.
And here's a fun fact. One of the owners, Alicia appeared on Food Network's The Cupcake Wars!
Menu: Buttered Tin Menu
Top Review: "Holy cow was this place good! Almost makes me wish I lived here again. We had the pot roast hash with egg and the pot roast sandwich so not a lot of variety to share with you, but what we did have was over the top amazing! Everything and I mean everything here is made from scratch with tons of love. Seriously you can taste the love they put into their craft. I cannot wait to come back to this charming space after their remodel to check it out. There seems to be plenty of metered parking for this breakfast/lunch spot so no excuses!" – Ann L.
237 7th St E Saint Paul, MN 55101, (651) 224-2300
Hope Breakfast Bar
Hope Breakfast Bar is a well-established breakfast spot in St. Paul that was founded in 2019 with the goal of starting the day with optimism.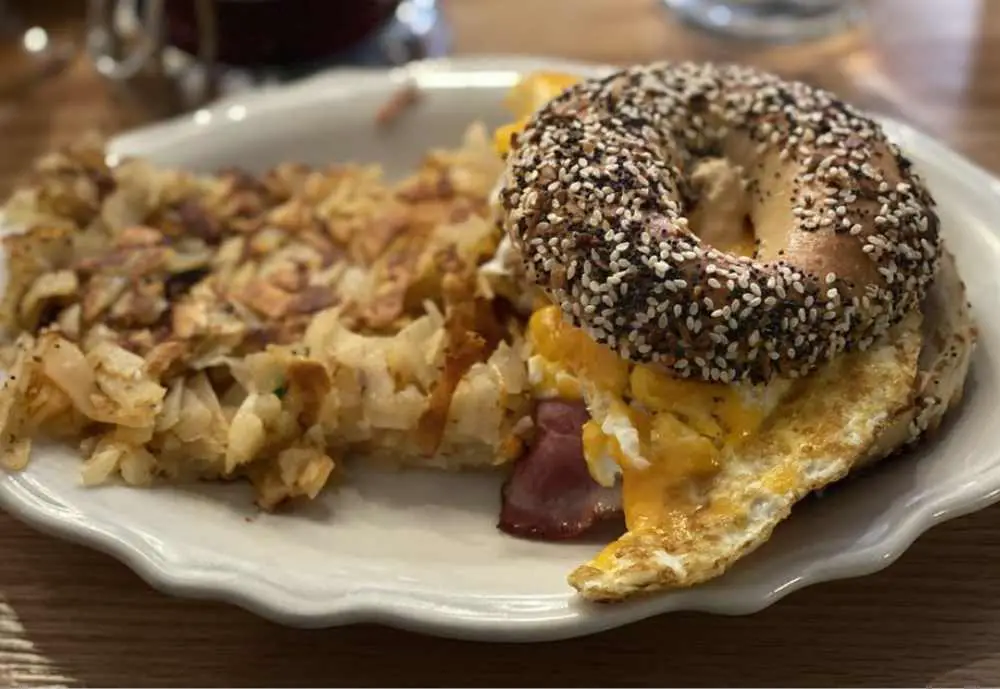 Hope Breakfast Bar is housed in a historic space and offers a fresh take on classic breakfast favorites. The focus is not only on serving delicious food but also on making the future of the community a better place.
Hope Breakfast Bar brings people together for the most important meal of the day, no matter the time, making it a top choice for those in search of the best breakfast spot in St. Paul.
We recommend trying Southern Fried Chicken & Waffles or the Bacon Cakes! Just a few of the reasons it's one of the best breakfast spots in St. Paul!
Menu: Hope Breakfast Menu
Top Review: "I am so glad my friend and I picked Hope for breakfast. We have been wanting to give this place a try for a very long time, not disappointed one bit.  Customer service is excellent and the ambiance is even better.  The restaurant used to be an old fire station. We both ordered coffee to start with.  The matcha dream sure was everything I dreamed of. My friend really liked her Caramel coconut latte as well.  Food was so delicious.  I got the Southern fried chicken and waffles. The portion size was huge, enough to share.  Chicken was fried to perfection and came with gravy. Waffle was big and fluffy. Each bite was delicious with everything together. We had a great experience here. Will definitely be back to try more things on the menu." – Kripa M.
1 S Leech St Saint Paul, MN 55102, (651) 330-8996
The French Hen Cafe
The French Hen, situated in Saint Paul's historic Cathedral Hill, offers a lively French and Creole-inspired breakfast and lunch menu.
With a versatile selection of dishes made from fresh, locally sourced ingredients, customers can choose between sweet or savory options.
The restaurant caters to dietary restrictions, including gluten-free and vegetarian options, ensuring everyone can enjoy a meal.
YES, PLEASE
Menu: Fench Hen Menu
Top Review: "This place is sweet and unique! Loved that we came in without reservations and the hostess was very kind instead of making us feel unwelcome without a reservation. Only was a 5 min wait too! I loved how unique some of the dishes were, lots of opportunity to try a brunch item that is very different than typical. I got the savory crepe and loved it! Bright clean and aesthetic spot. Street parking. Quick and friendly service." – Robyn L.
518 Selby Ave Saint Paul, MN 55102, (651) 222-6201
The Copperfield
The Copperfield invites customers to come as they are. Its goal is to provide the community in Mendota Heights with a welcoming and approachable establishment that meets their needs throughout the day.
The multi-faceted concept includes a bustling grab & go deli-style market and a modern, upscale diner and bar. Whether customers are looking for a place to enjoy family breakfast, grab a quick scone on the way to work, or meet up for after-work drinks, this eatery has got them covered.
Once inside, customers will experience the most contagious upbeat energy, making it the perfect place to celebrate life's wins, milestones, and everyday moments!
Menu: Copperfield Menu
Top Review: "I've been twice now in one week if that says anything.. so happy a friend recommended this place because I'm sure to make it our official date night spot.
I love love love the interior design, it's very cute. The staff is friendly as well. My first visit was a brunch date and I had the Mexican hash with a biscuit, I don't normally like biscuits but the waitress advised me to just try it because they're really good – she wasn't lying! Ugh so good! After my brunch experience I knew I had to come back for dinner and I wasn't disappointed. I ordered the sirloin entree and he ordered the patsy/pasty (can't remember what it's called) he said it's the best one he's had, he couldn't stop raving about it. My sirloin was delicious, with fingerling potatoes and greens with beets and Gorgonzola – oh my gosh the flavors! *chefs kiss*" – Carissa E.
735 Maple St Mendota Heights, MN 55118, (651) 340-5144
Stella Belle
Stella Belle is the cute sister restaurant to Cafe Astoria covered above. Stella Belle offers Mediterranean inspired dishes that you absolutely need to try.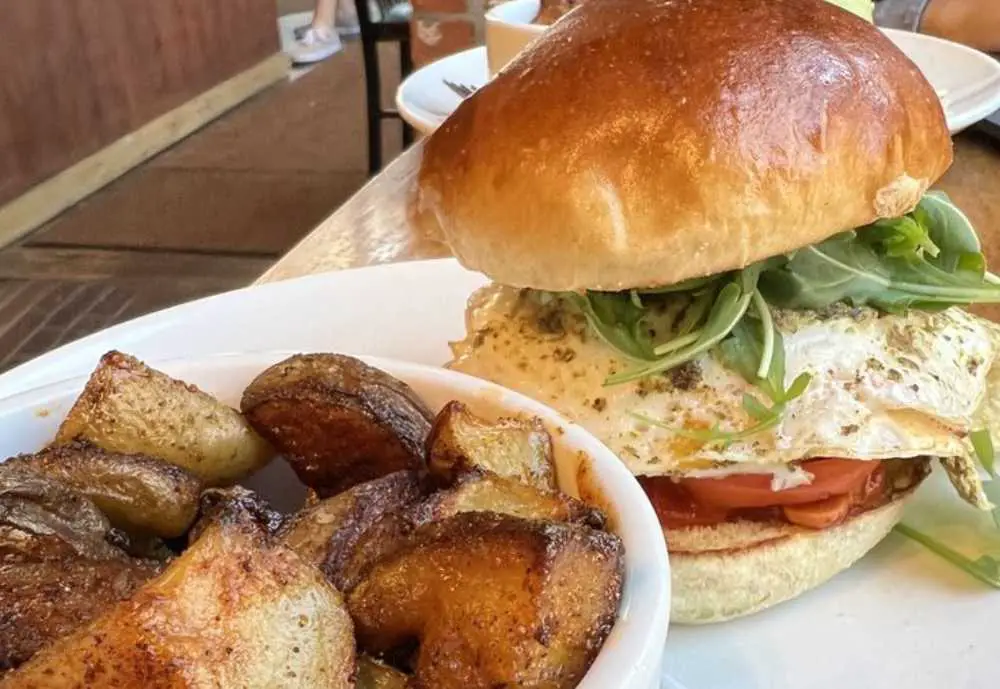 Menu: Stella Belle Menu
Top Review: "Their breakfast sandwiches are delicious and the interior lets in a ton of natural light and is very cute and bright. Would recommend getting the Belle Breakfast Sandwich and upgrading to fries (which is essentially just potato wedges rather than fries but delicious nonetheless)" – Katherine C.
325 7th St W Saint Paul, MN 55102, (651) 508-1654
You might also enjoy these mouthwatering breakfast articles:
Lincoln St. Paul, St. Paul breakfast, best breakfast in St. Paul