Looking for the best Italian in Baltimore? This bustling metropolis on the East Coast has plenty to offer in terms of delectable pasta dishes, savory sauces, and fresh ingredients. Baltimore boasts a diverse array of Italian restaurants that cater to all tastes and budgets. Today, we're giving you 5 of the best Italian restaurants in Baltimore.
La Tavola Ristorante Italiano
Right in the heart of Little Italy, La Tavola Ristorante Italiano is one of Baltimore's best Italian restaurants.
It's great for special occasions, date nights, and private events. It's all your favorite classic Italian dishes with innovative twists, all using fresh and quality ingredients.
Their most popular dishes are Spaghetti Neri al Granchio, cannoli, tiramisu, and fritto misto. Give them a go for some of the best Italian in Baltimore!
Menu: La Tavola Menu
Top Review: "This was the perfect restaurant to take my friend out for her birthday! The food was exquisite and the staff was so friendly and attentive. Cocktails were delicious and the dessert was to die for! Highly recommend!" – Abby M.
248 Albemarle St Baltimore, MD 21202, (410) 685-1859
Sotto Sopra
Sotto Sopra is not your typical Italian restaurant. They pair their excellent food with opera nights and incredible music.
If that's your jam, you should definitely book a reservation here. The atmosphere is great and the friendly service completes the experience!
People recommend their short rib ravioli, goat cheese salad, and squid ink pasta.
Menu: Sotto Sopra Menu
Top Review: "My wife and I always make a reservation here before we attend downtown events. We have never had anything but outstanding flavorful well-crafted meals here. The pasta offerings are always perfection and seasonal specials never disappoint. Their pumpkin offerings in autumn are always amazing. And dessert is served with the best sorbet. The wait staff are excellent and everyone seems to enjoy being at this wonderful place. Looking forward to my next meal there." – Paul L.
405 N Charles St Baltimore, MD 21201, (410) 625-0534
Dalesio's of Little Italy
Dalesio's is an Italian staple in Baltimore with an old-city charm that will transport you to Italy.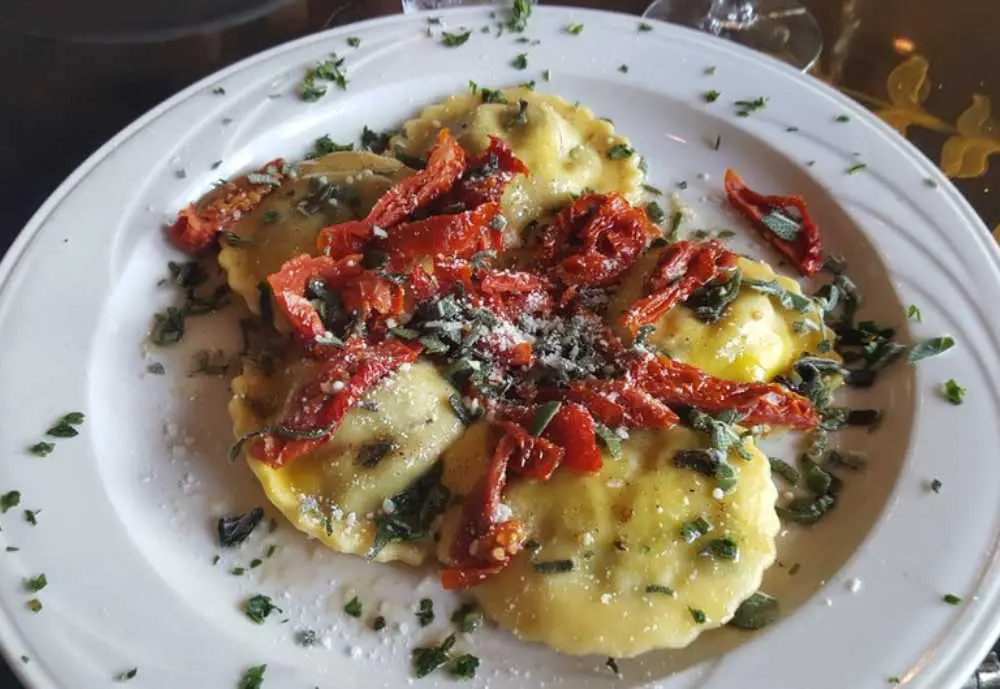 It's been serving the community since 1984, a testament to its title as one of the best Italian restaurants in Baltimore.
This gem is also great for date nights or special events. Must-try dishes are the gnocchi, lasagna, veal bolognese, and cannoli.
For some of the best Italian in Baltimore, try them out!
Menu: Dalesio's Menu
Top Review: "The first time i went to Dalesio's was in 1986 it was great then and still kicking today as our meal last night was fabulous! This quaint Italian restaurant located in Little Italy is a gem. Parking can be a little tough so we just walked from our hotel a short few blocks away. We started with the calamari and mozzarella Fresca. The calamari cooked perfectly crisp and tender not over breaded. The Fresca was fresh, crisp and superb. I had the Shrimp Fra Diavolo the person next to me the Lobster Ravioli. Both  were extremely good. We had a party of 8 and service was excellent!  Definitely will return as i have many times in the past." – Calvin N.
829 Eastern Ave Baltimore, MD 21202, (410) 539-1965
La Scala Ristorante Italiano
Come home to what will feel like your second family in La Scala. Their food is a cut above the rest, with favorites like the grilled Caesar salad, bruschetta, penne alla vodka, and Caprese.
The service is attentive, the mood is a little romantic, and it ticks all the right boxes for a great dining experience.
Menu: La Scala Menu
Top Review: "One of Baltimore's Little Italy's finest!  La Scala doesn't disappoint in any way!  It is Italian fine dining in the most absolute fashion.  I ordered their Saltimbocca alla Romana and it was truly superb then followed it up with a special Pistachio cannoli.  Truly divine!" – Mat G.
1012 Eastern A"ve Baltimore, MD 21202, (410) 783-9209
Joe Benny's
Joe Benny's is a hidden gem that's waiting to be uncovered. The setup is intimate and cozy and the vibes are comfortable and welcoming.
It may look simple outside, but they pack everything in their wonderful food and attentive service. Joe Benny's does a great sloppy rowe, Sicilian salad, and bocce focaccia.
For dessert, try their chocolate hazelnut cream puffs. You wouldn't find anywhere better than Joe Benny's.
Menu: Joe Benny's Pizzza
Top Review: "Your friendly neighborhood pizza spot! Small place, such kind staff! Wouldn't recommend coming here with more than 4-5 people given the size of the tables! We ordered several vegetarian pies, my favorite was either the fancy nancy (great balsamic glaze) or the fiesty Sicilian (spicy!). They have vegan cheese as well! I appreciate all they do for us vegetarians and the many options they have! You can swap meat on most pies for eggplant and they have eggplant balls now which I hope to try!"
313 S High St Baltimore, MD 21202, (443) 835-4866
Baltimore is a great place to discover new Italian spots you'll love and maybe even become your new all-time favorites. There are so many places to choose from that you won't run out of options for something delicious or authentic. It's obvious that each location puts its heart into its food and service; that's why they deserve their spots as some of the best Italian restaurants in Baltimore.
You might also like drooling over these articles:
best italian in baltimore, baltimore italian restaurants, best italian in baltimore